Weekly News - Friday 20th September 2019
Posted on: 20/09/2019
Prime Minister Boris Johnson Reads To Year 1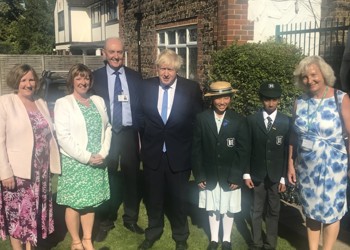 We were thrilled today to receive a visit from Prime Minister Boris Johnson, who is working with the BookTrust children's charity to promote children's reading - a cause dear to St. Helen's College! This month the BookTrust charity have launched their 'Time To Read' campaign, which encourages families to share books and stories each day and to use books as a way to explore issues that impact on wellbeing, such as anxiety or friendship issues.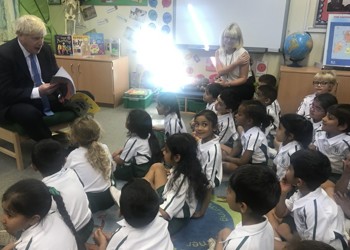 St. Helen's College parents know already that, as a school, we promote reading daily with your child and believe that this underpins all learning. We were therefore delighted to be approached by the Prime Minister's office to arrange a visit for Mr. Johnson to read to our Year 1 children. The children were enthralled today as he read them The Cave by Rob Hodgson, which showed that things aren't always what they seem, and that life can be full of surprises!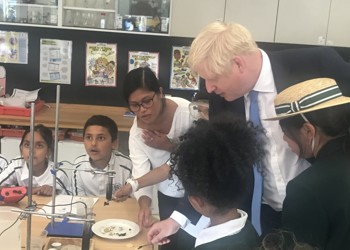 Mr. Johnson also visited Upper School and was hugely impressed by the STEAM Day activities going on all around (see below for more details!). It is a testament to the ethos and success of St. Helen's College and its pupils that, having visited last year, Mr. Johnson chose to come back and see our children again!
STEAM Day
It has been a busy, purposeful and exciting day of learning across the entire school from Ducklings to Year 6 today as children have taken part in a wide range of STEAM Day activities. At Upper School, pupils took part in practical and academic indoor and outdoor activities run by staff and parents, including building cardboard kayaks, cracking a code using maths, making marble mazes and investigating endothermic and exothermic reactions. One of the sessions was run by Susan O'Connor, the author of 'Creative Genius Journal'. The children worked in groups to design, create and make playground equipment, challenging their collaboration and communication skills. We would highly recommend that parents take a look at her journal for 7-12 year olds:
https://www.amazon.co.uk/Creative-Genius-Journal-resilient-differently/dp/1916497918/ref=sr_1_2?keywords=creative+genius+journal&qid=1568964942&sr=8-2
At Lower School, the children became engrossed in Lego mazes, making kaleidoscopes and investigating how colours mix. They used their technological skills to take part in some digital animation and became apprentice engineers when building spaghetti towers. They used our outside space to make bookmarks from the natural resources around us and blasted rocket mice into the beautiful blue sky! Our youngest Helenians, the Ducklings, also took part in some age-appropriate STEAM activities. The children helped to measure water into three different water pits and then got into small groups. Using lots of colourful bath bombs, the children got to explore how putting them into water can make them change and how our senses reacted! The children spoke about the sounds that the bath bombs made in water such as "POP! "Fuzzzzzzz" and "Whoosh", adding that they smelt "fruity", "sweet" and some even thought they smelt "yummy". The children also explored how, when the differently coloured waters were mixed together, the colour of the water changed and some even got brighter! Ducklings finished off celebrating their STEAM Day with dropping some mints into a bottle of pop and watch it go up, just like a volcano!
This really was, across the school, an inspirational day that children and staff will never forget! You can see photographs on our Galleries page.
Loving their Learning
The dining room and playground have been a cacophony of educational chatter this week - it has been super to hear the children discussing the number of syllables within the lines of their nature Haiku poems (Y3), how the Romans came to seize England and why (Y3), Verbal Reasoning was the best lesson for one child this week because he loves playing with words (Y4), Year 5 pupils enjoyed their water challenge as they worked collaboratively to design and make their water pipe systems discussing the many elements which had to work together for the most efficient delivery of water; Year 6 discussing how to spot 'Fake News'. How rewarding for the teachers to know that our pupils' learning does not just stop in the classroom - the love of learning which is being embedded exudes from them through their day and I am sure is then shared with you all at home too!
Community and London Ambassadors
We are delighted that St. Helen's College is being recognised in the local community as one of the leading schools in addressing the environmental issue of traffic and pollution surrounding schools. You can read a little about this here. We were also delighted to hear this week that we have been nominated for a London wide award as one of the top London Schools for our hard work around school travel and road safety. We have been nominated for two categories:
School of excellence in walking - for our brilliant walking loyalty scheme
School of excellence in road safety/pupil led project - for our hard work with the Junior Roadwatch project
We have also been nominated for the category of 'Long Serving Travel Champion' for all our hard work over the 9 years that St. Helen's College has been championing this.
Student Council
The Student Council in Upper School have had a great start to the term. In their first meeting they discussed general council etiquette and electing the secretary and spokesperson. The first item for discussion for all the classes was whether they would like to see the introduction of flavoured water available at break times. There was a resounding majority vote for this and this will be rolled out to the children at Upper School early October. The pupils will now need to vote on the flavours they would favour: strawberry, cucumber, lemon, orange...? We look forward to hearing their suggestions and I am sure that Soula will be able to source a variety of healthy options.
For pupils who prefer milk there will still be some available.
The Zen Garden was also an area which was discussed and the pupils are very strong in their passion for only using this area for quiet and peaceful moments which they will ensure will continue to happen.
The pupils were then reminded of some of the suggestions they have made over the past couple of years which have been acted upon: new cutlery and cups for the dining room, no onion in the macaroni, the addition of the The Retreat and the Castle (partly funded by the school and the PA) and table top games for the playground...to name but a few.
We look forward to a superb year of pupil voice.
Meet the Teacher Evenings
Thank you to all of the parents who have recently attended our Meet the Teacher evenings. It has been encouraging to have such a great attendance at these evenings, demonstrating the parental support which will no doubt help your children to achieve their very best this year. Please contact your form teachers if you have any further queries or questions.
New Parents' Lunch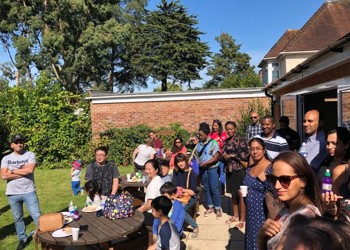 The PA committee and new families to St. Helen's College had a wonderful afternoon socialising in the Windsor Garden last Saturday, getting to know each other and finding out more about the work of the PA. Thank you to all who attended and the PA for providing the lovely food and refreshments. If you are interested in supporting the work of the PA or becoming the class form representative please contact Mrs. Clements at info@sthelenscollege.com.
Individual Pupil Photographs
Monday 23rd - Ducklings will have their individual photos from 8.30 a.m.
Wednesday 25th Lower School - siblings can be photographed together from 8 a.m.
Friday 27th Upper School - siblings can be photographed together from 7.40 a.m.
Personal Belongings
Pupils should not be bringing in football/Disney or similar collector cards to school. Unfortunately they have caused upset in the playground and in classes! Fitbits should also not be worn to school; however, a watch is acceptable.