Weekly News - Friday 4 October 2019
Posted on: 04/10/2019
Harvest
Upper School celebrated Harvest on Tuesday with a lovely service in All Saints Church. Thank you to all families for the most generous donations, which the local Salvation Army will be sharing with members of our local community who may not be as fortunate as we are.
We look forward to the Lower School Harvest Assemblies at 8.45am next week. Please do join us for coffee from 8.15am in the Lower School Hall prior to the assemblies:
Monday - Year 1 followed by Infant Choir performance
Tuesday - Reception followed by Infant Choir performance
Wednesday - Nursery


Author Visit
The children from Nursery to Year 2 were delighted to welcome the author Simon Phillip and illustrator Kate Hindley. They were enthralled as Simon read his stories whilst Kate drew some characters from each book. With Kate's guidance, the children then became illustrators themselves! Both Philip and Kate explained how they had become so successful and what inspired them. Notably, they recommended that the children read as much as possible and gather their ideas by truly observing their surroundings.
The sessions were a great success, and who knows, we may have inspired some authors and illustrators for the future!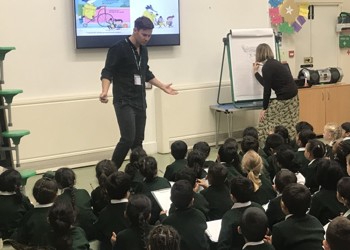 Current Affairs - First News Newspaper
Many families are already subscribed to the children's current affairs newspaper 'First News' but they have just launched a fundraising venture to promote even more children to get reading. For every family that sign up for a subscription to the paper St Helen's College will receive a £2 donation. For us as a school, it is not about the donation but raising the children's awareness of current affairs and reading for pleasure a different genre of materials in the form of a child friendly newspaper (suitable for age pupil in Y2 - Y6)). To try six free issues please do sign up at https://subscribe.firstnews.co.uk/six-free/. On the second step of the payment you will be asked to input the name of the school you are nominating 'St Helen's College'. Any donations we receive will go towards the library reading materials for the children.

Student Council
The Student Council representatives at Upper School school have been representing the pupil voice in their meetings. On their request, we will very shortly (when all our water containers arrive!) be providing flavoured water for the children from Y2 - Y6 at break time as an alternative to milk. The pupils have also voted on the types of fruit they would like and Soula will be happy to provide these flavours. (Milk will still be available to pupils).
Other requests from the pupils that have been actioned are; the request for baked beans when jacket potatoes are available as a lunch choice (we currently have baked beans twice a week but Soula will note this request), a stationery box for the children to continue their creativity with writing and drawing at lunchtimes (our SMSA's already have a box but it is being replenished with some exciting new resources).
Acts of Kindness
It is always wonderful to hear of our children being involved in charity events and for their deeds of kindness. We were very proud this week to hear of the efforts of 2H children; Aleyna N requested that children did not purchase any gifts for her birthday but instead donated money to a charity of her choosing. Aleyna now has £560 to donate to charity - a wonderful venture of kindness and superb support from her peers.
Year 6 visit to Denham Country Park
The children in Y6 experienced some 'hands on' geography fieldwork this week when they visited Denham Country Park to investigate rivers. The children became river detectives for the day; wading into the river to collect data about the River Misbourne's depth, width and flow and analysing minibeasts present in the river. They were also able to track the path of the River Misbourne to its confluence with the River Colne and River Frays and compare these rivers. Finally, a walk along the Grand Union Canal and seeing Denham Deep Lock in action gave the children a terrific insight into the engineering accomplishments of the Victorians.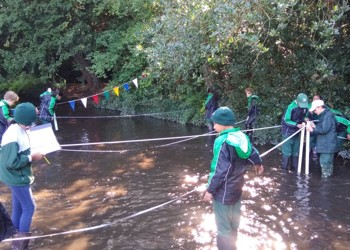 Reception trip to Odds Farm
Kingfishers and Owls enjoyed an exciting visit to Odds Farm this week to support their learning about harvest time and to bring their shared topic of 'The Farm' to life. The children were able to meet and touch some furry friends and they thoroughly enjoyed the opportunity to get close to lots of sheep, goats and pigs during their visit to the indoor barn. The children were also enthralled by a live 'Piggies Lunch' demonstration and they had a super (but very bumpy) tractor ride!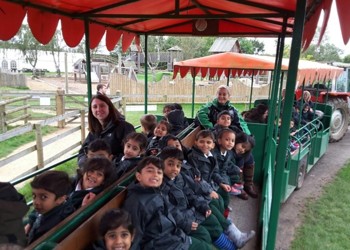 Football
On Wednesday, the football team had their second game of the season at home to St Catherine's and pulled off a very good 1-0 win. St Catherine's are a very good team who dominated the 1st half and could have been well ahead but for some good defending, bad finishing and a great save by Zail. We grew into the game and scored through Eli with a very good left foot finish to give us the lead. St Helen's managed to hold on to secure an impressive win. The team should be extremely proud of themselves with this performance, especially Adam K in Yr4 who made a huge impression on his debut.
Team Zail, Patrick, Reece, Joban, Jack, Harry, Daniel G-J, Eli, Adam.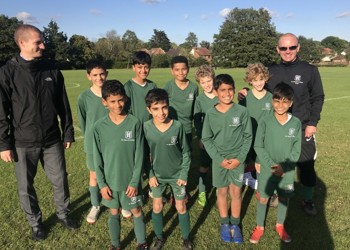 Cross Country
This week, our pupils took part in the District cross country competition held at the Vyners playing fields. They had been training for the past few weeks to complete the 2km course and completed the boys and girls races confidently, supporting each other as they ran. Our top finishers were Michael K and Rhea A-V in their respective races, and solid performances from everyone in the team resulted in very credible 6th place for the girls team and 7th place for the boys team. Well done to the teams; Marcus S, Alex S, Daniel G-J, Reece G, Jack H, Adi S, Ciaran R, Michael K, Rhea A-V, Chloe W, Grace B, Amar C, Maisie H and Siyana M.
Times Tables Rockstars
We have relaunched Times Tables Rockstars at Upper School this year and the children all seem really enthused. They have created their rockstar avatars and are busy earning points by practising their tables. Each week, the fastest player in Middle and Upper Schools (last week Poppy H and Mohib F) and the players who have made the biggest improvement through lots of practice (last week Roha K and Ciaran R) will be recognised. This week our top players are Jacob N for Middle School and Anokhi B for Upper School!
The children will progress through different rock star levels and will be awarded certificates and prizes whenever they reach a new status. Congratulations to Mohib F, the Year 6 maths prefect, who is the first and only player in the school to earn the elusive 'rock hero' status.

Parent Practice
Following the success of last week's talk by Elaine Halligan from the Parent Practice, I would like to thank Mrs Dhillon whose reflections of the evening are the guest blog this week. (Do read!)
We have had wonderful feedback from the workshop and many parents have asked if further training could be sought. We are delighted that our parents at St Helen's have been offered a 50 % discount for their Online Parenting Course from the Parent Practice, which is a 10 module e-learning course. Please see the line below for further details:
.https://www.theparentpractice.com/programmes/positive-parenting-course-on-line
The code is STHELENS2019 but please note that it is only valid for 7 days.
To order go to this page https://theparentpractice.simplero.com/purchase/16521-Membership-of-The-Positive-Parenting and use the coupon code where it says 'Have a Coupon Code'. This will reduce the price to £175.
Parents' Evenings
Nursery to Year 1 parents' evening is on Tuesday 8th October from 4pm - 7pm at Lower School. Please do check the time of your appointment. Please note that Funtasia will be in Wrens classroom on the parent evenings.

Pick up arrangements
If your pick up arrangements from school vary from the normal person who collects your child, please can you email this information to the form teacher or email the school office at admin@sthelenscollege.com if the arrangement is a last minute change. I am sure you understand our need to ensure that your children are being handed over to the correct person at the end of the day.
Jewellery in PE
It is the school's policy that no jewellery should be worn in P.E lessons for health and safety reasons. Children should, where possible, not wear jewellery to school on P.E days. If earrings cannot be removed because they are new, parents are respectfully requested to provide a small reel of micropore tape for their children in their school bag so they can tape over the earrings for P.E. If religious bangles (metal and string with beads on) cannot be removed then parents are respectfully asked to provide their child with a sweatband in school colours (green, white or black) to wear over the top. Necklaces should not be worn as these present particular risks around the neck.