Weekly News - Friday 18th October 2019
Posted on: 18/10/2019
Month End Music Recital
Our October Month End Music Recital of the year took place in The Evans Hall this afternoon and was well attended. These informal recitals give those children learning instruments or having vocal tuition a chance to perform in an informal setting. Very well done to all of the children who performed; we were treated to a variety of pieces on the piano and violin from various year groups, including a duet. This was a lovely way to end the week and the half term! Well done to all those who performed.
Year 5 Trip to Hampton Court Palace
Year 5 had a great day at Hampton Court on Monday, despite the weather. The children were very inquisitive as they looked around the palace and were wowed by the size and magnificence of rooms such as the Great Hall, the Great Watching Chamber and the Chapel with its beautiful ceiling painted like a starry night sky. The children took part thoughtfully in their workshop with 'Edward, a member of the King's household'. They learnt about the different positions at court and about the 'great chain of being', which put everyone in the land into society groups. However, your position was not fixed and you could rise in society (like Thomas Wolsey did). You could also fall and the children learnt that the further up the ladder you went, the further you had to fall! In the end, most of the pupils were in agreement that it would probably have been safer to have been a servant in Henry's household rather than in a position of power.
Times Tables Rock Stars
This week has been another exciting week in Times Tables Rock Stars. Congratulations to Eva J (2H), who had the biggest increase in accuracy for Middle School and to Anokhi B (4T) who now holds the title of the most accurate player in the school.
There has been a hard fought battle at the top this week between two of our fastest boys in Upper School. Harry J just pipped Mohib F to the post with less than a hundredth of a second between the two to hold on to his title as the fastest player! Poppy H (3M) retains her title as the fastest Middle School player. Well done to all!
Year 6 Morning Tea Party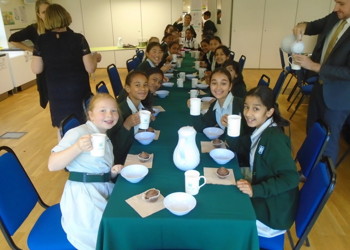 The school is very grateful to our wonderful Year 6 students, who were great ambassadors for the school on our recent open morning. The children enjoyed some morning treats to celebrate their achievement.
4T Assembly - How We Learn At St. Helen's College
Our 4T pupils presented a well-informed and research-based assembly this morning, as we were introduced to the ideas behind Carol Dweck's Growth Mindset.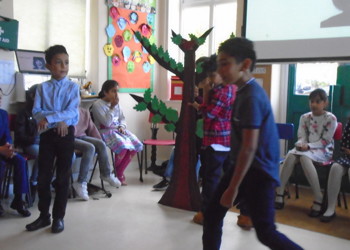 The children also examined various ways in which they learn, including reflection, collaboration and always trying their best. They finished the assembly by treating us to a wonderful rendition of a song from The Greatest Showman. Well done, 4T!
STARS Character Competition
The Hillingdon Road Safety Team are running their annual road safety competition and we would like to encourage pupils in Years 3 - 6 to design an entry over the half term break. Pupils are asked to design a road safety character, and the four winning characters will be used in Hillingdon's printed road safety material.
You can see the full details and entry form from the Hillingdon STARS Team here.
Card Designs
This year the Parents' Association have asked the school to take part in designing Christmas cards as a school fundraiser. The children are all currently busy completing their designs ready for processing and they are all looking very exciting.
In addition, the Parents' Association have also expressed that they would like to give each child the opportunity to create their own family, birthday, or other occasion card. If you wish to take part, you will need to follow the instructions on the form which has been sent home today with your child, placing your order online first then bringing in your form and design back to school no later than Friday 8th November, ready for collection. Children should hand their designs to their class teacher or to Miss Dear directly.
We hope you enjoy taking part. We are sure your designs will look fantastic!
Half Term Holiday Club and Breakfast Club
Holiday Club and Breakfast Club will both take place at Lower School over the half term break. The children will make use of the facilities at both Upper and Lower School over the course of the week, but we would ask that you drop children off to Lower School and pick them up from Lower School at the end of the day. You can see more information about Holiday Club here.
Admissions
We are now beginning the entry processes for Ducklings entry in September 2020 and Nursery entry in September 2020. If you have a child who is eligible for entry to the school next September, and you have not yet registered him/her with us, please do so as a matter of urgency so that you do not miss out on a place. You can register your child online here.
Children in Need Fundraising
On Friday 15th November we will be supporting the Children in Need charity to raise money for projects taking place all over the UK. To support this excellent cause, we will be holding a tog (non-uniform) day and children are asked to come to school wearing yellow and/or spots. In addition to this, we will have a raffle and a special live stream workout with 'The Body Coach' Joe Wicks. Many schools up and down the country will be participating in this huge event. We kindly ask that you send your child in with a suggested donation of £2 - any more will be gratefully accepted.
Your child may wish to bring some extra money into school for raffle tickets, which will be on sale throughout the week in the mornings at Lower School and Upper School. There will be a giant Pudsey Bear and a smaller Blush Bear as prizes at Lower School and Upper School. Ducklings children may also buy raffle tickets for the Ducklings raffle; the prizes at Ducklings will be a smaller Pudsey Bear and smaller Blush Bear. We wish the children luck in the raffles and thank you, in advance, for your support of this charity.
St. Helen's College Parent Parking Pledge
We would like to remind parents of our Parent Parking Pledge which aims to manage congestion and improve safety near our school at busy times. The idea is simple: in return for agreeing to follow some basic principles, your car can carry a sticker that tells the world you are doing your bit to make a difference.
Parents at schools across Hillingdon are agreeing to:
• Help my child/children travel actively at least once a week
• Drive with consideration for others
• Park away from the school gates
• Never block a driveway
• Turn off my engine when parked
In addition we have three pledges that apply here and trust that you will agree to:
• Follow the St. Helen's College parking regulations
• Use the 'Drop & Go' and 'Pick Up & Go' zones safely and efficiently
• Respect and adhere to the parking restrictions in operation around all our school sites
If you are happy to make the Pledge, please follow the link and complete the form. Once submitted, you will get your car sticker that will show others your commitment to pupil health and safety.
Thank you and please remember to display your car stickers with pride!
https://docs.google.com/forms/d/e/1FAIpQLScEIokFqGjH68LP5qCH9miaJIxA4i6cTB4J67WMDB009-j5PA/viewform?usp=sf_link
PA Class Representatives
Many thanks to those parents who have volunteered to become (or continue as) PA class representatives. We are still seeking a class rep for 4T. Please contact pa@sthelenscollege.com if you would like to take on this role.
School Uniform
Children should return after the half term break wearing full winter uniform. The only winter coats that should be worn are the school 3-in-1 coats.
Parents' Evening
Upper School parents' evening is on Thursday 7th November and appointments can be booked in the usual way. We look forward to seeing parents then.
PA Christmas Parties
The PA Christmas parties for children will take place on Sunday 1st December 2019 at Richings Sport Park, Wellesley Avenue, Richings Park, Iver, SL0 9BN. Tickets will cost £11 per child which includes food, entertainment and a visit and gift from Father Christmas!
Timings of the parties will be:
10 a.m. - 12 p.m. Nursery and Reception
12.30 - 2.30 p.m. Years 1, 2 and 3
3 p.m. - 5 p.m. Years 4, 5 and 6
Please look out for details of how to book, which will be sent out via your class WhatsApp group. Please note that bookings must be made by the deadline as we will not be able to add children after this date. Don't miss out - pencil the date into your diary now! The flyer is available here.