Weekly News - Friday 15th November 2019
Posted on: 15/11/2019
St. Helen's College Shortlisted for TES Awards!
The most outstanding individuals and institutions that the independent sector has to offer have been recognised in the shortlist for the 2020 Tes Independent School Awards and we are absolutely thrilled that St. Helen's College has been shortlisted in not one but two categories - an outstanding achievement!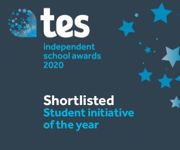 We have been shortlisted for the Pupil Initiative Award for the wonderful work undertaken by our Junior Road Safety Officers, and for the Sports Award for our superb sporting provision.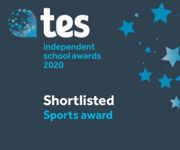 Tes editor Ann Mroz said: "The Independent schools in this country are truly exceptional and those that have earned a place on the Tes Independent School Awards shortlist are a cut above the rest. We received an unparalleled number of entries this year, all of which were first rate. The schools that have been shortlisted should be proud - it's a remarkable achievement."
The winners will be revealed at a gala awards evening at the Grosvenor House Hotel, Park Lane, London on Friday 7 February 2020. So please keep your fingers crossed for St. Helen's College!
Author Visit - Anna Fargher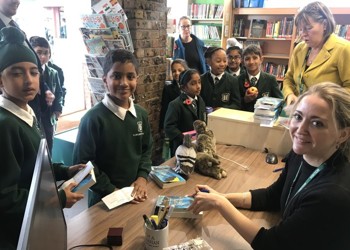 The pupils at Upper School were inspired on Monday when, alongside our Remembrance Day activities, they were treated to a visit from author Anna Fargher. Anna is the author of The Umbrella Mouse, an award winning adventure tale based on true stories of animals involved in World War II.
The children were shown how dogs carried medical supplies on the battlefield and how foxes would make lucky mascots for fighter pilots. We also learned about the history of the Dickin medal, awarded on one occasion to a courageous pigeon that saved many lives. After the charming presentation, Anna signed books for the children in the library. Catherine and Anish recited the Exhortation in the Upper School playground before everybody observed a two minute silence and Patrick played The Last Post beautifully on his trumpet as we remembered all the soldiers and animals who have fought bravely in war.
Fireworks (Years 1 - 6)
On Tuesday, all of the children from Year 1 to 6 took part in our termly school writing task. This time, the children had to write a description of a fireworks display. During assemblies, the children shared their experiences and looked at some helpful techniques before going back to classes to plan and write. Here is a selection of examples from work across the school:
'I heard a crash, whizz and boom. There were ten fireworks and everyone was amazed. They sparkled and lit up the sky with glitter. The fireworks were cherry red and sea blue. Suddenly one went BANG! and brightly filled the sky.' - Anna 2B
'I could smell hotdogs, onions and candyfloss. Incredible colours covered the sky such as violet, vermillion and tangerine. A joyous feeling filled my heart as the booming and banging filled my ears.' - Shruthi 4T
'The moment the display commenced, I was transported into another dimension where only fireworks and fun existed. A vivid explosion ripped through the air - a fluorescent contrast against the pitch black sky. Again, a spark shot out into the night, only to explode into a flower of a thousand varied shades.' - Anaiya 6M
Times Tables Rockstars
The children have competed in the National Maths Week Tournament for Times Tables Rockstars this week and we are so impressed with their results. They have fully engaged with the task and have made some exceptional progress as a result. Congratulations to 6RD who were the winning class for the school. St. Helen's College came 204th (at last checking) out of thousands of schools which applied.
Harry J in 6RD is the fastest player in Upper School and Sean R is the fastest player in Middle School. Lachlan J in 2H is the most improved Middle School player and Zain A in 6M is the most improved Upper School player this week.
Children in Need
This week, pupils have been busy raising funds for BBC Children in Need. The money raised will go to support vital projects across the UK including Hillingdon Carers, who provide opportunities and support to unpaid carers in the local area.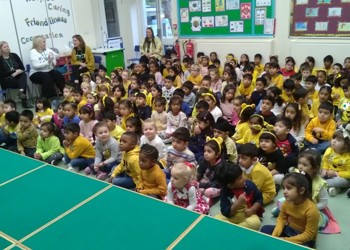 The Year 6 children organised a raffle and Jena J (Year 5) put together a 'guess the number of sweets in a jar' competition. Today, children dressed in spots or yellow and took part in the Joe Wicks 'Big Morning Move,' which included a special guest appearance at Upper School! The short group workout was a great way to energise for the day ahead and to raise money for those in need.
The raffle winners were: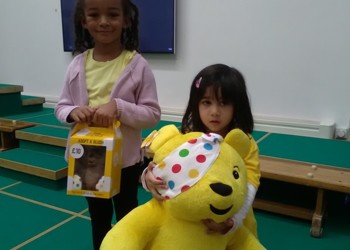 Elisa K (Wrens) - Giant Pudsey​
Selina A (1HC) - Blush Bear
Annabelle S (3B) - Giant Pudsey
Leo J (4KT) - Blush Bear
The winner of the 'guess the number of sweets in a jar' competition was Siyana M (4KT).
Thank you for your generosity in supporting the event.
St. Helen's College Pupils Feature In Steve McQueen Year 3 Exhibition
Steve McQueen Year 3 is a partnership between Tate, Artangel and A New Direction. Turner Prize-winning artist and Oscar-winning filmmaker Steve McQueen has this week unveiled one of the most ambitious visual portraits of citizenship ever undertaken in one of the world's largest cities. This epic portrait of the future of London captures thousands of local children in a milestone year in their development, and we are delighted that our current Year 4 classes are being featured as part of this piece of art, which includes 76,146 pupils from 1,504 London schools!
Over the past week, class photographs have been popping up on over 600 billboards across London's 33 boroughs as part of a city-wide outdoor exhibition, and the gallery exhibition is now open in the Duveen Galleries at Tate Britain, from 12 November 2019 to 03 May 2020.
We do hope that many of you will take the opportunity to visit this exhibition with your families and reflect on the citizens of the future and all that is being done by schools and families to prepare them for what lies ahead.
Christmas Cracker Concert Band
English Music Academy will be hosting a superb performance opportunity for young wind, brass and percussion players of Grade 3 - Grade 8 standard. They are inviting young musicians who are playing at this level to join them as part of their Christmas Cracker Concert Band on Friday 20th December at St. Peter's Church, Kensington Park Road, Notting Hill, London, W11 2PN. The day runs from 10.30 a.m. and pupils will rehearse seasonal popular music pieces during the day, showcasing their work in an evening performance at 6 p.m. in the church, which is free for parents, family and friends to attend. The music will include Let It Snow, Let It Snow, White Christmas and music from Frozen. The day costs £110 (with a £15 discount if you book before 22nd November) and the church is just a few minutes from Notting Hill underground station, with Portobello Market just around the corner. For more information and to book, please follow this link:
www.englishmusicacademy.co.uk
Sports News
Netball
Our Year 6 netball players travelled to Langley Hall School this week for a friendly 7-a-side netball fixture. The team grew in confidence as the match progressed, retaining more possession and shooting with more success to win the match 13 - 7.
As we approach the mid-season break in the local schools' netball league, we are pleased to report that the St. Helen's College team are currently top of the table. League matches will resume in January.
Football
On Saturday morning our football team took part in the annual Packham Cup Memorial Trophy. The team had three group matches, winning the first 3-0, the second 5-0 and the third with an impressive 1-0 victory over Hermitage. This meant that we finished top of the group. In the quarter final, we were drawn against Whitehall School and after extra time we were unfortunate to lose 1-0. This was an extremely tough draw for us as Whitehall went on to win the trophy. Mr. Dyson feels that, if the draw had been a bit kinder, we could well have been in the final ourselves. However, the team played superbly well, scoring many goals and should be very proud of themselves for strong performances on what was an extremely cold morning. Thank you to all of the parents for your ongoing loyal support. Team members were: Zail T, Patrick E, Joban K, Daniel G-J, Eli V-B, Harry J, Adam K.
At the halfway stage in the football league, we are currently sitting at the top of the division with four games left to play.
Important Reminder
Children must not arrive unaccompanied at the school gates after 8.30 a.m. Registration takes place at 8.30 a.m. every day and it is important that your child arrives at school in good time to line up and go into registration without rushing. If you are unavoidably delayed and your child arrives after 8.30 a.m., then you MUST accompany your child to the school office and sign him/her in.