Weekly News - Friday 22nd November 2019
Posted on: 22/11/2019
uTalk Children's Language Competition Wins Prestigious National Award!
We are delighted to report that more than 25,000 children, including hundreds from St. Helen's College over many years, have helped the uTalk Junior Language Challenge to win a prestigious award from the Chartered Institute of Linguists.
The Threlford Cup was presented to uTalk by the Institute's Patron, Prince Michael of Kent, for its competition to foster the learning of languages. Since the Challenge was launched in 2004, around 27,000 UK children have entered the competition, learning a range of languages including Arabic, Zulu, Khmer, Mandarin, Korean, Japanese, Dutch, German, Swahili, Chichewa and Esperanto. St. Helen's College children have been taking part for 15 years and have a strong record in the competition - we even had a national winner a few years ago, when ex-pupil Brendan won his family a trip to Malawi!
uTalk MD Richard Howeson mentioned St. Helen's College and quoted Mrs. Stark in his acceptance speech, during which he dedicated the award to all of the children who have taken part in the competition over the years. Mrs. Stark had said, 'Each year when the initial language is announced, a buzz of excitement goes around the school. It is a great motivator and has really brought languages to life'.
We are proud of our association with this fabulous competition and delighted that we are able to offer it to our children every year. If your child is taking part this year, please do remind them to keep going so that they can keep raising their points score! It is also not too late for your child to enter this year, if they have not already done so. Registration costs only £5 per child and gives each participant access to 12 topics on the uTalk app for the rest of the school year (2019/20). Every child is provided with a unique username and password which they can use to login to the uTalk app as well as view their scores, progress and achievements in their very own online dashboard. The first round language is Spanish and pupils who score 500 points (out of a possible 3,960) will go through to Round 2, which will run from 10 a.m. on Monday 6th January 2020 until 10 a.m. on Friday 27th March 2020. If you are interested in registering your child, please email Mrs. Stark at tstark@sthelenscollege.com as soon as possible.
2H Class Assembly
2H took us on a journey through Numberland this morning, reminding us of what a wonderful world we live in, with maths everywhere.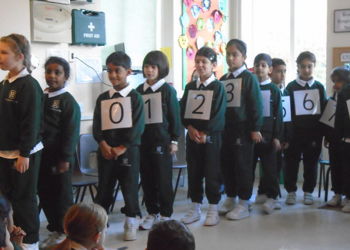 The Zero Heroes embraced their 'nothingness' with the important message of how place value underpins all mathematical concepts and we were treated to a beautiful rendition of 'What A Wonderful World'. Well done everyone...all 26 of you!
Times Tables Rockstars
Well done to all of the pupils who are continuing to work/play hard on Times Tables Rockstars! Here are the results this week:
Fastest Middle School - Verity S
Fastest Upper School - Harry J
Biggest improvement in correct answers in Middle School - Verity S
Biggest improvement in correct answers in Upper School - Anjika G
Switch Off Fortnight
The school has been getting behind the national campaign 'Switch Off Fortnight' which runs from 18th-29th November (this week and next).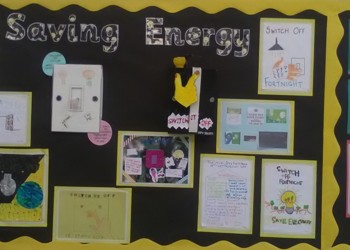 The Eco Reps have been busy creating posters and helping to launch the campaign in assembly. They have a challenge to see if their class are 'waste busters' by turning off electrical devices like smartboards, televisions or lights when not in use and closing their classroom doors to keep the heat in. During the campaign children throughout the school are learning all about energy and how to use it efficiently. We hope that you will be mindful about 'switching off' at home too.
Myla Wins Silver Medal at International Karate Championship
Myla competed in The Central England 7th International Open Karate Championships last weekend - a high profile tournament attended by over 70 clubs from 12 countries from around the world. Algeria, Finland, Iceland, New Zealand, Norway, Oman, Slovakia, Turkey, Scotland, Wales and England were represented. Myla did herself and the UK incredibly proud and walked away with silver in her category for fighting, having narrowly missed out on gold, and also took home a bronze in Kata. Well done indeed, Myla.
Congratulations to Mr. & Mrs. Crehan!
We are delighted to share the happy news that Mr. & Mrs. Crehan welcomed their third grandchild, a girl, last night. Teddy welcomes his little sister and Mum and Dad are very proud parents!
Christmas Tree Decoration Competition
As usual, we will be running a Christmas tree decoration competition this year. Pupils are asked to bring a home-made tree decoration to school and please make sure that they add their name to the decoration! All of the decorations will be displayed on our lovely Christmas trees at Ducklings, Lower School and Upper School and there will be a small prize for the winner in each year group. Pupils should bring their decorations from Monday 2nd December and judging will take place on Thursday 12th December.
Staff/Parent Choir
It is not too late for any interested parents to join the Staff/Parent Choir and rehearse over the next few Fridays, ready to perform at the Carol Service on Friday 13th December. You do not need to be a high level musician at all - enthusiasm is really the only requirement! We meet at 7.50 a.m. each Friday in the Upper School Hall and would be delighted to welcome new members. There are just three rehearsals and a performance to come this term, so the time commitment is not great. Please do just turn up and join us next Friday morning if you would like to join in.
Charity Collections
We are very proud to announce that our school community has raised the following amounts for charity in recent weeks:
Children In Need - £1579.96
Poppy Appeal - £226.52
Very many thanks to you all for your generosity in supporting these two charities.
Quick Sticks Hockey Festival
On Friday last week, St. Helen's College took two mixed teams to the Quick Sticks Hockey Festival at Eastcote Hockey Club. Our A and B teams were put into two groups of five teams, meaning we had four matches to play. Both teams really enjoyed the evening, playing some good hockey and scoring some good goals, but unfortunately we did not make it through the group stages. All the children tried their very best and showed really good signs of improvement. Many thanks to the parents who supported on an extremely cold evening! Team members were: Dhian C, Ciaran R, Vidhit N, Pavitar D, Grace B, Chloe W, Maya T, Charlotte M.
Borough Sports Hall Athletics
The Sports Hall Athletics event took place at Swakeleys School this week. Ten schools from across the borough competed in this heat, taking part in running, jumping and throwing events. Our Year 5 and Year 6 teams worked hard in their events and finished in 7th place overall. Well done to all those who took part.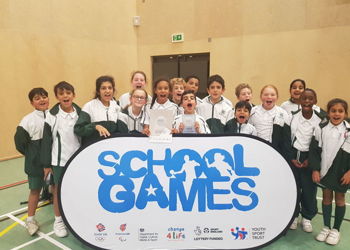 On the evening of the event, we were awarded our Platinum School Games Award, which lasts for two years. This award recognises the superb sports provision at St. Helen's College across the curriculum and co-curriculum, including the opportunities our pupils have to show leadership through sport. We are very proud to have been recognised once again in this way.
Month End Music Recital
A reminder that next Friday we will have our November Month End Music Recital in the Evans Hall from 3.45 p.m. All children and family members are invited to come and support our musicians.