Weekly News - Friday 29th November 2019
Posted on: 29/11/2019
Philosophy For Children (P4C)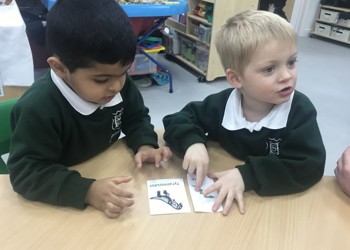 Mrs. McLaughlin from 3M delivered two P4C sessions to our Nursery and Reception children this week, encouraging their reasoning and thinking skills.

The other staff looked on with great pride as the children listened very carefully and interacted with each other so mindfully. We are very fortunate at St. Helen's College to have staff expertise and the collegiality amongst staff to share good practice.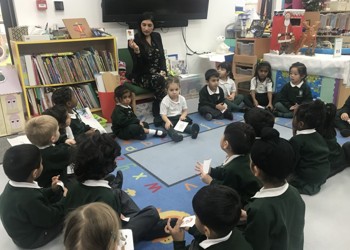 2B Class Assembly
What a super class assembly from 2B today, telling us all about their journey so far at Upper School! They demonstrated their growing independence with a 'Countdown' style challenge to change their reading books in the upstairs part of main school, shared some of their impressive English writing with us and demonstrated how to do column addition. They also told us about their involvement in STEAM Day and their first Year 2 class trip to the Chiltern Open Air Museum.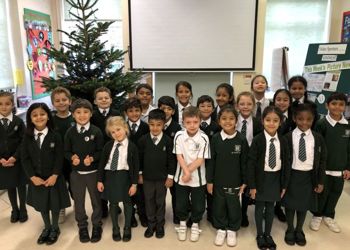 It is clear that they are relishing the challenges that the move to Upper School brings and that they are taking on greater responsibility with glee. A perfectly chosen hymn - 'One More Step Along The World I Go' - rounded off an impressive and very well-presented assembly. Well done, 2B.
Year 6 Senior School Masterclass
Mrs. Hubble, the Head of Northwood College, spent the afternoon speaking with the Year 6 children about transition to senior school. The children asked interesting and thoughtful questions about the issues that were important to them, as they prepare themselves for upcoming examinations and interviews at a wide range of schools. They asked about whether Year 7 children have lockers, how the settling in process works for pupils who are the only one from their prep school, and numerous questions about the interview process for independent schools. The most important message from Mrs. Hubble was that the children should always be true to themselves and sincere in every interaction. As ever, we were very proud of how our Year 6 pupils conducted themselves with such confidence. They certainly were a credit to St. Helen's College.
We heard today also from the parent of one of the pupils who made the transition to senior school in the summer. She had this to say about how her daughter has settled into North London Collegiate School:
'Our daughter absolutely loves her everyday life at NLCS. Thanks to St. Helen's College for building her self-confidence; she now actively and confidently participates in so many clubs there. She is in Concert Orchestra, Symphonia, duet ensemble; netball, lacrosse, badminton and swimming squads.
We attended the parents' evening last week and it seems that she stood out in all subjects, especially in Maths and English. St. Helen's College definitely has explored her potential. We are extremely grateful to St. Helen's College.'
Any parents who are notified of their children's interview dates should inform Mrs. Drummond so that we may assist them in preparing for their interviews.
Month End Music Recital
Well done to all of the performers who took part in today's Month End Music Recital, the third of the term. As ever, this was a wonderful opportunity for our children to perform in an informal environment and it was super to hear pieces on such a variety of instruments and voice. Thank you also to ex-pupil Shreya Tharmalingam for coming back to visit us and delighting us with her voice as she works towards her Grade 6 singing examination.
Times Tables Rockstars
Mrs. Rance is delighted with how pupils throughout the Upper School are engaging with Times Tables Rockstars. They are clearly putting in lots and lots of time to practice and the results are fabulous.
In Upper School, the fastest player this week was Harry J (6RD) and the most improved player was Alex S (6RD).
The fastest Middle School Player was Isaac B (2B) and the most improved was Jasmine H (2H).
Well done to everyone and do keep practising!
Christmas Events - Please Read Very Carefully!
Monday 2nd December

Carols Around The Tree 4 p.m. - Please join us in the Evans Hall/Upper School playground after school, where we will be serving mulled wine and festive treats from 3.10 p.m. We will gather around the large Christmas tree at about 4 o'clock to sing some carols and turn on the lights. All family and friends are welcome so please come along and get into the festive spirit!
Tuesday 3rd December
Nursery Christmas Assembly 8.45 a.m. - all Nursery parents are warmly invited to watch their children perform in their Christmas assembly, which will begin at 8.45 a.m. in the Lower School Hall. Prior to this, coffee will be served from 8.15 a.m. in the Lower School Hall.

Wednesday 4th December
Year 3 Rehearsal at Winston Churchill Hall - All Year 3 children should arrive to school as usual and they will then be taken by coach to WCH. A packed lunch will be provided for Year 3 children by the school caterers; lunch arrangements remain as normal for all other children. End of day arrangements are as normal for all children.

Thursday 5th December
Year 3 Dress Rehearsal at Winston Churchill Hall - all children in Nursery, Reception, Year 1, Year 2 and Year 3 must be dropped at the Winston Churchill Hall, Pinn Way, Ruislip, between 8.00 and 8.40 a.m. on this day, unless they are booked into Breakfast Club. Year 3 will perform their dress rehearsal to the audience and all children will be returned to school by coach in time for normal school lunch service.

Year 3 Performance at Winston Churchill Hall - 7 p.m. - The Year 3 children and staff have been working very hard to prepare their Christmas performance, The Countdown To Christmas, and tickets are still available for the performance. You can book tickets by following this link. We do hope that you will join us on the evening and we are looking forward to seeing many family and friends at this event.
Friday 6th December
Reception Christmas Assembly - 8.45 a.m. - all Reception parents are warmly invited to watch their children perform in their Christmas assembly, which will begin at 8.45 a.m. in the Lower School Hall. Prior to this, coffee will be served from 8.15 a.m. in the Lower School Hall.
Monday 9th December

Infant Choir Carols in Lower School Playground - 8.15 a.m. - Please join us as you drop off your children to hear our Infant Choir singing carols in the morning.
Year 1 Christmas Assembly - 8.45 a.m. - all Year 1 parents are warmly invited to watch their children perform in their Christmas assembly, which will begin at 8.45 a.m. in the Lower School Hall. Prior to this, coffee will be served from 8.15 a.m. in the Lower School Hall.
Wednesday 11th December
Upper School Pantomime Trip (Year 2-6) - after a brief introduction at school to pantomime as a traditional British drama form, all children in Years 2 and 6 will travel to the Beck Theatre to see 'Sleeping Beauty' Previous performances have been of a high quality and much enjoyed by all, so we hope that this year will be no exception. On return to school, the children will enjoy a party style picnic lunch and some afternoon themed activities. School will end at the normal time for all classes.
Thursday 12th December

School Christmas lunch - Lower and Upper School children will enjoy a party style Christmas lunch here at school, cooked and served by our Accent staff. You can see the menu, with allergens, here.

Lower School Pantomime Visit - After their Christmas lunch, Lower School children will enjoy a visit from West End In Schools Pantomimes who will present their version of Dick Whittington. Lower School children are encouraged to wear party clothes to school on this day but please also remember suitable shoes and a warm coat!
Friday 13th December

Upper School Carol Service - Parents are warmly invited to join us at All Saints Church for our Y2-6 Carol Service, which will begin at 11.00 a.m. Please be mindful that the end of term is a busy time for traffic, and walk to the service/to pick up your children from school if you possibly can, or perhaps park away from the school and walk.
End of Term - half day - Pick up times are:
Ducklings and Nursery 11.50 a.m.
Reception 12.00 p.m.
Year 1 and Year 2 12.10 p.m.
Year 3 and Year 4 12.20 p.m.
Year 5 and Year 6 12.30 p.m.

Holiday Club will be running on the afternoon of Friday 13th December and then every day until Monday 23rd December. Please book in via your SchoolsBuddy account.
Christmas Cards
The children often like to send festive cards to their friends at this time of year. We are aware that many children like to pop a Christmas chocolate/coin into the cards as a treat but please could we request that this year that an alternative to chocolate is sought. With our school being very allergy aware, we are recommending that perhaps Christmas stickers are added instead or perhaps the simple gesture of a card is adequate. Thank you for your continued support. For further information and advice on allergies please see the Allergy Aware UK website.
Christmas postboxes will be open next week at Upper School, Lower School and Ducklings for free deliveries of Christmas cards among the children. Please ensure that the children's names and classes are clearly marked on envelopes.
Jack and The Beanstalk at The Compass Theatre
If any parents would like to take their children to a local pantomime, you can find details of The Compass Theatre's production of Jack and the Beanstalk here.
And Finally....
Please remember to use Easyfundraising when you do your Christmas shopping, as over 4,000 shops and sites will donate to the St. Helen's College Development Fund at no extra cost to you - so you can raise donations when you buy gifts, decorations, your festive food shopping or anything else online! It doesn't matter if you haven't signed up yet as it takes just a moment to create your account and begin using Easyfundraising to raise money for our cause. Just click here or follow this link: ​https://www.easyfundraising.org.uk/causes/sthelencoldevfund/?invite=T7XS4M&referral-campaign=s2s

Thank you so much for your support!