Weekly News - Friday 6th December 2019
Posted on: 06/12/2019
Carols Around The Tree
Thank you to all of the parents and children who joined us for our annual Carols Around The Tree event on Monday afternoon. It was super to have so many of you with us. Thank you to Soula and her team for the lovely mulled wine, mince pies and biscuits too!
Nursery Nativity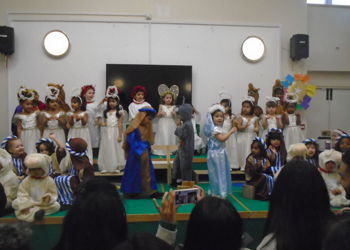 What a treat for our Nursery parents and staff on Tuesday morning, as the children of our Robins and Wrens Nursery classes performed their first St. Helen's College Christmas Nativity!
The children took to the stage with confidence and gave an utterly charming performance. There were clearly spoken individual lines as well as many group songs, with choreography too!
The vast majority of these pupils are 3 years old and the audience was so proud of them for remembering their lines, showing off their stage presence and their ability to follow direction and doing it all with a smile. Well done, Nursery!

Reception Nativity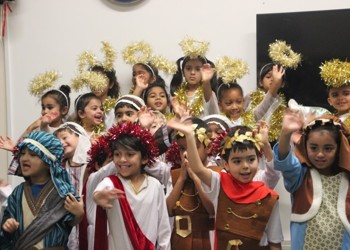 The Reception Nativity this morning was another resoundingly successful performance. The Lower School Hall was packed with family and friends and the children certainly rose to the occasion, singing with gusto and delivering their spoken lines clearly.
The children looked amazing in their costumes and the audience showed their appreciation and support as the show ended. Very well done to all those involved.
Year 3 Christmas Production
The Year 3 performance of 'A Countdown to Christmas' took place at the Winston Churchill Hall on Thursday evening and really was a feast for the senses! The countdown's focus was a village hall, at which various groups, including the long-suffering cleaners, were preparing for Christmas.
The script allowed the children to shine through individual and small group performances, as well as large ensemble numbers. It is sometimes easy to forget, watching productions such as this one, that the children performing are so young. Their voice projection and stage presence were both excellent and it was clear that they enjoyed themselves immensely!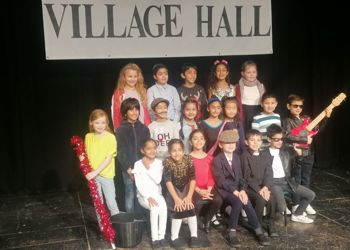 Year 3's achievements on stage are all the more impressive because so many of the children have suffered from winter bugs over the last week or two. Well done to all of the children and staff involved.
4KT Assembly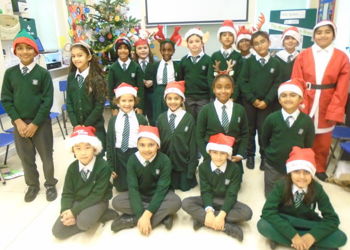 Parents, pupils and staff watched a wonderful assembly today by 4KT as they reminded and taught us about some of the traditions and facts about Christmas and how it is celebrated around the world. We even had a visit from Father Christmas during a stunning rendition of the poem 'Twas The Night Before Christmas'. The assembly ended with the children signing the popular Christmas song 'Rudolph the Red Nosed Reindeer'.
Doodle Wellbeing Advent Calendar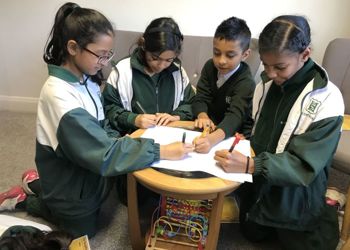 Each class in the Upper School have been given a 'Young Minds Wellbeing Advent Calendar' for the children to participate in simple wellbeing activities throughout December. It was delightful to observe Year 2 and the Mindful Moments Club children take part in the Giant Doodle from Wednesday's calendar entry! Please download a copy of the calendar to participate at home.
https://youngminds.org.uk/media/3393/wellbeing-advent-calendar-2019.pdf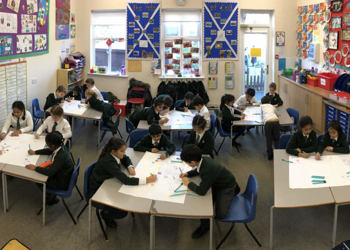 St. Helen's College Kitchen Receives 5 Stars Again
We are delighted for the school and for Soula and her team that they received a 5 star rating from the Food Safety/Health and Safety Inspection team when they had a spot inspection last week. To quote the report: ​'You have a fantastic and committed team which is apparent through the excellent standards in place. Well done!"
Clare Piggot, the Client Services Director from Accent Catering, awarded Soula with a well deserved bottle of champagne to recognise her achievement.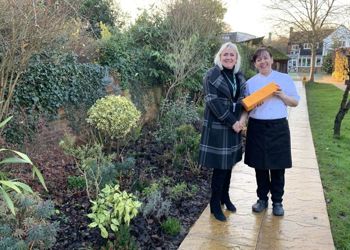 Final Week of Term - Arrangements
Monday 9th December

Infant Choir Carols in Lower School Playground - 8.15 a.m. - Please join us as you drop off your children to hear our Infant Choir singing carols in the morning.
Year 1 Christmas Assembly - 8.45 a.m. - all Year 1 parents are warmly invited to watch their children perform in their Christmas assembly, which will begin at 8.45 a.m. in the Methodist Church - please note the change of venue. Prior to this, coffee will be served from 8.15 a.m. in the Methodist Church Hall.
Wednesday 11th December
Upper School Pantomime Trip (Year 2-6) - after a brief introduction at school to pantomime as a traditional British drama form, all children in Years 2 and 6 will travel to the Beck Theatre to see 'Sleeping Beauty'. Previous performances have been of a high quality and much enjoyed by all, so we hope that this year will be no exception. On return to school, the children will enjoy a party style picnic lunch and some afternoon themed activities. School will end at the normal time for all classes.
Thursday 12th December

School Christmas lunch - Lower and Upper School children will enjoy a party style Christmas lunch here at school, cooked and served by our Accent staff. You can see the menu, with allergens, here.

Lower School Pantomime Visit - After their Christmas lunch, Lower School children will enjoy a visit from West End In Schools Pantomimes who will present their version of Dick Whittington. Lower School children are encouraged to wear party clothes to school on this day but please also remember suitable shoes and a warm coat!
Friday 13th December

Upper School Carol Service - Parents are warmly invited to join us at All Saints Church for our Y2-6 Carol Service, which will begin at 11.00 a.m. Please be mindful that the end of term is a busy time for traffic, and walk to the service/to pick up your children from school if you possibly can, or perhaps park away from the school and walk.
End of Term - half day - Pick up times are:
Ducklings and Nursery 11.50 a.m.
Reception 12.00 p.m.
Year 1 and Year 2 12.10 p.m.
Year 3 and Year 4 12.20 p.m.
Year 5 and Year 6 12.30 p.m.

Holiday Club will be running on the afternoon of Friday 13th December and then every day until Monday 23rd December. Please book in via your SchoolsBuddy account.
Christmas Cards
The children often like to send festive cards to their friends at this time of year. We are aware that many children like to pop a Christmas chocolate/coin into the cards as a treat but please could we request that this year that an alternative to chocolate is sought. With our school being very allergy aware, we are recommending that perhaps Christmas stickers are added instead or perhaps the simple gesture of a card is adequate. Thank you for your continued support. For further information and advice on allergies please see the Allergy Aware UK website.
Christmas postboxes will be open next week at Upper School, Lower School and Ducklings for free deliveries of Christmas cards among the children. Please ensure that the children's names and classes are clearly marked on envelopes.
Co-Curricular Activities
Thank you to parents for making your co-curricular selections for the spring term. Club allocations will be confirmed next week and we would like to remind you to make payment promptly when you receive your allocations in order to confirm your place(s).
Autumn term co-curricular activities have now finished apart from the following clubs, which will be running a 'catch up session' in the final week of term.
Reception Multi-Sports Club
Reception Percussion Club
Y1 Percussion Club
Y2/3 Yoga
Y2 Tennis
Y4/5/6 Tennis
Y3 Tennis
Y2/3 Craft Club
Y4/5 Art Club
Year 4/5/6 Cricket (Monday instead of Wednesday next week)
Y5 Football