Weekly News - Friday 13th December 2019
Posted on: 13/12/2019
Thank you to all of the parents and friends who joined us this morning for the end of term carol service at All Saints Church. As ever, it was a thoughtful and joyful occasion and it was lovely to have so many of you with us.
We wish you all a peaceful and happy Christmas holiday, and look forward to seeing you all again in the new year.
Musician of the Term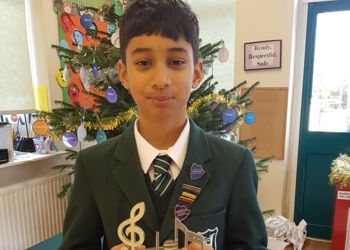 Many congratulations to Anish A who was today awarded Musician of the Term. Anish has shown outstanding effort, commitment, dedication and achievement in all aspects of music over many years at St. Helen's College. He has a sound musical knowledge and has applied and shared ideas successfully in class work throughout the years, as well as performing regularly, playing the violin and singing. He is currently working towards his Grade 6 violin and his Grade 4 singing. He is a much valued First Violin in our school orchestra, a committed member of both Senior Choir and Chamber Choir, and an excellent role model for the younger musicians in the school. He enjoys performing at our informal recitals and more formal events and he recently travelled to India, where he played at a wedding. Well done, Anish!
Sports Personality of the Term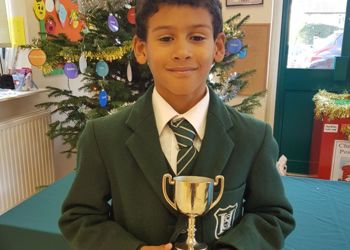 Well done to Adam K (Year 4) who was today awarded the Sports Personality of the Term award. Adam has grown to be one of the best footballers in the school. He shows great courage and perseverance, excellent sportsmanship and a real desire to encourage his peers.
The Year 6 Sports Captains noted that Adam strives at all times to achieve excellence and exhibits great confidence in what he does. Congratulations, Adam!
Year 1 Christmas Assembly
Wow! What a super Christmas assembly the children of Year 1 presented on Monday. Year 1 astounded us all by adapting so well to a new venue at short notice to celebrate Christmas in the Methodist Church. There was beautiful singing and interesting facts about the traditions of Christmas were retold by all. Thank you to Revd. Ken Kingston for his lovely story and for allowing us to use the church.
Christmas Christmas Christmas!
Our Upper School children enjoyed a marvellous morning at the Pantomime on Wednesday when they went to see Sleeping Beauty at The Beck Theatre. The day began with the pupils learning a little about pantomime as a dramatic form so that they were well placed to understand any jokes and enjoy the performance! The show was hilarious and the children had a wonderful time joining in and then having lunch back at school, followed by an afternoon of Pantomime tradition and creativity where they designed sets, costumes and props.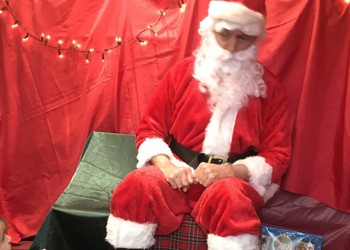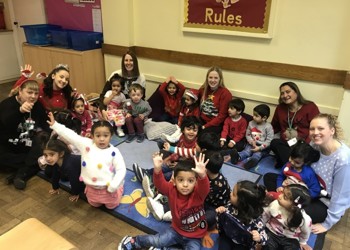 The children in Ducklings were super excited to receive a visit from Father Christmas who happened to arrive when Mrs. Crehan was taking a singing session with the children. A wonderful festive sing song was had with everyone and the children delighted Father Christmas with their singing, wonderful manners and festive glee.
Father Christmas then climbed back into his sleigh and Rudolph and his friends took him safely along Long Lane to visit the Lower School pupils who delighted him with their curiosity and wonder of Christmas!
Thank you to Mrs. Crehan who visited the Lower School classes later that morning with her guitar to accompany the children in an array of Christmas songs.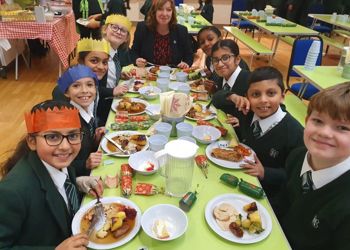 All Upper and Lower School children enjoyed a superb Christmas lunch experience on Thursday with a traditional dinner cooked by Soula and her team. Everyone enjoyed pulling crackers, telling jokes and listening to Christmas music! We are incredibly lucky to be so well looked after by Soula and the Accent team - many thanks to them all.
As ever, we received many entries for the Christmas tree decoration competition and it was very difficult to choose the winners. However, the year prizes were today awarded to:

Ducklings - Ashana M
Nursery - Tansy M & Emily K
Reception - Rohin M & Zayd A
Year 1 - Zinnia M & Riya-Skye S
Year 2 - Riya S & Zachariah A
Year 3 - Dominic M & Ayla A
Year 4 - Leo J & Avaani M
Year 5 - Isabelle K & Riya C
Year 6 - Jasmine B & Mohib F
Very well done to everyone who took part. The trees have looked magical and it has been such a joy to see the hard work and creativity that the pupils put into making their decorations.
Celebrations
We wish Miss Heath all the best for her forthcoming wedding on the 31st December and we look forward to welcoming her back to school next term as Mrs. Reid.
A Bientot Mrs. Stark
Today marks Mrs. Stark's retirement as Deputy Head after many years of making an outstanding contribution to St. Helen's College life. She will be greatly missed by her colleagues, by the children and by parents. We will look forward to welcoming her back as our part-time French teacher next term, but would like to take this opportunity to extend heartfelt gratitude for her wonderful dedication to the school over more than 20 years.
First News
We encourage children to read widely and to keep up to date with current affairs. You might wish to purchase a First News Subscription for your child this Christmas in order to support them in doing this.
Holiday Club
Please note that Holiday Club will be held at Lower School for all children over the Christmas holiday as there will be maintenance works going on at Upper School.
Spring Term
You can see the spring term menu here.
Co-curricular allocations for the spring term are now complete and have been emailed to parents. Please make payment promptly in order to confirm your child's place at their chosen club(s).
We will look forward to seeing you all back at school on Wednesday 8th January.
Girls' Basketball Sessions
There will be some brand new, girls only basketball sessions running at the Uxbridge College Sports Hall from 11.15 a.m. -12.45 p.m. on Saturdays. The first session is free so if you have a daughter aged 7-17 why not go along and try it. All abilities are welcome. For more details please contact Lorien on 07703 056 303 or email admin@fullcourtconnections.co.uk.
And Finally....
Please remember to use Easyfundraising when you do your Christmas (or any) shopping, as over 4,000 shops and sites will donate to the St. Helen's College Development Fund at no extra cost to you - so you can raise donations when you buy gifts, decorations, your festive food shopping or anything else online! It doesn't matter if you haven't signed up yet as it takes just a moment to create your account and begin using Easyfundraising to raise money for our cause. Just click here or follow this link: https://www.easyfundraising.org.uk/causes/sthelencoldevfund/?invite=T7XS4M&referral-campaign=s2s

Thank you so much for your support!