Weekly News - Friday 28th February 2020
Posted on: 28/02/2020
World Book Day
We would like to remind you that next Thursday, 5th March, we will be celebrating World Book Day. The theme for Ducklings and Lower School is 'Enchanted' and the theme for Upper School is 'Harry Potter'. The children are asked to dress as a book character of their choice (which may of course link to the themes if you wish). It is sure to be a fun-filled day, celebrating the fantastic world of books and all the reading done throughout the year. The children are also asked to bring the book their character is from on the day so that we can share them together.
There will be a special themed lunch menu on World Book Day. You can see this, and associated allergens, here.

In conjunction with our World Book Day celebrations, the school is taking part in a sponsored read through Usborne Books in a bid to get even more fresh new books into our classrooms and libraries for your children to enjoy. Sponsorship forms and reading logs have been sent home with your children and full details have been sent out on SchoolsBuddy. Many thanks for your continued support of the children's reading.

As part of World Book Day, we will be holding a book sale of pre-loved books surplus to the library. It will take place in the Upper School gazebo between 8 a.m. and 8.30 a.m. on Thursday and books will cost 25p, 50p or £1. The money raised will be used to buy new books that will boost our wellbeing and good health! Please do come along with your child(ren) if you can.
Speech Competition
Children are busy preparing their Speech Competition entries and recitals. This is one of the many opportunities across the year which enables the children to showcase their verbal skills and to develop their confidence in public speaking. Please note that children must not use gestures or choreography of any kind in their performances. For Years 1-6, the judging criteria are: expression, projection and clarity.
Year 2 Visit The Heath Robinson Museum
Year 2 had a very enjoyable trip to the Heath Robinson Museum on Monday.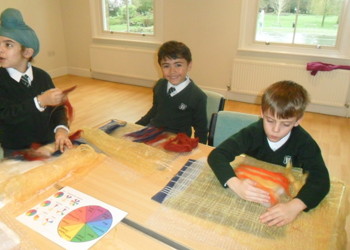 They had a look around the beautiful museum and then took part in an art activity using different coloured wool and lots of soap and water to make felt. They used the colour wheel to decide on different colours for their designs and have created some lovely pieces of art work.
This beautiful, local museum offers lots of craft activities over the holidays for families so please do consider taking your children during school holiday times too!
JRSO Conference
On Wednesday our Junior Road Safety Officers were invited to attend an event at The Winston Churchill Hall by the London Borough of Hillingdon's Road Safety & School Travel Team.
Our team, consisting of six pupils from Year 5 (Fredericka, Georgia, Samir, Vidhit, Jena & Manisher) were invited to participate in a number of fun educational activities, including a theatre performance, workshops and the "Dragons Den", for which they had to present an idea and pitch for funding.
Over the past few weeks the team have been discussing ideas on how to improve road safety and decided upon a drive to raise speed awareness amongst parents, staff and pupils. They came up with various ideas of how this could be achieved including signage, banners on the railings, a portable speed bump to reduce speed in Parkway to 10mph, assemblies for parents, leaflets and making their own awareness video similar to the TfL "Watch your Speed" campaign. They researched the resources that are available and then calculated the costs involved. They then produced their proposal in the form of a presentation.
On the day they were all very excited and a little nervous before they were called in to face the "Dragons". They spoke confidently and delivered a polished presentation. The Dragons gave them quite a grilling at the end of their presentation and they answered all their questions with confidence. Councillor Burrows remarked that he was unable to authorise a speed bump but was impressed by their well thought out ideas for raising speed awareness.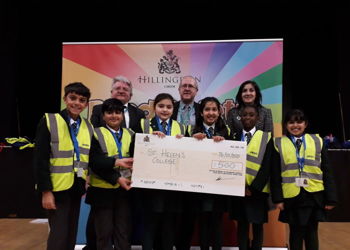 At the end of the day we all sat nervously waiting to find out if their pitch to the Dragons had been successful and we were delighted that not only did the Dragons endorse the children's ideas but actually gave them more money than they had asked for! We received a total of £500 which will enable the JRSOs to get working on their campaign. We look forward to seeing their Speed Awareness Campaign come to life!
Year 3 Pedestrian Training & Year 5 Road Safety Workshop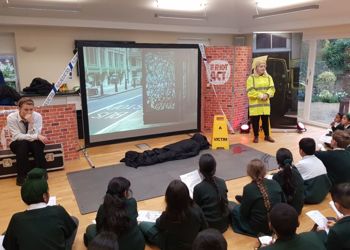 Our Pedestrian Safety training programme continued this week, with Year 3 pupils undertaking their road safety training with the London Borough of Hillingdon's Road Safety Team, and Year 5 children enjoying a visiting Road Safety Workshop from 'Riot Act' today.
Kingfishers Class Assembly - Space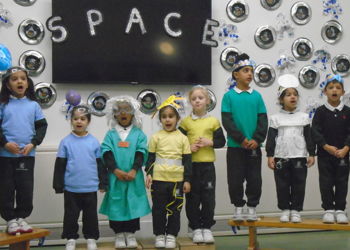 The children in Kingfishers rocketed us into space this week with a superb assembly, teaching us all about the solar system and space travel. We even met some cheeky little aliens! We were also reminded of how to look after our planet by reusing, reducing and recycling our waste. The children performed confidently and it was a very informative and enjoyable presentation. Well done, Kingfishers.
Woodlands Care Home Visit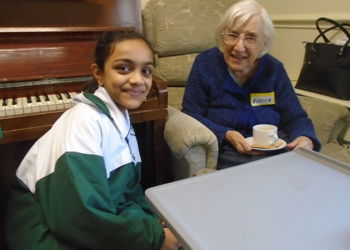 On Thursday a group of our Year 6 children, Mrs. Belvoir, Mrs. Drummond and Mr. Barnard visited Woodlands Care Home in Ickenham. This was the first 'getting to know you' visit for the children and the residents and our pupils are incredible ambassadors for the school. Many of the residents suffer from dementia/Alzheimer's and the children were so incredible with their communication and the interest they showed in their new friends. Our new relationship with Woodlands is particularly special for Mrs. Belvoir as her mother is one of the residents who enjoyed the company of the children.
Friday Informal Music Recital
We enjoyed another superb informal music recital in the Evans Hall at the end of the school day today, with performance from pupils from many year groups. It is wonderful to see the children gaining confidence in performing to a supportive, friendly audience and we are sure that many of them will go on to a lifetime of performance and musical achievement! Well done to all those who took part.
Football - Cup Match v. Oak Farm
Unfortunately on Wednesday we suffered our first defeat of the football season, going down 4-0 to Oak Farm in the Cup. The team weren't at their best and hopefully we can rectify that for our remaining two league games.
Exhibition Day
Our annual Exhibition Day will take place on Saturday 21st March from 10 a.m. to 12 p.m. This is a wonderful St. Helen's College tradition and we hope that all families will attend so that you may view the displays of children's work across the curriculum. Pupils should wear full school uniform please. Please note that Friday 20th March is a half day and that there will be no Funtasia available on this day as the staff prepare for Exhibition Day.
StarGazing Event at Ruislip Lido This Weekend
The West of London Astronomical Society would like to invite children, parents and staff to a public stargazing event being held at Ruislip Lido this coming weekend: Fri 28, Sat 29, Sun 1 Mar, 7 p.m. - 9 p.m.
Details are on the poster attached which you are invited to print and publicise as you wish.
Medium term forecasts are now quite reliable and are currently saying:
Fri: poor
Sat: starting partially cloudy then clearing
Sun: the most promising, again improving over the evening.
Please check the WOLAS website before setting off: http://www.wolas.org.uk when the GO/NOGO call will be made by 4pm.
The next stargazing weekend is 20 - 22 November, at the end of National Astronomy Week when Mars will be at its closest until 2035.
We do hope that many of you will take your children along to enjoy some stargazing!
Junior Bake-Off
Love Productions, the company behind The Great British Bake-Off, are currently looking for young budding bakers between 9 -15 years old for a new series of Junior Bake-Off. Filming would take place from July 2020, but applications close on Sunday 5th April 2020.
Interested young bakers can apply online at WWW.APPLYFORJUNIORBAKEOFF.CO.UK.
Spice of the Month - Caraway
Accent Catering's 'Spice of the Month' for March is Caraway. You can find lots of recipes including Caraway here - we hope you will enjoy making some of these with your children!