Weekly News - Friday 6th March 2020
Posted on: 06/03/2020
What a wonderful day we had yesterday as we celebrated World Book Day! At Ducklings and Lower School, children and staff dressed up following their 'enchanted' theme and the pupils of Robins Nursery presented a beautiful book-themed assembly (see below).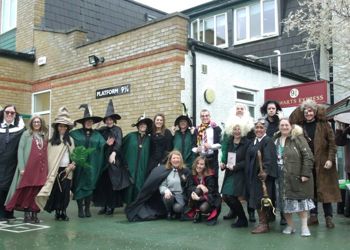 At Upper School, the children arrived at Platform 9 3/4 to embark upon their Hogwarts adventure as the school grounds were adorned with Harry Potter themed signs. Staff and pupils enjoyed a day of Potter-themed activities and lessons, including riding 'broomsticks' in PE sessions! The following morning, 6M presented their Harry Potter assembly (see below). In response to a parent request, you can see here a picture of some of the many staff who dressed up as Hogwarts teachers and pupils!
Soula and her wonderful team provided a special 'enchanted' themed lunch and the Evans Hall was transformed into the Hogwarts Great Hall, with extra long tables and polyjuice potion smoothies. Accent Catering have provided some World Book Day themed recipes which you might like to try cooking with your children at home. You can see them here.
Thank you to all of the parents who worked hard to help your children dress up as characters from their favourite books - reading really did come to life at St. Helen's College this week and we couldn't have done it without you!
Robins Class Assembly - Books Books Books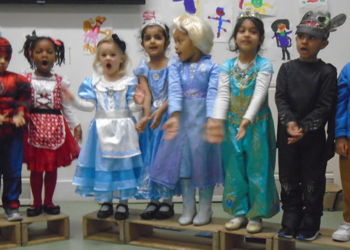 Wow! The children of Robins Nursery really did enchant us all with their assembly performance on Thursday, as they stood up confidently in front of a hall full of adults and recited their lines and songs about books and all the magic to be found within them. Their costumes were really beautiful and it was particularly touching to see the children being such good friends to each other, as they helped each other to remember their lines and take their places. It is easy to forget that these children are only 3 and 4 years old when we see them able to command a room, remember lines and songs and present themselves so confidently. Very well done, Robins!
6M Class Assembly
We are grateful to the children of 6M, who presented a confident, musical and meaningful Harry Potter-themed assembly on Friday morning. Linking the Harry Potter stories neatly to our school values, they reminded us that friendliness is perhaps one of the most important values of all, and that bravery and perseverance often pay off. We were treated to a beautiful rendition of 'Double Double' by a Hogwarts-style choir and there was some super choreography and some humour too! Five of the girls also played Harry Potter themes on recorder, in parts, to begin the assembly. The pupils certainly showed off their excellent musical and acting skills and we are sure that, along with the children of 6RD, they are going to give us an end of year musical to remember this year - there is so much talent among them! Well done, 6M.
Year 1 Trip to Windsor Castle
Year 1 were very lucky with the weather on Tuesday, as the children and staff enjoyed a super day out at Windsor Castle, the largest and oldest inhabited castle in the whole world! The pupils really enjoyed learning all about the Queen and her favourite home.
Exhibition Day
Our annual Exhibition Day will take place on Saturday 21st March from 10 a.m. to 12 p.m. This is a wonderful St. Helen's College tradition and we hope that all families will attend so that you may view the displays of children's work across the curriculum. Pupils should wear full school uniform please. Please note that Friday 20th March is a half day and that there will be no Funtasia available on this day as the staff prepare for Exhibition Day.
Speech Competition (Years 1- 6)
Well done to all of the children who have been reciting their poems in class this week. The teachers have been very impressed with the standard and have had the very difficult task of choosing class semi-finalists. When finalists have been selected from each class, the parents of finalists will receive a letter inviting them to attend the final on Monday 23rd March, which will be judged by one of our school Governors, Miss Linda Beckett.
Staff Updates
Mr. Tovell will be leaving us at the end of this academic year to take up a new position at St. Alban's High School for Girls prep department. This is much closer to his home and will allow him more family time as his son Teddy starts school. Although we are very sorry to see him go, we wish him well in this new stage of his career.
We are currently recruiting and will announce details of new appointments soon.
Sports News
Football
It was a difficult week for the football team, who lost 3-1 to Heathrow on a challenging pitch in very wet, boggy conditions. Well done to the boys for their efforts on such a miserable day. Onwards and upwards!
Netball Borough Finals
Our netball team competed in the borough finals this week and put up a creditable performance on a rather dismal, rainy day. In the end, they won 4 matches and lost 2, and were placed 9th overall. Well done to the girls who took part.
Marks and Spencer's Little Garden
Marks and Spencer are currently running a promotion named 'Little Garden'. When you spend over £20 in the food hall or on food to order, M&S will give you a free seedling kit. You could use this to grow seedlings with your children at home or, if you find you have surplus kits, we would be very grateful if you would bring them to school for Ms Gilham, who will use them in our summer term Gardening Club.
Many thanks for your support - let's all get growing!