Weekly news - Friday 8th May 2020
Posted on: 08/05/2020
VE Day Celebrations
The whole school really entered into the spirit of celebrating the 75th anniversary of VE Day this week, with a variety of activities taking place across the year groups. We couldn't have our planned street party at school, but the children certainly made up for it with their enthusiasm!
In our Monday assembly, Patrick, our St. Helen's College History Prefect, introduced us to VE Day, by sharing some of his knowledge with everyone. He spoke very knowledgeably. Catherine performed a wonderful rendition of the popular war time song, the White Cliffs of Dover, accompanying herself on the piano.
Across the school, children and staff were dressed in red, white and blue and many were waving flags and had decorated their rooms with bunting, which could be clearly seen in our Google Meets!
In Year 1, the children were busy writing postcards, diaries from the front line and even creating their own radio broadcasts to announce Victory in Europe! There were also activities such as quizzes and designing World War 2 medals. Reception staff and children really entered into the spirit of VE Day! They were making flags, videos and creating pictures. Even the Star Leader bears took part in the shared celebrations!
Children in other year groups created amazing posters. They also planned, researched and calculated the cost of a VE Day party, did word searches, took part in guided reading about VE Day, joined in with songs from the era and even tried out baking some World War 2 recipes!
Our Reception children (Kingfishers and Owls) made a video to wish everyone a happy VE Day and to show off their red, white and blue clothes and the flags and other decorations they had made. Here they are celebrating:
Brendan Q (Y1) made his own black and white broadcast to celebrate VE Day. You can see this here:
You can see other photos from our VE Day celebrations on our Galleries page. All round, it was a fantastic effort from the St. Helen's College community to celebrate this very special day!
Charitable Gestures
It is so wonderful to hear that our pupils and parents are such great ambassadors and upholding our school values within our community. Advik S from 3M recently donated birthday money, which he had left over from earlier this year, to two very deserving causes. He has given £50 to Great Ormond Street Hospital and another £50 to the Colonel Tom Moore fundraiser for NHS.
Mr. Kumedzina is a Station Commander for the London Fire Brigade and also the Head Karate Coach for South West of England. The Kumedzina family have been training together to keep fit during lockdown, and the London Fire Brigade Charity have been raising money for the NHS by doing a 365 hour non stop run to emulate the 24 hour efforts of the NHS across a 7 day period.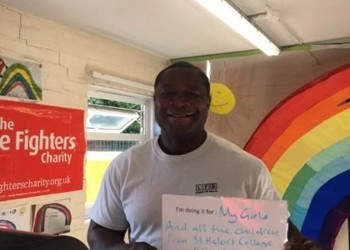 Each participant has a board which is dedicated to a person or cause and Mr. Kumedzina dedicated his to his daughters and all the other children of St. Helen's College who have been working so hard at home. To support this effort, Myla ran for an hour to show her support.
Staffing
We are thrilled to share the news that Mr. Tovell (4T) and his wife are expecting a baby! The new baby will become a little brother or sister to their son Teddy. Many congratulations to Mr. Tovell and family!
Sadly Mr Aguiar, our Spanish teacher, will not be teaching the children remotely due to ill health (which is not Covid-19 related). In his absence there will still be Spanish provision for the children which will be overseen by Mrs. Stark, our Head of MFL and other staff who have a good level of proficiency in Spanish. We ask parents to be mindful not to contact Mr. Aguiar at this time.
Upper School 'Hello' Video
The Upper School staff shared a video this week to say 'hello' to all the children. We are missing them all so very much! The video was published on the Learning Portal.
Wellbeing for all working remotely
During this period of remote learning it is very important that we all make sure we think about our health, safety and wellbeing. We are all spending much more time on our PCs, laptops, tablets and smartphones. Teachers are preparing and delivering lessons to your children and many of you as parents are also working remotely. Never before has so much time been spent online by us all. It is important that this should be done in the safest way possible ensuring we do not put undue strain or stress on our bodies.
As a staff we have all been assessing our home workstations and I am sure that your employers have also been advising you of the same.
This short video here shows some simple ways to adjust workstations and you may wish to complete your own basic workstation assessment at home for your children and yourself using this simple checklist.
As a school we are encouraging our staff to switch off from work and their workstations to enable them to recharge for the next day and to adopt a schoolwide email curfew between the hours of 7pm and 7am. I am sure that many of you have this in place with your place of work too. Please do be mindful that staff may not reply to your email until the next working day if you do send something to them in the evening - they are not ignoring you but are being encouraged to look after their wellbeing in order for them to be refreshed for the next day. Thank you for your support in this matter.
Online Safety
If you share a device with your child, it is strongly recommended that you log out of your account before allowing your child to use the device. If you do not, you are giving your child access to applications and information that you may not wish them to see. In addition, if you are logged onto a gmail account, your child will encounter problems with applications such as Google Meet. When multiple gmail accounts are used, Google sets the first account to be logged on as the default account. So, for example, if your child clicks a Meet link they will be taken to it with your account details and they will not be able to join. If siblings share a device, they should also sign out of their Google accounts after use.
Feedback
We will be seeking feedback regarding this term's online learning provision from parents, staff and pupils next week using questionnaires developed by RSAcademics, a well-established and highly regarded educational recruitment and consulting company. Thank you for taking the time to complete the survey when you receive it.
In addition, we will be holding a virtual PA Forum meeting to focus on pupils' wellbeing and the wellbeing of our whole school community. This will take place on Wednesday 20th May at 7 p.m. If you have any points that you would like the PA representatives to discuss with Mrs. Drummond, Mr. McLaughlin, Mrs. Hunt and Mrs. Smith, then please forward these to your representative as soon as possible. Class representatives should forward points for discussion to Mrs. Smith by Friday 15th May, please, at susmith@sthelenscollege.com.
Book for Upper School
For those of you who enjoyed Anna Farher's 'The Umbrella Mouse' adventure with Pip....great news! The sequel to Anna's debut book is now available for pre-order. Please follow the link https://www.waterstones.com/book/umbrella-mouse-to-the-rescue/anna-fargher/sam-usher/9781529003994