Weekly News - Friday 19th June 2020
Posted on: 19/06/2020
Funny Face Friday!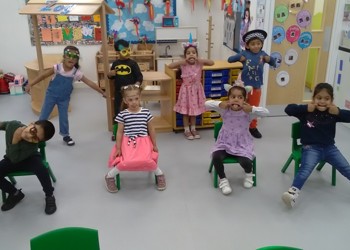 It has certainly been a fun day today both in school and at home, as the children have donned their 'funny faces'. Here you can see some of our Nursery children making their funny faces! There are lots more photographs from around the school and home on our Galleries page here.
Art Competition
Thank you so much to the children who entered our House Art Competition, depicting the school values. We have thoroughly enjoyed all of the entries and the winners will be announced in assembly on Monday.
Next Week - Uniform Friday/Alternative Mufti Day!
Next Friday will be a flipped 'mufti day', when we invite children to wear their school uniform throughout the school day, whether they will be on the school site or learning at home. It might feel very strange to some of them to put it on for one last time this year! Of course we understand that some children might have grown out of all or part of their uniform, so please feel free to be a little creative if you need to, or to use PE kit, but please do encourage the children to wear their full school uniform if they have it.
Chamber Choir Auditions
If you have a child in Year 2 to Year 5 and they would like to audition to join the Chamber Choir, please check your Google Classroom for further details which have been sent out today.
Rising Up Together
A lot of information follows below about how things currently stand at school, and what the immediate and longer term future might hold. One thing is sure...as a school community, we have remained strong throughout lockdown so far and we will rise up, ready to come back together fully with joy and gratitude when we are finally allowed to do so! We hope that you will share this sentiment as you enjoy our latest SHC lockdown video, Rise Up:

https://youtu.be/qyrbdDEqGdo

The Remainder of This Term
We have, over the past week, surveyed parents of those children who are currently eligible to attend school but have not yet been back to the school site. Many have indicated that their children will return next week or the following week and we have made plans to accommodate them safely. Unfortunately we will therefore not be in a position to invite pupils from any other year groups back into school before the end of this term. We understand that this will be disappointing news for many families, as it is for us, but we are sure that you understand that, with the restrictions which are currently in place for school, all our school space and staffing is being fully utilised.
Travel To School
As the number of pupils on site has continued to increase gradually, the London Borough of Hillingdon's Road Safety Team have produced a poster to remind parents about best practice when travelling to/from school. You can read this here.
Online Safety
We have sent a direct email to parents today about Online Safety. If you have not already done so, you can register for our National Online Safety platform by clicking on this link and proceeding as a parent/carer. You will then be able to access many useful resources and a comprehensive course.
Please do not hesitate to contact us if you require additional guidance or if you have any concerns about your child's online safety. Our Designated Safeguarding Leads are:
Upper School: Mr. McLaughlin
amclaughlin@sthelenscollege.com

Lower School/Ducklings: Mrs. Hunt
lhunt@sthelenscollege.com
2nd Uxbridge Beavers - Places Available Now
Before Coronavirus prohibited face-to-face Scouting, the 2nd Uxbridge Beavers Group met weekly at the Scout HQ on Gatting Way (the same road as Hillingdon Leisure Centre). They are currently running weekly online meetings for their Beavers children. These meetings allow the children to burn off a little energy and also to safely connect online with other children their own age, which is more important now than ever.
The group currently has places and would be delighted to have girls and boys aged between 5¾ and 8 years old join them. You can find full details here.
Summer Holiday Club
Current government guidance, staffing restrictions and the protocols in place within school regarding grouping children mean that it will most likely not be possible for us to offer Holiday Club provision over the summer holidays. We will of course update you if the situation changes.
Staff Changes
As parents already know, we will be saying goodbye to some members of staff at the end of this academic year. Mrs. Rance will be leaving us as she and her husband await the birth of their second child; they have decided to move further away from the school. Mr. Tovell is leaving us to move to a position much closer to his home, to enable him to spend more time with his family; he is also expecting his second child. Miss Dear has decided to step back from teaching altogether to devote more time to her family at home, and Mrs. Stubbs will also be relinquishing her peripatetic music commitments with us.
After 20 years as a class teacher at St. Helen's College, Mrs. Hunt will not be a form teacher next year. She will remain in her role as Head of Lower School but will now have the opportunity to teach some lessons in Year 1 and also to follow the progress of the children as they transition to Year 2. Mrs. Hunt also oversees Ducklings and is our Designated Safeguarding Lead for Ducklings and Lower School. Mrs. Hunt will miss the role of form teacher but she will now have the opportunity to visit all the classes and to assist across the EYFS to Year 2. Mrs. Allery, while remaining with us as a Year 5 form teacher, will no longer be Director of Music as she would like more time to focus on supporting her family, and Miss Phoebe Williams will no longer be working with us as a Funtasia Assistant. Mrs. Blackstone will, after some years of semi-retirement, be taking the plunge and retiring fully. We wish them all the very best as they move onto their next phases.
As previously announced, Mrs. Claire Fawbert will be joining us as our new Director of Music from September. Mr. Steve Roche will be joining us as Head of English and Year 6 form teacher. Miss Kyra Linton will be joining us as Head of Maths and Year 4 form teacher. Mrs. Victoria Briggs will be covering for Mrs. McLaughlin in 3M while Mrs. McLaughlin completes her maternity leave. Mrs. Nadine Pruce will be joining us as Head of Art, Miss Emma Rackham will be joining us as Year 1 class teacher and Mrs. Jane Smith will be joining us as a peripatetic flute teacher. We are also in the process of appointing an Early Years Assistant to work in our Ducklings class while Miss Hill completes her maternity leave.
Class Allocations 2020/21
Please find below the list of class/teacher allocations for the next academic year.
Our new intake of Ducklings will be led by Mrs. McGee
The new Robins Nursery class will be led by Mrs. Mann
The new Wrens Nursery class will be led by Miss Carmichael
Robins Nursery will become Kingfishers with Ms Matthews
Wrens Nursery will become Owls with Miss Joiner
Kingfishers will become 1R with Miss Rackham
Owls will become 1C with Miss Cooper
1C will become 2H with Mrs. Hussein
1HC will become 2B with Mr. Bustard
2B will become 3M with Mrs. Briggs (Mrs. McLaughlin following maternity leave)
2H will become 3B with Mrs. Belvoir
3B will become 4L with Miss Linton
3M will become 4T with Mrs. Thompson
4KT will become 5A with Mrs. Allery
4T will become 5G with Ms Gilham
5A will become 6R with Mr. Roche
5G will become 6M with Mr. McLaughlin
New parent meetings and transition meetings for parents whose children will be joining year groups from Ducklings to Year 2 have been arranged over the coming weeks. These meetings will take place online and parents have been sent the dates and will be sent further information before each meeting takes place.

Meet the Teacher evenings will take place, as usual, in September for parents of children in Years 3 to 6. The provisional dates are below - please add these to your diaries now.

Thursday 3rd September at 7 p.m. - Year 3 and Year 6
Tuesday 14th September at 7 p.m. - Year 4 and Year 5

We hope that these Meet the Teacher evenings will take place in person, on the school premises, as usual. If this is not possible, they will take place online. Again, further information will be sent to parents before each meeting takes place.
While we will not be able to hold our 'moving up mornings' this term as we usually would, there will be an opportunity towards the end of term for the children to 'meet' their new teacher online, and to welcome new pupils who may be joining into their class from September. Further details about this will be provided by class teachers.
Planning for September
Some parents have contacted us to ask about plans for our return to school in September. The truth is that, like schools across the country, we just don't know what September will hold for us all yet.
We are, of course, hoping and planning for a full return to school and for normal life to resume for everyone. Although we are also considering possible alternative scenarios, we will not be able to make any definite plans until nearer the time when the government makes further decisions and announcements based on the course of the pandemic at that point.

Staff will have a well-deserved and much-needed break over the summer, but we will certainly also spend time over the summer planning carefully and communicating with staff and parents. While it is hard for us all to sit with uncertainty for now, we just don't have any other option. We ask you to refrain from speculating or from contacting staff over the holidays; we will communicate with parents by 14th August over planning for the September return, and at least weekly from then on.
Uniform
Parents are reminded that the uniform and equipment list is available in the Parents section of the website here. Please do take a look at what your child will need for September onwards as they move into their new year group.
Our uniform suppliers, Pullens, re-opened their shops on Monday 15th June and visits are currently by appointment only. Pullens have asked us to let parents know that they have the following measures in place to prepare for social distancing and to ensure the health, safety and wellbeing of customers and staff:
Installed hand sanitising stations at the entrance to stores, placed physical markings throughout to ensure social distancing and positioned PPE equipment.
Stores are open by appointment only to limit the number of customers in store at any one time.
Late night opening on Tuesdays, Wednesdays and Thursdays, by appointment.
Request one adult per family with only the child/children who require uniform.
Card payments only.
Exchange/Refund policy – extended to 120 days.
10% discount, in June and July, on all orders placed online with a minimum value of £100, using code U4K10.
No-contact returns processes in place for online orders.
Live Chat available online, during working hours.
Click & Collect service from outside stores.
Specifying a deadline for families to order uniform online by 10th August to ensure uniform is delivered by the start of term.