End of Term News - 10th July 2020
Posted on: 10/07/2020
We're All Going On A Summer Holiday!
Our final 'feel good' staff video of the lockdown can be found here. Enjoy and have a wonderful summer holiday!
2019-2020 School Magazine
We have, as always, been working very hard to produce a school magazine which showcases some of the excellent work the children have done this year, as well as some of the many activities in which they have taken part. This year we are not printing/distributing the magazine due to COVID-19 restrictions, but you can see the electronic version here and it will remain available on the school website. We hope that you enjoy looking through this lovely keepsake...the children might like to look at what the year group above theirs has been doing too, so that they get an idea of what life will be like for them when they enter their new year group in September.
Musician of the Summer Term
The Musician of the Term trophy is awarded for outstanding effort, commitment, dedication and achievement within the music department. The winner this term is someone who has always worked conscientiously and demonstrated enormous enthusiasm over several years, in all aspects of music at St. Helen's College. She has excellent music skills and applies and shares creative ideas successfully in class work. She has been a regular member of the Junior, Senior and Chamber Choirs. She is an excellent role model within the music department and is a music prefect, regularly performing at assemblies, recitals and outside of school. As well as playing the recorder fluently, she has singing lessons and is preparing to take Grade 7 on the piano.
An enormous well done to Anaiya B!
Lockdown Summer Term Sports Personality
A huge well done to Samir H, who has been named the Sports Personality of the Summer Term! Samir engaged with all of the Virtual Sports Day events, uploading lots of videos of himself taking part, and also completed a 26 mile charity challenge. Samir is a talented tennis player and has skills which would have made him a member of several sports teams this term, had school been 'normal'. He always encourages others to get involved and has been particularly encouraging to his younger sister during the period of lockdown. Congratulations, Samir!

Lockdown Sports Champions
Our Year Group Winners were:
Y3 - Oliver K
Y4 - Charlotte M
Y5- Vidhit N
Y6 - Eli V-B
The overall champion was Samir H.
Very well done to all those who took part in the virtual sports events!
Spring Term Sports Personality of the Term
Well done to Rhea A-V, who was named the Sports Personality of the Spring Term (which could not be announced at the end of the spring term due to lockdown). Rhea is a real all-rounder and has been a stalwart of many school teams. She has shown great leadership both on and off the sports pitch and has excelled in the football and netball teams and in her role as a Sports Captain, organising the table tennis trials. Congratulations, Rhea!
Sports This Year
The full sports round up for this year is here.
Mythology Competition Success!
Jasmine B and Uma D (Year 6) have been awarded joint 1st prize in the Arts section of the 2020 Annual Mythology Competition organised by The Primary Latin Project. They each wrote and performed their own individual song as a response to the story of Daedalus and Icarus.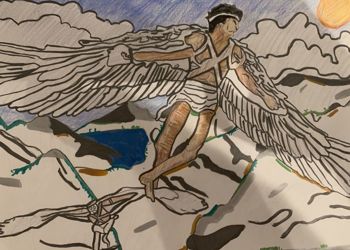 There were some other excellent entries from children in Years 2-6, such as the lovely mythology-inspired piece of artwork by Riya C which you can see here.
The judges made the following comments.
'This year's entries have been fantastic with such a wide range of materials and ideas used to help to convey the elements of the myths. It has made my job as judge of the art competition very tough because there were so many brilliant entries! Top prizes this year include songs, paintings on canvas, digital art and 3D models. Judging was done taking age of entrants into account to ensure ability was judged fairly. Higher marks were given to the originality of the entry, the attempt to convey all elements of the myth as fully as possible and overall presentation.'
Very well done to all those children who submitted entries and particular congratulations to Jasmine and Uma!
Junior Language Challenge
The uTalk competition played out very differently this year due to Covid so there were no national finals. Certificates have been allocated on different criteria as below.
https://mailchi.mp/aa4df991944e/the-utalk-junior-language-challenge-has-come-to-an-end
Leo J (4KT) is one of only 13 children out of over 2300 to get full marks in both rounds and he has won a gold medal and £200 worth of uTalk language software! Tanishka M has won a silver medal and £50 of uTalk software. Other pupils were awarded bronze certificates. Very well done to everyone who took part, and special congratulations to Leo and Tanishka!
House Art Competition
Many congratulations to all of the children who entered our House Art Competition, who will each receive certificates. Winners' trophies were awarded to:
Windsor winner - Anjika G (4T)
Cambria winner - Ruby L (2H)
Ducklings Summer Picnic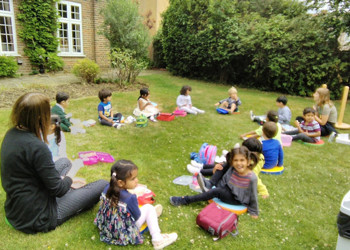 Our Ducklings children had so much fun this week when they visited Father Desmond's garden for their summer picnic. You can see more photographs of the children enjoying this special event on our Galleries page here.
Mrs. McGee and the Ducklings staff are very proud of the resilience and joy our youngest children have shown throughout their disrupted first year with us, and we know that they are well equipped to move on for a very happy year in Nursery from September.
Lower School Beach Party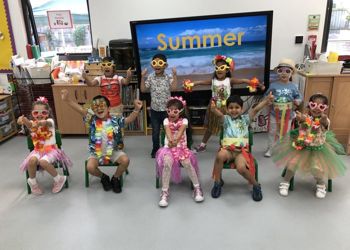 The children attending Lower School had a super day today, celebrating all that summer might bring with their very own beach party day! You can see more photographs of the fun and colourful time they had on our Galleries page here.
Spaghetti and Marshmallow Challenge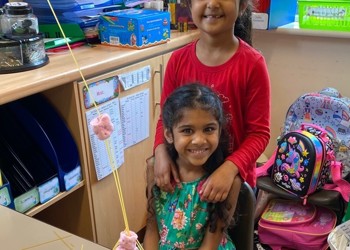 Our Year 1 children took part in a marshmallow and spaghetti challenge this week. The winners from Blue Whale pod (1HC) were Roshni and Ashvika, who managed to build a tower that measured 65 cm high. They were also the team that showed the most perseverance and determination. Well done, girls!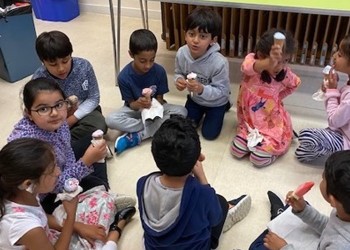 The Year 1 children would usually have been visiting Mad Bess Woods, where Mrs. Hunt lives, during their final week of term, where they would have had a wonderful time exploring and having ice creams. We couldn't quite bring the woods to school, but we could certainly bring the ice creams and the children enjoyed them immensely!
Year 6 French Day and Play In A Day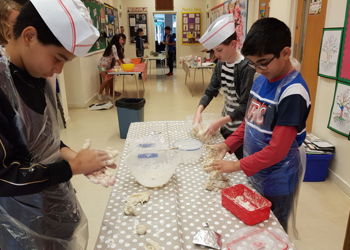 The Year 6 pupils enjoyed a 'fantastique' day of French themed activities on Wednesday, including bread making, disco dancing, French quizzes, traditional games and of course the annual talent show! Tasty crepes were served at lunchtime from a wonderful crepe van too. Well done to everyone for embracing the day. You can see more photographs from the day on our Galleries page here.
On Thursday, they put on a 'Play In A Day' version of 'Singing In The Rain', which would have been their grand Year 6 musical. The children entered into the challenge with enthusiasm and demonstrated their well-developed performance skills. The weather wasn't fantastic on Thursday and once or twice they were actually singing in the rain! You can see the video of their efforts here.
Leavers
We wish all pupils and families who are leaving us all the very best for the future. We will miss you...please, please keep in touch. Old Helenian news should be sent to susmith@sthelenscollege.com - we would love to hear all that your children get up to and to celebrate their future successes with you.
We also wish the staff who are leaving us every success for the future and thank them for their commitment to the school. We know that they will keep in touch with us and look forward to hearing from them. All the very best to class teachers Miss Dear, Mrs. Rance and Mr. Tovell and to Mrs. Stubbs (Music) and Miss Williams (Funtasia).
Mrs Califano (1HC) will be leaving us to start her maternity leave and we look forward to hearing happy news later in the summer from her and from Mrs. Rance too.
Mrs. Hunt, who has been a class teacher at St. Helen's College for 20 years, is stepping away from her class teacher role in September to concentrate on her leadership duties as Head of Lower School and one of our Designated Safeguarding Leads. We thank her for her excellent work as a class teacher over so many years.
Summer Reading Challenge
We know that many families have enjoyed visiting their libraries during the summer holidays and participating in the summer reading challenge. However, with the disruption to library services due to COVID-19 the challenge will this year take place digitally. Please do sign your children up to enjoy some super reading challenges, quizzes and other activities by following this link:
https://summerreadingchallenge.org.uk/parents-carers
We look forward to hearing about the children's summer of reading for pleasure!
Summer Holiday Activities
Parents might be interested in these ideas for some activities to keep your children busy and entertained over the summer holidays.
https://www.booktrust.org.uk/books-and-reading/have-some-fun/competitions/win-an-original-drawing-by-ed-vere-plus-a-set-of-signed-books/