Weekly News - Friday 26th June
Posted on: 26/06/2020
Ready to Rumble
Here is our next 'feel good' video, made in recognition of the fact that today would have been the Prep Sports Day. We hope it will remind you all that the St. Helen's College staff are keeping in good spirits and thinking of all members of our community, even while it is not possible for us all to be together in person. We hope you enjoy it!
https://www.youtube.com/watch?reload=9&v=kQbDi_jhnZQ&feature=youtu.be
Fun Friday
It has been super to see the children back in their uniforms today for this week's Fun Friday theme. For some of them, it will be the last chance they have to wear their St. Helen's College uniform before they move on to their next schools, and it was lovely to see them so smart and so proud of their school colours.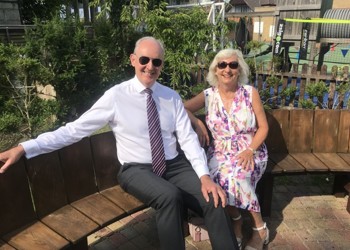 We were also thrilled today to have a visit from Mr. and Mrs. Crehan, who were able to walk around the school and 'visit' the children by waving hello from the doorways of the pods.
Here they are in the Zen Garden - it was very hot, but the fountain was bubbling away just in front of them!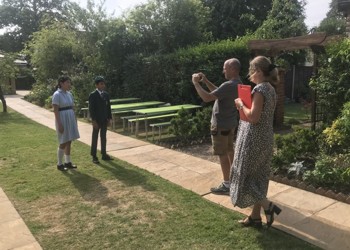 We have also been making an alternative marketing video at school today, to give prospective parents (who are currently unable to visit) a natural flavour of the school. The video has been directed by Mrs. Smith, filmed by Mr. Smith (no relation!) and stars Catherine and Anish, our Head Girl and Head Boy. It will be edited and the final version will be posted to the website in due course, but for now, here is a sneak preview of the likely ending.
https://www.youtube.com/watch?v=aBAiyO_4l18&feature=youtu.be
PA Virtual Family Quiz
The Parents' Association will be running a virtual family quiz on Saturday 4th July at 3.00 p.m. Full details are available here. We hope that many of you will take part!
House Art Competition
Thank you to all of the children who have entered the House Art competition. You can see entries on the Galleries page. The winning house will be announced in the final assembly of term.
Instrumental Tuition
Music places for individual tuition from September have now been allocated. However, we do have a few vacancies for flute, trumpet and violin tuition. These will be allocated on a first come, first served basis, so please contact Mrs. Allery as soon as possible if you would like your child to begin lessons on one of these instruments. You can reach Mrs. Allery at rallery@sthelenscollege.com.
Holiday Club
We have communicated with parents directly today to confirm that, sadly, we will be unable to run our Holiday Club this summer due to the Covid-19 restrictions in place which require strict consistency of staffing.
Here are some alternative clubs that might be of interest to parents this summer.
https://www.fun-fest.co.uk/ruiview/funfest/availability/
https://all4kidsuk.com/holiday-clubs-and-courses-childrens/greater-london/hillingdon
Registration Reminder
If you have a son or daughter who will be eligible for entry into St. Helen's College Nursery in September 2021 (children born between 01.09.17 - 31.08.18), and you have not already registered him/her, please ensure that you do so soon. We give priority to siblings when we are allocating the Nursery places, but they do need to be registered with the school in order for us to do so!
You should register your child by completing the online registration form at:
https://www.sthelenscollege.com/257/registration-form
Attain
Some parents might be interested to read the latest articles from Attain Magazine, which can be found by following this link.