Weekly News - Friday 4th September 2020
Posted on: 04/09/2020
It has been so wonderful to hear the laughter of the children, see their smiling faces and feel the love within our community over the past two days. From our youngest Ducklings to our Year 6 pupils, there has been a calm and happy return to school. Thank you to all parents for supporting us with the new drop off and pick up routines and social distancing as we opened our doors this week. Please note that, if you have a child in Year 3 - Year 6, or have a child in Year 2 and a child at Lower School, and you would like to collect your child from the Long Lane entrance, you must email your form teacher to let them know. This will ensure that your child is sent to the correct exit at the end of the day. Year 2 parents who do not also have a child at Lower School must use the Parkway pick up point.
Year 6
Our Year 6 pupils are already demonstrating their leadership qualities around the school and setting a great example for the younger pupils. Next week we will be hearing from those pupils who wish to stand for the positions of Head Boy and Head Girl as they will be presenting speeches in our remote assemblies. In Upper School assembly today, last year's Head Boy (Anish) and Head Girl (Catherine) shared some words of wisdom and encouragement with the children.
Speed Reading Success
We are delighted to report on the success of one of the pupils who left us at the end of Year 6 in July.
Michael K came 7th overall (adults and juniors) in the Mind Sports Olympiad Speed Reading competition in August! Competitors from around the world were given a brand new adult novel (372 pages) to read and then given a comprehension test. Michael read the 372 page book in 110 minutes and then did the test. There were some high level competitors in the competition. They calculated his raw reading speed at 909 words per min. Now that all of the results have been officially ratified, Michael will receive the Bronze Junior Medal. https://msoworld.com/2020-medal-table/
Michael's parents kindly shared with us that they have no doubt that the access Michael had to all kinds of books at St. Helen's College, and the emphasis we place here on reading regularly, must have helped him in this super achievement!
Road Safety Competition Presentation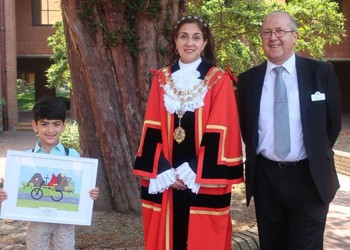 Out of 470 entries, Arjun C (3M) was awarded second place for the Hillingdon Road Safety Dream Bike competition, which we shared on the school news last term. Arjun's design, the 'Weird and Wacky Bike', really impressed local councillors and over the summer break he was invited to the awards ceremony at the Uxbridge Civic Centre where the Mayor and councillor Keith Burrows presented him with a digital copy of his dream bike art work. Many congratulations, Arjun!
Asthma
The Hillingdon Asthma Team have asked us to remind parents that, if your child has asthma and uses a preventative inhaler, you must make sure it is being taken regularly EVERY DAY as we are heading towards the most challenging season for asthmatics.
Flu Jabs
The school has a booking for flu jabs for all children from Reception to Year 6 for 2nd December. However, in the current situation we are unable to confirm the arrangements for this and we would therefore encourage any parents who are being offered flu jabs by their GPs to have children vaccinated independently from school if you would like to do this.
11+ Transfer: Senior School Open Evenings
We would like to remind Year 5 and Year 6 parents that many schools have virtual open evenings coming up and now is the time for parents to be be pro-active about looking into and booking these for any school for which you might wish to apply.
2+ and 3+ Entry To St. Helen's College Next Year
If you have a child born between 01.09.17 - 31.08.19 and you have not yet registered him/her with us, now is the time to do so! As always, we will begin the entry process for next September's new Ducklings and Nursery classes later this term, so please make sure that your child is registered if you have not already done this. The online registration form is available here. Please do remind any other friends and family who may be eligible for entry next year to register early too.
We now have a 'virtual tour' available on our website, hosted by last year's Head Boy and Head Girl, which prospective parents may watch to get a flavour of the school. Although we are unable to run Open Mornings for now, we will be able to accommodate individual (and slightly restricted) tours of the school for prospective parents as the term progresses so please do encourage friends and family to telephone Mrs. Smith if they would like to visit the school.
Parent Practice
Many of our parents attended a superb workshop last year run by Elaine Halligan from the Parent Practice. Due to Covid-19 restrictions, they are sadly unable to visit us this year but all their training and courses are now available online at https://www.theparentpractice.com/programmes/about-our-courses. They also have a free pack for any parents who sign up to their newsletters 'How to get the best out of your children'. You can sign up at https://www.theparentpractice.com/signup.
We would be very interested to hear from any parents who do attend any of the workshops.