Weekly News - Friday 25th September
Posted on: 25/09/2020
Mindful Sit
The Mindfulness in Schools Project will have their national Schools Sitting Together very soon and we will be participating as a school on Friday 9th October by having all the children from Year 2 - Year 6 sitting together in a mindful practice.
Harvesting The Crops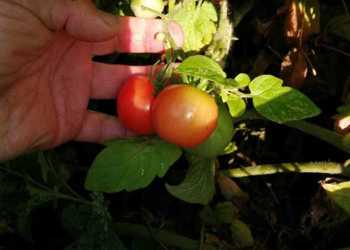 Mr. Rizzo is very proud of the crops which have been harvested from our Upper School and Lower School gardens, including tomatoes, potatoes, beans, courgettes, marrows and pumpkins (which Soula intends use to make some soup for us). We are most fortunate to have such enthusiastic staff who are keen to share their passion for the outdoors with the children and other staff.
Staff News
Mrs. Couto has sadly broken her leg and will be away from school until she has recovered. We wish her a good recovery and will miss her presence in Lower School as one of the lunchtime supervisors and as patrol at 227 Long Lane. In her absence Miss Hunter (Mrs. Hunter's daughter) has joined our staff and will be covering for Mrs. Couto.
NHS Test and Trace Covid App
The government has just launched the new test and trace app. We would encourage parents to download the app from the app store - more information can be found here.
Face Coverings at Drop Off and Pick Up
Given the current situation, it is more vital than ever to ensure the safety of our children, family and friends. We would like to encourage parents to wear face coverings during drop off and pick up. It is a sensible precaution for parents and should help to lower the risk where social distancing can sometimes be difficult. Whilst this is not part of the official government guidelines, we should try and play our part in preventing the spread of infection at a time when cases are rising.
COVID Symptoms - Latest NHS Advice
It is really important that you follow the latest NHS advice regarding COVID symptoms and whether/when to get your child tested. You can read this advice here.
Holiday Club
Unfortunately we have now taken the decision not to offer Holiday Club over the October half term period, due to COVID restrictions and uncertainty. We feel it will be beneficial for the school staff and pupils to have a 14 day quarantine from the school environment. This will also give us an extra opportunity to arrange further cleaning across the school sites, ready for the next half term.
Parking
Parents are reminded not to park over neighbours' driveways on the streets around school. Many of the neighbours also need to leave home to do the school run or to get to work and we have had several neighbours being blocked this week.