Weekly News - Friday 9th October 2020
Posted on: 09/10/2020
Prizegiving
It was super to see the children who left Year 6 this summer on Thursday evening, as we held our annual Year 7 Prizegiving event. This year we held the event online and were pleased that proceedings were able to run in the same way as usual, albeit virtually! As well as the presentation of the prizes, we enjoyed some pre-recorded music from the Chamber Choir and a thought-provoking story from Lucy Crehan, Educational Advisor to our Board of Governors, who inspired us all by asking one simple question: 'Why not?'. Mr. Crehan was quite right when, in his closing remarks, he commented on the potential that all of our children have to ask 'Why not?' and carve out their own path in life. Well done also to our new Head Girl, Jena, and Head Boy, Zail, who gave a confident and meaningful vote of thanks - a great start to their tenure!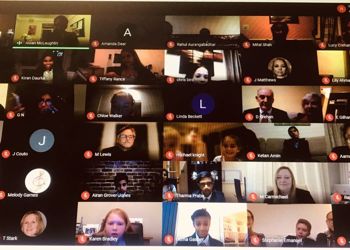 It was delightful to see our Year 6 leavers in their new school uniforms and we are very proud of how they have all begun their senior school journeys. We congratulate them on their well-deserved prizes and wish them all the very best for the forthcoming academic year, during which we know they will use their well-established St. Helen's College values and work ethic to underpin further success.
On Wednesday we held a special Prizegiving assembly here at school, at which the form prizewinners from last year's Year 3, 4 and 5 were recognised. In every class, one child was awarded the Excellence prize, one child received an Effort prize, and two children received special prizes to recognise individual contributions and achievements. Mrs. Drummond presented children with their certificates and book tokens and every child recognised should feel very proud of themselves.
Artist of the Week
Each week, Mrs. Pruce chooses a child who has made a particular contribution to art lessons and recognises them with an 'Artist of the Week' certificate. However, this week, the standard of commitment and work has been incredible, making it difficult for her to choose. This week, therefore, the award goes to a whole class, 3M, for their wonderful still life studies. Well done, 3M!
Ukeleles Everywhere!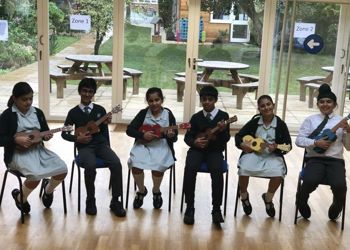 It has been very exciting over the last couple of weeks to see our Year 5 and 6 children with their new ukeleles. They have been learning how to tune their own ukeleles, learning notation and composing their own pieces of music. We look forward to our first performances in due course.
Head Boy/Head Girl team
Mrs Drummond touched base with Jena and Zail this week to see how they were settling into their new roles thus far having already had two opportunities to speak on behalf of the school in public. Jena said, 'it feels good to represent the school and have a positive impact on the other children',while Zail noted, 'it's great to have more responsibilities and to be a role model to others'.
We are feeling exceptionally proud of all of our pupils this term; they have settled well into new routines and all have embraced being back together again.
Mindful Sit
Pupils from Year 2 - Year 6 participated in the Mindfulness in Schools Project 'Sit Together' today and managed to remain focussed for the full 6 minutes - quite a testament to our pupils at the end of a very busy week. They have all received a certificate in recognition of sitting together and I would recommend that you read this week's Head's Blog which has a link to an interesting article for you to enjoy.
Lower School Parents' Evenings
Thank you to all of the Nursery, Reception and Year 1 parents who attended our first ever video parent consultations this week. The new technology worked well and the evening ran very smoothly. The second evening will take place on Thursday 15th October from 5.00 to 8.00 p.m.
Mrs. Rooney and Mrs. Rumney Run!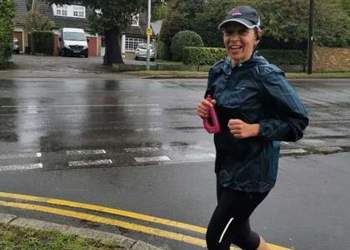 Huge congratulations to Mrs. Rooney, who braved the wind and rain on Sunday morning to complete her second London Marathon, this one virtual!
Having only signed up six weeks ago, she was extremely pleased to gain a personal best of 5 hrs 11.
Mrs. Rooney tells us that running around the streets of Hillingdon, Ickenham and Ruislip gave her time to think about people that inspire her.
Mrs. Rumney also spent Sunday morning running, as she ran 15 miles alongside a friend who was running the virtual London Marathon in Oxford. Her friend, the Head of a school in Oxford, was accompanied by various friends and family throughout different sections of the 'race' and Mrs. Rumney ran further than a half marathon herself!
As with so many things during the current pandemic, this adapted way of running required extra determination and resilience as there were no crowds and no finish line to spur runners on. Well done indeed, Mrs. Rooney and Mrs. Rumney - you are an inspiration to us all!