Weekly News - Friday 16th October 2020
Posted on: 16/10/2020
Romans Everywhere!
Well done to Class 3B, who presented a very interesting, informative and well-rehearsed assembly today all about Romans. Through a well-delivered script and performance, they taught us about Roman history: the life of a Roman soldier, the invasion of Britain and battles between Romans and Celts. We heard the stories of Caratacus, whose bravery was recognised by both Celts and Romans, and of Boudicca, including an explanation of why she is also known as Boadicea and why we shouldn't always trust what is written in the history books. There was plenty of humour, too - we learnt that Hadrian's Wall is not at the end of Hadrian's garden and that the saying 'Rome wasn't built in a day' doesn't mean that Rome was built at night time! 3B also presented a fantastic song about the Romans and led us in our assembly prayer. Very well done, 3B!
You can watch the video of their assembly here.
Music: Year 4's Body Percussion Sequences
Year 4 have been working very creatively in their music lessons this week. They have taken inspiration from sounds found in their own names to compose a body percussion sequence. You can see the videos here: 4L and 4T.
Water Pipe Challenge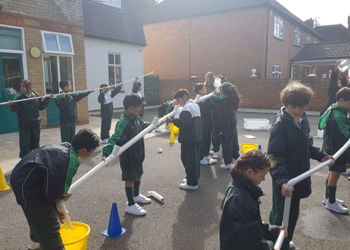 Our Year 5 pupils got some hands on engineering experience in their geography lessons last week when they took part in the Water Pipe Challenge.
The challenge was to use what they had learnt about water infrastructure in lessons to construct a pipe system to transport one litre of water over a distance of three metres.
It was a wonderful opportunity for some outdoor learning and collaboration in teams to come up with designs which were successful and had no leaks!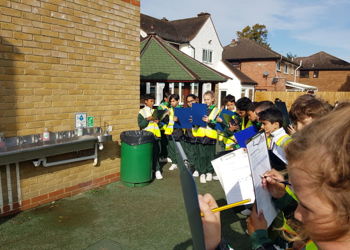 This week Year 5 took part in more outdoor learning, with a 'water walk' during which they surveyed the Upper School site to investigate how water is used on site and where water might be used more efficiently. They even read the school water meter!
Junior Road Safety Officers
Our Year 6 Junior Road Safety Officers presented a wonderful assembly on Wednesday, entitled 'Be Bright Be Seen'. Their message was all about being safe pedestrians when the clocks change at the end of October and the darker mornings and evenings arrive. They shared a lovely story about how celebrations at this time of year such as Halloween, Diwali and Bonfire Night are a great time to be with friends and how we can be seen in the dark at these celebrations. Please see copies of the presentation and story in these links.
The JRSOs also told the children in Years 2-6 about a half term 'Be Bright Be Seen' competition in which they are invited to take part. The challenge is to design their own fluorescent or reflective piece of clothing or a fluorescent or reflective school bag. The closing date for entries is Tuesday 3rd November. Information about the competition can be seen here. We hope lots of the children at Upper School will take part and we will have a wonderful display of designer outfits when we come back to school after half term.
Inter House Sports Competition
Children in Years 3 - 6 took part in the inter house sports competition this week in their games lessons. Games and competitions were set up in netball, football, hockey and tag rugby sessions for the children and they all thoroughly enjoyed the opportunity to play for their houses. Results were as follows.
4L Hockey - winners were Windsor
4T Netball - it was a draw
3M Football - winners were Cambria
3B Tag Rugby - winners were Cambria
5A Football - it was a draw
5G Netball - winners were Windsor
6M Hockey - winners were Windsor
6R Tag rugby - winners were Windsor
So Windsor lead the inter house sports competition after round 1. More inter house matches will be played next half term.
RHS Secret Garden Competition
RHS Campaign for School Gardening, in partnership with the Sky Film release of 'The Secret Garden', would like you to be inspired and join a competition! If you are a budding gardener and a keen artist, you can find yourself in a 'secret garden' of your own design! What would be in your dream garden? Why would it be special? Combine your knowledge and enjoyment of gardens with your artistic flair to come up with a drawing, a painting, a collage or a miniature model of your very own secret garden. If you would like to talk about your design or need help, please see Mrs. Pruce or Ms Gilham. Enjoy designing over the half term! All entries must be made by 19th November and children may submit their designs themselves or bring them to Mrs. Pruce or Ms Gilham, who will arrange to submit them directly from school.

All information can be found from the link below: https://schoolgardening.rhs.org.uk/getmedia/6a85a4e8-9048-41eb-8d85-7d28fe562a17/RHS_Secret_Garden_A4_Childrens_Booklet-(web)
We hope the children have lots of fun imagining and creating their secret gardens!
Upper School Parents' Evenings - Bookings Now Open
Upper School parents' evenings will take place when we return from the half term break, on the following days:
Tuesday 3rd November (4.00 - 7.00 p.m.)
Thursday 12th November (5.00 - 8.00 p.m.)
We will be holding the appointments online, using the video conference function of our usual Parents' Evening booking system. To book your appointment(s), please use the following link. Bookings will be available from 4 p.m. on Friday (16th October).
https://sthelens.schoolcloud.co.uk/
We look forward to seeing many parents across the two evenings.
PA Forum Meeting and Class Rep Vacancy
The next PA Forum meeting will take place on Tuesday 17th November at 7.00 p.m. and will be held remotely using Google Meet. If you have any points that you would like to raise for discussion, please do share these with your class rep as soon as possible. Class representatives should send any points for discussion to Mrs. Smith by Friday 13th November at the latest please, at susmith@sthelenscollege.com.
The PA have a vacancy for a class rep for Kingfishers class. If any parent in Kingfishers would like to become the class rep, please contact the PA at pa@sthelenscollege.com.
Charity Fundraising
Our pupil charity representatives have been meeting to discuss fundraising for the Autumn term and we will, as usual, be taking part in two nationwide initiatives: Children in Need and the Royal British Legion Poppy Appeal. Parents are often very generous when it comes to charity giving, and we know that many of you will wish to donate. This year, we are unable to accept cash donations in school but we have set up two JustGiving fundraising pages so that we can fundraise as a community - the links are in the relevant sections below. Some of our charity representatives have written these short pieces to introduce our fundraising for this term.
Children in Need - Friday 13th November
On Friday 13th November, children may come to school in their own clothes. The theme is Fluorescent and Reflective, so the children may like to wear something fluorescent, or perhaps to add funky fluorescent and reflective spots and stripes to their outfits.
This theme will link with our Road safety for Be Safe, Be Seen.
Families are asked to make their donations (suggested £2 minimum donation, but all donations gratefully accepted) online via this link:
https://www.justgiving.com/fundraising/sthelenscollege-BBCChildrenInNeed2020?utm_campaign=lc_frp_share_transaction_fundraiser_page_launched&utm_content=bac5394f-7efe-42ce-9956-a54faf62bc03&utm_medium=email&utm_source=postoffice&utm_term=1599656370830
(by Georgia)
The Royal British Legion Poppy Appeal
This is a charity which helps raise awareness for the soldiers who unfortunately died during their work for our country during the war. It also raises money for the army and soldiers who have retired and are looking for career advice.
The war ended at 11.00 a.m. on the 11th day of the month of November (the eleventh month of the year). So that's why on 11th November at 11.00 a.m. our school will have a 2 minute silence, during which we remember those who have died fighting courageously. Also we salute those who are thankfully still alive all because of their perseverance in World War II.
St. Helen's College cares about the soldiers too. This is why we are asking that you donate to this cause - even a really small amount is appreciated. You can donate by following this link:
https://www.justgiving.com/fundraising/sthelenscollege-TheRoyalBritishLegion?utm_campaign=lc_frp_share_transaction_fundraiser_page_launched&utm_content=8aa41a46-0298-4a41-88b9-88c3288b2c7c&utm_medium=email&utm_source=postoffice&utm_term=1599656771013
This year poppies will NOT be on sale at school, but you can still bring your own poppies from home. So please on 11th November, when we stand and are silent, think about all those soldiers who risked their lives and think about all the nurses as well, some died too. Luckily, a lot of those soldiers are alive and we thank them for their bravery for England!
Just think about it, if these courageous soldiers had not existed then our country would most likely be in peril right now! So this will be our day to reflect on the selfless soldiers who went out of their way to help us become a better country!
(by Reece and James)
Early Years Virtual Open Morning
If you have a son or daughter who will be eligible for Ducklings or Nursery entry next September or subsequently, or if you have friends and family members who fall into this category, then you may be interested in our upcoming Early Years Open Morning. This will take place, online, on the morning of Friday 6th November. Mrs. Drummond, Mrs. Hunt and Mrs. Smith will all be available on the morning to present a virtual tour of our Early Years environment/provision and to answer questions about the application and entry procedures.
You can register for this event here, or by following the link on the homepage of the school website. Please do share this link and make sure your friends and family are aware of the event, so that they do not miss out on the opportunity to join us.
If you have a child born after 1st September 2017 and you have not yet registered him or her for entry at the school, please do so at your earliest convenience. The entry process for next year's Ducklings Kindergarten and Nursery intake is beginning now and all children, including siblings, must be registered in good time!
Staff Farewells
Today we said goodbye to two members of staff who will be greatly missed at St. Helen's College.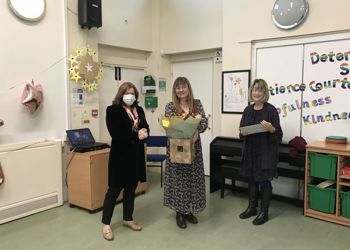 Mrs. Harker, one of our Lower School Teaching and Learning Assistants, is leaving us after eighteen years to move further away to a village near Preston and spend time with her family. She will be very sadly missed by all. The Lower School staff gave Mrs. Harker a wonderful send off today which was accompanied by a thoughtful and memorable 'So Long, Farewell' video featuring all members of the staff.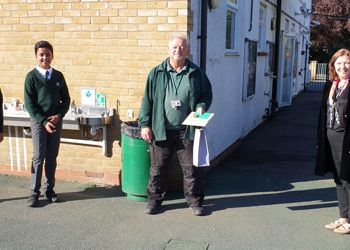 Mr. Barnard, one of our Premises team, has decided to make the move down to the West Country to join his daughter Mrs. Haar, who many will remember from her time with us at St. Helen's College! Mr. Barnard has been with us for two and a half years, driving the school minibus, working at Breakfast Club and assisting the Premises team with the upkeep and development of the school estates. We thank him for his work and wish him all the very best for his new life in Devon!