Weekly News - Friday 13th November 2020
Posted on: 13/11/2020
The highlight of this week for our pupils in Year 1 to Year 6 was undoubtedly our online author visit from Cressida Cowell, the author of the amazing 'How To Train Your Dragon' series and of a new book series entitled 'The Wizard of Once'. Cressida is also currently the Children's Laureate.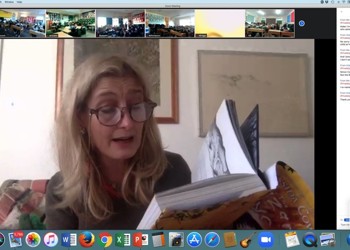 From her home, Cressida spoke to the children about the inspiration behind her books, the importance of research, how to write creatively by using ideas born in the real world and much more.
Her enthusiasm, expertise and friendliness made her an absolute inspiration for the children and we are so grateful to her for sharing her time and her boundless energy with us. It was clear from the children's questions to Cressida how engaged they were in the event and Cressida answered their questions with real understanding and empathy.
Many children have ordered signed copies of Cressida's books and we hope that they will enjoy reading them. Ordering is still open - signed books can be ordered using the following link: https://chilternbookshops.co.uk/product-category/cressidacowell-sthelenscollege/ Please ignore all shipping options as you go through the checkout process. Just note down your child's name and class in the 'order notes' box to ensure they receive it promptly.
Cressida also suggested that the children might like to start their own special scrapbooks for ideas, drawings and creative writing and we hope that parents will support children in buying scrapbooks and reminding them to record their ideas.
Children in Need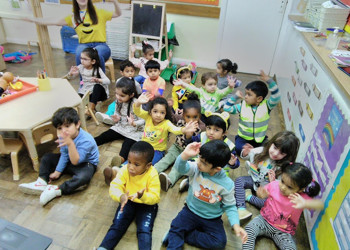 The school was a riot of colour and spots today as staff and pupils joined together to dress in fluorescent colours and wear spots/stripes to show support for Children in Need.
Thank you to all who have so far donated to the St. Helen's College fundraiser for this most worthy of causes; the current total stands at £1057. The donation link will remain active until Sunday, so if you have not yet made a donation and would like to do so, please follow this link:
https://www.justgiving.com/fundraising/sthelenscollege-BBCChildrenInNeed2020utm_campaign=lc_frp_share_transaction_fundraiser_page_launched&utm_content=bac5394f-7efe-42ce-9956a54faf62bc03&utm_medium=email&utm_source=postoffice&utm_term=1599656370830
You can see more photographs of our Children in Need day on our Galleries page.
Assembly/ Music Recital
The children at Upper School were treated to an array of performers who sang, played piano pieces and performed on the clarinet and saxophone in our first remote mini-recital during our Friday commendations assembly. Well done to Arshia (4L), Anjika (5G), Georgia (6R), Jessica (6R), Riya (6M) and Vidhit (6M).
Remembrance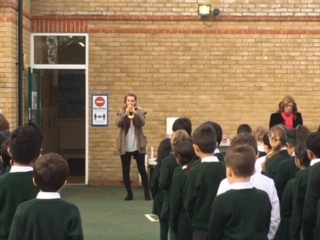 On Wednesday (11th November), our school community joined together to pay tribute to those members of our armed services who have given their lives in the line of duty, and all those who still serve today. Our morning assembly focussed solely on Remembrance, the Royal British Legion Poppy Appeal and the role of our armed forces, and at 11 a.m. pupils came together for a two minute silence. At Upper School, Mrs. Fawbert performed The Last Post for us as we lined up in our bubble groups in the playground. It was a meaningful occasion indeed.
Many thanks to all parents, pupils and staff who have donated to our Fundraising page for the Poppy Appeal. The school community has raised a total of £208 so far. The page will remain open until Sunday 15th November so if you would like to make a donation there is still time to do so. The donation link is here:
https://www.justgiving.com/fundraising/sthelenscollege-TheRoyalBritishLegion?utm_campaign=lc_frp_share_transaction_fundraiser_page_launched&utm_content=8aa41a46-0298-4a41-88b9-88c3288b2c7c&utm_medium=email&utm_source=postoffice&utm_term=1599656771013
Happy Diwali!
We would like to wish everybody a happy Diwali and we hope that all families celebrating manage to find a way to connect with friends and relatives this weekend.
If you have any photos, videos or stories that you would like to share from this year's very different Diwali celebrations, please share these with Mrs. Drummond to be shown or discussed in assembly on Wednesday morning (18th November).
Co-Curriculum: Virtual After School Club and December Science Camp
Youth Sport Trust After School Club
The Youth Sport Trust have taken the step to deliver a free virtual after school club as part of a national response to the second lockdown. The 30 minute club will take place at 5 p.m. each weekday and will be led by a different member of the YST's athlete mentor network, starting on Thursday 12 November with world no.1 female inline skater and 10-time British Champion Jenna Downing. Aimed mainly at primary-aged children, a different theme has been assigned for each day of the club: Adventure Monday, Tuesday Play, Wild Wednesday, Thinking Thursday and Fun Friday.
Here is the link to the information for parents - we hope that many of your children will want to take part.
Mother Nature Holiday Activities
Early Bird booking is now available for the Mother Nature December Christmas Science Activity Holiday Camp - Santa's Workshop! (14th -18th Dec 2020). To book Science Activity Camps for your child click
here
.
Use special Parent Discount Code 'coolschool' for an extra £10-off list price for full-week places and £5-off day places.
Switch Off Fortnight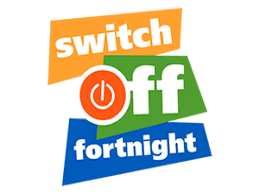 Next week will see St. Helen's College, led by the Eco Team, take part in Switch-Off Fortnight. Switch off Fortnight is a campaign that will encourage everyone at school to become interested in saving energy and cutting their carbon footprint. We would also like to encourage everyone to take the switch-off challenge home, where we hope to inspire our families to take part in saving energy too. The more people involved, the greater the energy savings will be, which in turn will help our environment.
The Eco Team will kick start Switch Off Fortnight during Monday's assembly and it will last from Monday 16th November until Friday 27th November. Throughout the fortnight, the Eco Team will carry out several audits to see how many lights and appliances have been left on in their classrooms. The team will also be running an awareness campaign by designing posters which will be displayed in their classrooms, encouraging everyone to save energy. At the end of the second week, the team will monitor the results they have collected and will look to see if the campaign has been successful in persuading people to use electricity more carefully. Certificates will be awarded to the classes that perform the best. One small click can make a big difference, so happy energy saving everyone!
Heath Robinson Museum Competition
Although the Heath Robinson Museum (Pinner) are in lockdown and their doors are temporarily shut, they still want to spread some creativity and fun! They are inviting children aged 6-16 to take part in the #kidsinmuseums #digitaltakeoverday on Friday 20th November by submitting photographs of artwork to an online art competition.

The events of this year have really highlighted the importance of our home and our loved ones. Heath Robinson often got his inspiration from his family, his home and the town he lived in, so the museum wants children to use the theme of 'home' to get creative. They may use any material and make their artwork big or small and as literal or metaphorical as they like! If your child would like to enter, they must submit a photograph of their artwork to their class teacher by Tuesday 17th November. This will allow Mrs. Pruce time to submit the school's entries by the museum deadline. The runners up entries will be published on the Heath Robinson Museum website in the news section and there will be a prize for the winning entry.
COVID and Car Sharing
Please see the link here for updated guidance for parents from the Department of Education. This update provides information on the national restrictions that came into force on 5th November, the latest advice for clinically extremely vulnerable children and young people and advice on the use of face coverings in education settings.
The school has advocated car sharing for many years in an effort to reduce congestion and pollution in the local area. During the current COVID-19 restrictions, we urge parents who are car sharing to ensure that all drivers and passengers wear masks or visors, and to travel with windows open where possible for ventilation, to mitigate against the risks of transmitting the virus. Parents should also inform school formally now of car sharing arrangements, please, so that we have a record of potential contacts. This will enable us to triage quickly and effectively in the case of a positive case of COVID coming to light in the pupil community. Please see the government guidance for safer guidance for passengers here.
Holiday Club
Once again, we have had to take the decision not to offer Holiday Club over the Christmas holidays. We are so disappointed not to be able to offer our full wraparound care provision as we would in normal times, but we are sure that parents appreciate that the current in-school bubble group restrictions make staffing Holiday Club unsustainable.
Pupil to Pupil Christmas Cards
As usual, we will run a pupil postbox system for Christmas cards this year, so that pupils may post cards to their friends. However, please note that pupils may only send cards through this school system to friends in their own class bubble group. They must not send cards to children in other classes as these cannot be delivered.
Christmas Gift Ideas
If you have a budding artist in the household, or would like to inspire your child(ren)'s artistic interest, Mrs. Pruce recommends these items as Christmas gifts or stocking fillers. The links shown are to Amazon but you should be able to find these paints/brushes at most retailers which sell art supplies - particularly during these times, it would be good to support local businesses where possible.
Major Brushes Artist Watercolour Paint Tin - 36 Blocks Red Metal Lid
£5.95
Winsor & Newton Foundation Water Colour Short Handle 6 Pack Brush, Multicoloured, 7 x 1 x 4.3 cm
£6.95
EasyFundraising
If you are embarking on Christmas shopping, we would like to remind you that you can raise money for the St. Helen's College Development Fund, at absolutely no cost to yourself, whenever you shop online at a huge number of retailers, by signing up to our EasyFundraising cause. Retailers include Amazon, Ebay, John Lewis, Marks & Spencer, Asos, Argos, Selfridges, Harrods, House of Fraser, Booking.com, Just Eat and many, many more.
We launched our EasyFundraising cause last year and it is proving successful so far, but we have only a few supporters. We would really love to increase the number of supporters so that we can establish a meaningful fund, with the eventual aim to use this fund both for development projects at St. Helen's College and to support educational development projects in developing countries. The power of schemes like this one is in the number of people who use the scheme, and in making it a habit to use it for every purchase - each individual donation may seem small, but every penny counts.
Until 17th November, the fund will receive a free £5 donation for every new member who signs up to support our EasyFundraising cause and makes a qualifying purchase, if you do so using this link:
https://www.easyfundraising.org.uk/causes/sthelencoldevfund/?utm_medium=email&utm_campaign=refmailshare
The easiest way to make this fundraising a regular part of your shopping is to download the EasyFundraising app onto your phone or tablet and open this every time you want to shop online, following the links to your retailer of choice. If you shop using a desktop computer, you can add the Easyfundraising extension onto your desktop computer browser and you will then receive an automatic reminder every time you shop.
If you would like to support the cause but are not sure how, please do contact Mrs. Smith who will be pleased to help.
Thank you very much indeed for your support.