Weekly News - Friday 20th November 2020
Posted on: 20/11/2020
A Day In The Life of 2H
We were treated to a super pre-recorded class assembly this morning, during which the children of 2H took us through a day in the life of their class. They explained how they must arrive at school, organise themselves and their belongings and make sure they are ready for their busy day of learning.
We were introduced to the class School Council, Charity and Eco Reps and were then taken through all the learning that is going on in 2H at present, from 'ecstatic' English lessons with super creative writing to rhythmic music lessons and Power Maths lessons. The children explained how they are learning about the importance of healthy eating in their science lessons, investigating the Great Fire of London in History (Topic) and Drama lessons, painting in Art lessons and enjoying movement and music in PE lessons. Play times and lunch times are clearly extremely enjoyable and 2H have also been discussing some big issues through Philosophy for Children in their PSHCE lessons, asking whether rich people are happier than poor people and whether we would rather be friends with a rich person or a poor person.
It was super for us all to see just how busy and purposeful the children's lives are here at school. It may help to explain for parents why the children are usually rather tired and rather hungry by the end of the school day! Mr. McLaughlin has written a very interesting blog this week about how to support your child (and yourself!) after a busy day at school, so please do take a look at that too: you can read it here.
Very well done, 2H!
Year 6 Morning Tea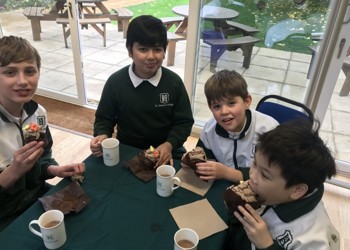 Our Year 6 pupils were treated to morning tea with Mrs. Drummond and Mr. McLaughlin this week to celebrate the great start they have had to their final year at St. Helen's College. They have coped admirably with preparing for examinations, returning to school after such a long time and taking on leadership roles within the school. Thank you to Soula and her team for the amazing cakes and hot chocolate! You can see more photos on the Galleries page.
Parents' Evenings
All classes from Ducklings to Year 6 have now had their Autumn parents' evenings using the new remote platform. We will shortly be sending out a parent survey to gather feedback on how the system worked for you and whether it will be an option for some parents for the future.
Music Examinations
Many of the children have now received certificates from the recent music examinations which have been taking place. We will publish a full list of achievements at the end of term. Congratulations to all those involved.
Christmas Card Competition Winner
Thank you to all the pupils who submitted an entry for this competition. The overall winner was Alexander A in 2H and highly commended was Aanya D in 5A. You can see the winning and the highly commended entries here.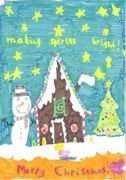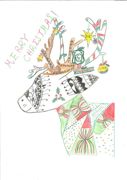 Alexander's design
Aanya's design
Gurpurab
We will be celebrating Gurpurab in Upper School assembly on Monday 30th November. If any pupils will be marking Gurpurab in special ways over the preceding weekend and on the day itself, and would like to share their celebration with the school community, please encourage them to speak with Mrs. Drummond next week.
Christmas Bauble Competition
As usual, we will be running our Christmas tree decoration competition this year. Children are invited to design their own decoration to be hung on our Christmas trees at Ducklings, Lower School and Upper School. Decorations should be of a sensible size but may take whatever format the pupils choose! There will be a small gift for every child who enters and a winner will be chosen from each class to receive a prize too.
Children may bring their decorations to school by Monday 30th November and the last day for bringing in a completed decoration is Wednesday 9th December. Decorations should be handed to form teachers on arrival at school. Judging will take place on Thursday 10th December and prizes will be awarded on the final day of term. We look forward very much to seeing the children's entries this year!
Flu Vaccinations
Parents are reminded that the cut-off date for forms to be returned for the flu vaccination is Monday 23rd November. Once the figures have been passed to the nurse team it will not be possible to add children to the vaccination programme in school, so please double check and ensure that you have returned your forms by Monday.
Christmas Gift Ideas
Big Life Journal https://biglifejournal-uk.co.uk/
A wonderful book for children 6-11, this book would make a superb gift for the whole family. The book focuses on many of our school core values of respect, courage and gratitude. There is also a 'teen' version of the book for those of you with older children.