Weekly News - Friday 8th January 2021
Posted on: 08/01/2021
Cressida Cowell Art Competition Runner Up!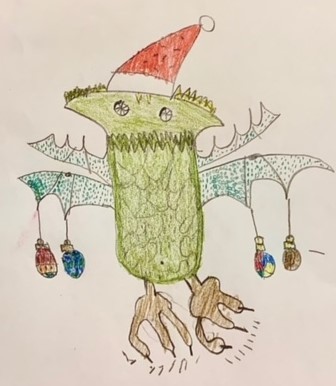 Huge congratulations to Alexander A (2H) who was named a runner up in Cressida Cowell's #CreateWithCress winter holiday card competition. Alexander created a superbly creative card and received a hand written note from Cressida Cowell commending him on his imagination and skill! Well done, Alexander.
Year 2 Seahorses
Year 2 produced some really excellent art work this week. Inspired by Eric Carle's 'Mister Seahorse' book, they got creative with colour and design. Their finished pieces are really beautiful. You can see them on our Galleries page here.
The Boy, The Mole, The Fox and The Horse Competition
In Upper School assemblies this week, Mrs. Drummond has been reading The Boy, The Mole, The Fox and The Horse to the children. This beautiful book is filled with original illustrations and inspiring quotes and the four characters strike up friendships and begin to make sense of their world together. If you do not already own it, we recommend purchasing a copy as it is wonderful for adults and children alike to return to again and again.
We would like the children, and any interested parents, to create an illustration with an accompanying quote, inspired by the illustrations and quotes in The Boy, The Mole, The Fox and The Horse. Quotes should be centred on at least one of the St. Helen's College values:
Caring
Helpfulness
Co-operation
Courage
Kindness
Perseverance
Fairness
Friendliness
Patience
Respect
Courtesy
Forgiveness
Determination
Self Discipline
Gratitude
Honesty
Love
Harmony
Growth
We hope that you will have lots of fun getting creative over the next two weeks and there will be prizes for winning entries in Year 2/3 and Year 4/5/6. There may even be a prize for a winning parent entry!
Words From The Library
Mrs. Smith and Mrs. Emanuel, our Upper School Librarians, are very sorry not to be having their usual interaction with the children while the library remains closed in lockdown.
They would like us to remind the children that 'reading gives us somewhere to go when we have to stay put'. And they would also like parents to remind children of these words from the ever positive and very wise Dr. Seuss:



The more that you read
The more things you will know
The more that you learn
The more places you'll go!
Do please keep encouraging your children to look at books often and, if old enough, to read to you every day as well as to themselves. Do carve out time to read to them too, no matter how old they are. Reading for pleasure is one of life's great joys!
Uniform - Summer Boater Hats
The girls' boater hat is currently being temporarily discontinued as the manufacturer has decided to close their business due to the pandemic. Pullen's do have limited numbers of the boater hats in stock for the summer term, but (depending on parental demand) may run short for 2021, particularly as parents may not have bought a boater in 2020 due to the lockdown.
Pullen's are working on re-sourcing, but they do not believe that they will be able to obtain stock for 2021 as the source is in Sri Lanka and the raw materials from China.
Therefore, girls will not be required to wear a boater hat this summer term if they do not have one. We expect that Pullen's will be able to organise an alternative supplier for the 2021-2022 academic year.