Weekly News - Friday 12th February
Posted on: 12/02/2021
Chinese New Year and Valentine's Day Celebrations
It was wonderful to see so many of the children and staff dressed in red to celebrate both Chinese New Year and Valentine's Day during our Upper School assembly this morning. Many thanks indeed to Ashvika A, Eshan N and Viren C who provided musical performances on piano and violin and a special thank you to Ruby L and Joleen Z, who gave very informative and confident presentations about Chinese New Year, and to Jacob N and David W, who prepared presentations and videos to be shared with the classes in school too.
Internet Safety Day and Safe Remote Teaching Accreditation!
This week, children have been reminded about the importance of staying safe online. We would like to remind parents that there are some very useful resources available to you at National Online Safety to support you in keeping your children safe on the internet. You can even register here as a St Helen's College parent and complete short training modules, and there is a useful 'top ten tips for keeping children safe' guide available here.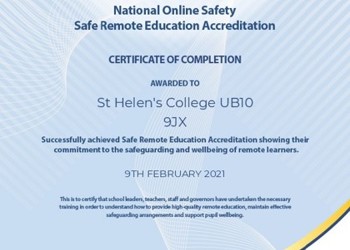 We are also delighted to announce that St. Helen's College has been awarded the National Online Safety Safe Remote Education Accreditation, which recognises that the school has successfully completed a comprehensive remote education training programme, demonstrating our commitment to providing high quality remote education, keeping children and young people safe online and supporting pupil wellbeing.
The accreditation rewards our carefully planned and successful approach towards safeguarding children and supporting pupil wellbeing during remote teaching and learning.
National Online Safety is a multi-award winning digital training provider with extensive resources in online safety, developed in line with the Department of Education's statutory requirements.
NextGen Enterprise Success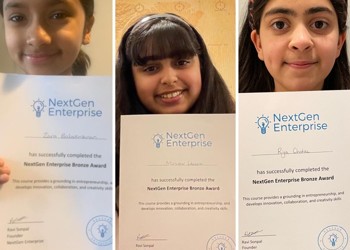 Riya C, Manisher L and Zara B (Year 6) have joined Next Gen Enterprise, and are undertaking a series of online instructor-led courses which aim to inspire and develop next generation talent. The girls have already completed the bronze level award where they successfully investigated, discussed successful businesses and brands, and then pitched their business concept in front of a live virtual panel which included successful entrepreneurs who asked questions and provided feedback. This gave them a very good insight into building a successful business and has also given a boost to their collaboration, discussion, creativity, and presentation skills.
The girls are currently in their last week of the silver award, where they have learnt about key roles within a business, e.g. sales, marketing, HR. This Sunday they are looking forward to presenting their business model via video meeting to a panel of judges and other students.
Well done girls, and many thanks for bringing this company to the school's attention. We are currently exploring ways in which we might work together to offer similar courses through the school's co-curricular programme, so watch this space! In the meantime, if any parent or pupil would like to find out more, you can take a look at the NextGen Enterprise prospectus here.
Crossing Petition Success
Last term, following a couple of 'near misses' on the Long Lane zebra crossing between Lower School and Upper School, our Year 6 Junior Road Safety Officers were determined to take action and try to reduce the speed of cars on Long Lane to make the crossing safer for our pupils, staff and parents as well as for the local community. They decided to petition the local council for a safer 'Pelican' crossing to be installed. They wrote a very persuasive letter to the local councillors and gathered support from fellow pupils by collecting names on a pupil petition. This was then supported by a staff petition and letter from Mrs. Drummond too.
All the information was submitted through the council's Democratic Services for consideration. On Wednesday this week, Mrs. Drummond and Miss Walker attended a virtual council meeting where the petition was considered. The councillors were very impressed by our JRSO submission, which made a compelling case, and the strong partnership the school has developed with the council's Road Safety and STARS team over recent years. We are absolutely delighted to announce there was unanimous support from all of the councillors attending the meeting for the installation of immediate safety improvement measures on and around the crossing on Long Lane and a commitment to pursuing the installation of a pelican crossing with Transport for London over the coming year.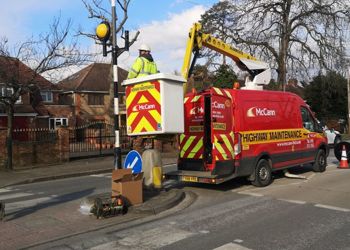 As a measure of the council's support and undertaking to improve safety for the St. Helen's College community, they have acted swiftly, installing brighter, more eye catching 'Zebrite' beacons on the crossing today, within 48 hours! Over the coming weeks we will be working with the Road Safety team on their proposed installation of the 'Vehicular Activated Signs' this summer. These activate when vehicles are approaching a crossing at speed and highlight a school is nearby, so they should certainly help to reduce the speed of traffic around our school sites.
We will be working in partnership with councillors and the Road Safety team over the coming months to secure Transport for London approval for the installation of a pelican crossing and we will keep you updated on the progress of this. It is a credit to our pupils that they led the way on this road safety action project. Their understanding of the British value of democracy and the mechanisms for having a voice in local democracy were the catalysts for this significant achievement, which we know will improve the lives and safety of our whole school community. Many congratulations to our JRSO team: Jena, Fredericka, Jessica, Vidhit, Samir, Manisher and Georgia.
Guess the Place
It has been another exciting week trying to Guess our Places in our photo challenges. Many congratulations to the 32 children from Lower School and Year 2, who correctly guessed their place was the The Penguin Pool at London Zoo. Many of you mentioned you had been there - let's hope we will be able to visit all the animals again soon.
The Year 3 - 6 photo was a little more challenging this week. Some people guessed it was Oxford, 45 people correctly guessed it was Oxford University but well done to our super geography detectives this week who guessed it was All Souls College, Oxford. These were Tiya, Aleyna, Sean and Joseph in Year 3, Poppy in Year 4 and Anjika in Year 5. There will be half term Guess the Place photos posted later today so you can all keep exploring parts of London and the UK.
London Youth Games Virtual Competition
Many of our Year 3 - 6 pupils have continued to take part in the London Youth Games virtual fitness challenges this term. Last week they took part in a Jumping Jacks challenge and this week they have competed in the Shuttle Run challenge. Through their efforts and those of pupils in other Hillingdon schools, the borough team is creeping up the London Youth Games leader board.
We are delighted to award some of our pupils with a special London Youth Games Fitness Challenge certificate for participating in all four challenges this term. Many congratulations to Anika, Riya S and Hana in Year 3, Anjika, Sahib, David and Riddhi in Year 5 and Samir and Pavitar in Year 6. The challenges will continue after half term, when we hope to see even more pupils taking part.
Special Pet Assembly
On Monday 22nd February at 8.30 a.m. we will be joined by a special guest from the Blue Cross organisation in our special assembly for Years 1 - 6. Be sure to join us with your pets if you have any to find out how to look after pets and t consider 'pets and our wellbeing', a reminder of the things humans and animals all need to stay healthy and happy.
Ducklings/Nursery/Reception Parents' Evenings
Video consultations for parents of Ducklings, Nursery and Reception parents will take place on Thursday 4th March and Tuesday 9th March. Bookings will open at 3 p.m. today. Please follow the link below to book your appointment. Appointments are allocated on a first come, first served basis.
https://sthelens.schoolcloud.co.uk/
Ducklings Entry - September 2021
We now have just a few places left for Ducklings entry in September 2021. If you have any friends or family with a child who was born between 01.09.18 and 31.08.19, please let them know that they will need to register their child as soon as possible now in order to be considered for entry.
Online Open Morning - Friday 26th February 2021 at 10.00 a.m.
Under the present restrictions, we are sadly still unable to show prospective parents around at the school. At the end of the first week back after half term, we will be holding our next Online Open Morning for prospective parents. If you have any friends or family who might be interested in St. Helen's College for their child/ren, please do encourage them to register for this virtual open morning and attend on Friday 26th, to find out all about the school. Mrs. Drummond, Mrs. Hunt and Mrs. Smith will be hosting the event. The registration link is here - please do share far and wide - many thanks indeed for your support!
Speech Competition
This week the children have been given their pieces for this year's Speech Competition. It will be an online event again this year and another opportunity for the children to hone their public speaking and performance skills.
The first rounds of the competition will take place in the week after the half-term break with the junior (Year 1-3) and senior (Year 4-6) finals taking place on Monday, March 22nd. Form teachers will give out more information as the competition progresses. The judging criteria are: expression, projection and clarity. The entries will be performed live (with the exception of the final) and should not be accompanied by gestures or choreography.
It is always a fun and exciting event on the St. Helen's College calendar and we are sure that we will be blown away by another raft of impressive performances again this year. Good luck to all the children - have fun learning and reciting your pieces!
Perform Half Term Drama Workshops
Perform, who visit St. Helen's College regularly to deliver workshops for children, are running February half term drama workshops online for Reception to Year 6 aged children.
For one hour each day, Perform's warm and friendly team of theatre professionals will inspire and encourage the children as they combine drama, dance and singing into a magical experience. They'll encourage them to project their voices, learn energetic dance routines, sing catchy songs and develop the Perform 4 Cs: Confidence, Concentration, Communication and Coordination. The course costs £60 for the 5 days.
If you are interested, you can read all about the classes and sign up here: https://www.perform.org.uk/classes-courses/holiday-courses/fe2021.
Hillingdon STARS Road Safety Competitions
The STARS Team at Hillingdon Borough Council will be running two Road Safety Competitions over the February half term.
Full details and downloadable entry forms are contained within the links below. All entries should be emailed to the STARS team by Monday 1st March which will also allow some time after the half term to enter.
KS1 Road Safety Story Book Competition (Early Years and Years 1 & 2)
The children should draw pictures to go with the pages of our new road safety book called "Captain Safety!". They can enter drawings for as many pages as they like.
KS1 Road Safety Story Book Competition.pdf
KS2 Road Safety Invention Design Competition (Years 3 - 6)
The children should come up with a new "Road Safety Invention" which could make our roads safer. They should draw the design as well as explain how the road safety invention would work and how it makes our roads safer.
KS2 Road Safety Invention Competition.pdf
All winners will be announced and contacted in March. We hope the children will have fun creating their entries!
Colne Valley Art Competition
Budding young artists might also like to take part in the Colne Valley Park Art Competition. The theme of the competition is: My visit to the Colne Valley Park. The Colne Valley Park stretches from Rickmansworth in the north to Staines and the Thames in the south, and from Uxbridge and Heathrow in the east to Slough and Chalfont St Peter in the west. Children's artwork can be of anywhere in the Colne Valley Park or something they like doing when they visit the Colne Valley Park. There are two age groups categories:
Ages 7-9 years
Ages 10-12 years
Each participant must live in or near the Colne Valley Regional Park. Only one entry per child can be submitted. Artwork must be between A4 and A3 in size and children may use any type of art, household or natural materials. There are prizes including:

£50 art voucher for first prize from each age group category
£40 art voucher second prize from each age group category
£30 art voucher third prize from each age group category

In addition, all entries will be displayed in the exhibition gallery on the Colne Valley Park website.
How to submit entries:
Take a photo of artwork
Email photo to Artcompetition@groundwork.org.uk with Subject TASGX Children's Art Competition
Please include details of where you live – town, village, suburb, whether in the Colne Valley Park or near it (this will not be included in Gallery credit)
Provide the following information to be included in the Gallery Exhibition

First name of artist
Age of artist
Location of visit
Why did you choose this visit
Full details can be found here.

Competition winners will be notified at the end of April 2021 via email...happy creating!
Oak Farm Library
Oak Farm Library has recently undergone a refurbishment and is now back open to the public. This is a fantastic local resource and we urge all parents to make use of the library regularly with your children, to support and encourage a love of reading.
The library is open Monday to Friday from 9.30 a.m. to 5.00 p.m. and Saturday from 9.30 a.m. to 4.00 p.m. (closed for lunch from 1.00 - 2.00 p.m.). Due to the current lockdown restrictions, it is operating as a closed door, reserve and collect service. The library's many wider resources/services include:
Reserve and Collect - parents and children are still able to search and reserve books, either online or by telephoning the branch. Staff will then contact readers when their books are available for collection. All returned books are quarantined for 72 hours and collection takes place at the front door to maintain safe distancing. Not yet a member? You can always join up here.
Follow the library on social media - keep up to date with events and service updates on Twitter, Facebook and/or Instagram. The library is currently running a packed events programme for Heart Month to promote mental and physical wellbeing in the community.
Bookstart - parents and families can still collect Book Start baby packs (babies up to 1 years) and Treasure Packs (3 years +) at the front of the library.
Tiny Tales (online children's Storytime's) - the library continues to deliver several online Storytimes a week. This is a great way for children to stay in touch and have fun during lockdown.
Reading Well - a collection of books specifically designed to support residents into improved wellbeing.
There are also dozens of Online Resources which can be accessed from home by all LBH library members: