Weekly News - Friday 29th January 2021
Posted on: 29/01/2021
Endangered Species Assemblies
The children from Y1 - Y6 were delighted to hear from Jo from the David Shepherd Wildlife Foundation on Monday. Jo delivered very informative assemblies to the children about endangered animals and how we can help. It was warming to hear so many super questions from the children and to find out that so many of our pupils already have adopted animals. Throughout this week the children have been designing animal masks and we viewed a plethora of animals in assembly this morning!
Please see below the message from Jo.
We believe that it is vitally important to teach children practical ways in which they can make a difference in the lives of endangered species and protect the environment for future generations. Please find below, five ideas which you may like to share with your child, to help them to become young conservationists who can turn the tide on extinction.
If they are interested, we have lots more information in the education section of our website, including species factsheets, colouring sheets, activities and green ideas.
You can also get your child creatively engaged in environmental issues, whilst developing their teamwork skills by encouraging them, along with a group of friends, to participate in our Global Canvas children's art competition.
For young wildlife enthusiasts our animal adoptions make a fantastic gift.
If you would like to find out more about DSWF's vital conservation work across Africa and Asia, you can sign up to receive regular updates by Clicking Here.
Charlie Mackesy Art Competition
Over the past few weeks we have been sharing the beautiful book 'The Boy, the mole, the Fox and the Horse' in assemblies and the children were challenged to create their own saying reflecting our St Helen's College values. The winners are Aanya 5A and Zayd in 1C. You can see their winning entries below.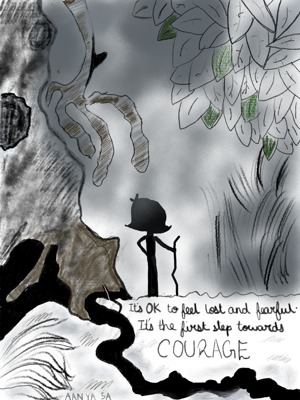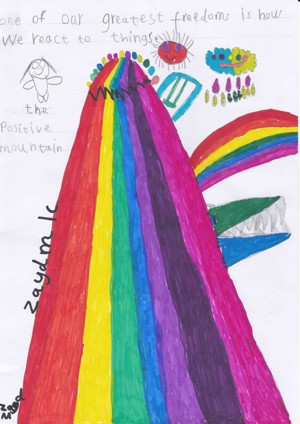 Holiday Club - February Half Term
I am sure that parents will understand that due to the circumstances we find ourselves in that we are unable to provide Holiday Club this half term for the children of our Critical Workers. All our staff are involved either in supervision or remote teaching and it is essential that they all are able to step back for a week to enable them to continue next half term. It also give us a good opportunity for further cleaning of the school sites.
Fun Friday - Dress to Express
Next week we will be acknowledging National Children's Mental Health Awareness Weekand are inviting the children to get involved in this year's theme is Express Yourself.
Expressing yourself is about finding ways to share feelings, thoughts, or ideas, through creativity. This could be through art, music, writing and poetry, dance and drama, photography and film, and doing activities that make you feel good.
It's important to remember that being able to express yourself is not about being the best at something or putting on a performance for others. It is about finding a way to show who you are, and how you see the world, that can help you feel good about yourself.
For Children's Mental Health Week we will be encouraging the children (and adults) to explore the different ways we can express ourselves, and the creative ways that we can share our feelings, our thoughts and our ideas. We invite the children to attend school next Friday dressed to express and look forward to seeing how they express themselves!
Guess the Place Results
Lots of entries again for our Guess the Place challenges.
Last week's Upper School photo was of Arthur's Seat in Edinburgh. We had 141 entries and although 19 people guessed it was in Scotland, 33 people correctly guessed it was Edinburgh but only 4 people got Arthur's Seat too, so well done to Anjika from Y5, Joseph, Grace and Sean from Y3.
The Lower School photo last week was of the London Eye and again over 70 entries with 41 people getting it right. This week's photos will be posted on Friday for you to start guessing.
London Youth Games Week 1 Challenge.
Over 30 of our Y3 - 6 pupils took up the challenge to represent St Helen's College and Hillingdon Borough in the first LYG virtual fitness challenge of speed bounce. Our top bouncers last week were Pavitar from Y5/6 and Hana from Y3/4 but everyone who took part contributed to Hillngdon being in 16th place out of 32 London Boroughs last week. This week's challenge has been to do as many Russian Twists as possible in 30 seconds, our school scores will be submitted on Friday and we will hear the results of where Hillingdon is on the leaderboard on Monday.
Snowtastic
This week we all enjoyed the snow that arrived on Sunday and it was amazing to see snow people appearing all around in our gardens and parks. Thank you to everyone who shared their photos, we hope you enjoy seeing the fun we had in the snow! Click here to watch our video.
Accent Lockdown Recipes
Soula and her team are very much missing the children and I am sure that many of them are also missing our super lunches. Please see here the Accent website which has a wonderful range of recipes available for you.
The Royal Albert Hall - Meet the Orchestra
The Royal Albert Hall have an array of activities for the children to get involved in and you may like to join them as they introduce the children to the orchestra. Please see the link here