Weekly News - Friday 19th March 2021
Posted on: 19/03/2021
Red Nose Day
The school has been painted red today as we have all worn our own clothes, mainly red, to celebrate Comic Relief Day. We have kept each other laughing by telling jokes and finding the joy in everything, and we are very proud that the school community is raising money to support Comic Relief's work. You can see photographs of the fun we have had today on our Galleries page here.
Thanks to donations, Comic Relief continues to make a difference to the lives of millions of people across the UK and around the world, working for a just world, free from poverty. Comic Relief partners with local projects and organisations that are working to tackle four of the biggest challenges society faces today:

Improving Mental Health
A Safe Home for Everyone
A World Where Children Can Survive and Thrive
Freedom from Fear, Violence and Discrimination.
In each of these areas, the Covid-19 pandemic has made people's lives even harder, so your support is as important as ever. If you have not already made a donation to our St. Helen's College Comic Relief fundraising, we suggest a minimum donation of £2 per family, but of course all donations are most welcome. You can donate, and see the latest total raised by the school, by following this link.
Thank you.
Hillingdon STARS Competition Success!
The STARS team at London Borough of Hillingdon have asked us to thank all of the parents and pupils who got involved with the KS1 Captain Safety drawing competition and the KS2 Road Safety Invention competition.
We are thrilled to announce that St. Helen's College children did very well indeed in the competition and the following children were winners in their categories:
KS1 Captain Safety Competition
Page 3 - Alyssa P (Year 1)
KS2 Road Safety Invention Competition
1st Place - Joe T (Year 3)
Joint 2nd Place - Riya S (Year 3)
Special congratulations to Alyssa, Joe and Riya!
The STARS team were very impressed with the drawings and incredible designs and concepts that the children came up with. All of the children who entered will receive a certificate which will be presented in a school assembly in due course.
Prep School Quiz Club Heats
Our Year 5 and Year 6 Quiz Club teams took part this week in the national heats for the annual Prep School Quiz Club Competition. The heats took place online and included questions on Geography, Science, History, the Natural World, Maths, English, Religion and much more. Some of the questions were very challenging indeed!
Our teams acquitted themselves very well. Our Year 6 team (Zail T, Arjan D, Ben L and Vandan V) moved quickly up through the leader board during the first few rounds, and finished the competition in joint 7th place out of 50 teams, beating many excellent prep schools from the local area and across the country. They should feel very proud of themselves. The top six teams qualified automatically for the national finals, and our Year 6 team must now wait until all heats are complete to find out if they have qualified as one of the next highest scoring teams.
The Year 5 team (Anjika G, Shruthi T, Zacahariah F and Aryan B) also performed well, moving up through the leader board to finish in joint 8th place out of 48 teams. Very well done to the children and staff involved.
Please do keep encouraging your children to expand their general knowledge by reading newspapers, watching news-based programmes or reading non-fiction books.
iArt Competition
Many congratulations to all of the children who created entries for the IAPS (Independent Association of Prep Schools) iArt competition. Mrs. Pruce and Mrs. Drummond were so impressed by the high standard of art work, which made the judging incredibly difficult. They have, however, made a final decision on the three artists whose work will be put forward to represent St. Helen's College for this prestigious national competition. Very well done to Riya C (Year 6), Tiya T (Year 3) and Arya A (Year 2). You can see their beautiful entries below.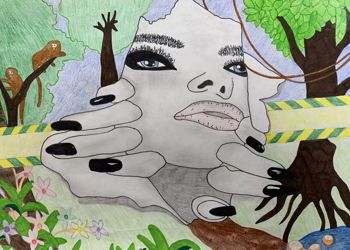 Riya C
Pencils and pens
"Break Out"
Surrealism
30cm X 21cm
"I found this lockdown really hard and frustrating, I was desperate to escape and this is me, breaking through the tape keeping me in my room to get outside and be free."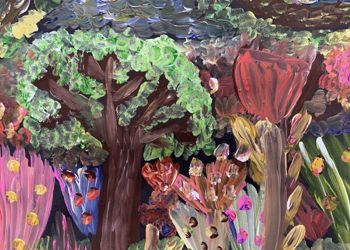 Tiya T
Acrylic paint
"Rousseau Storm"
Magical Realism
30cm X 21cm
"I took inspiration from our Henri Rousseau art project in school to express the weather outside on the day and the storm we are in at the moment. I love his oversized flowers."
Arya A
Age 7
"Rainbow Tree"
Watercolours and soft pencils
Pointillism and fine art
59cm X 42cm
"I decided to draw and paint a rainbow tree because in my garden we have huge trees and during lockdown saw two rainbows over the trees which always made me smile and happy."
Easter Holiday Club
We are looking forward to relaunching our Holiday Club provision this Easter
and we are delighted that so many families have booked in already. The booking system has now closed but we do have a very limited number of places still available on some days for pupils in Years 2 - 6. If you would like to check availability and book a place please contact Mrs. Rooney at lrooney@sthelenscollege.com.
Guess the Place
Well done to the following Year 3 - 6 pupils who correctly guessed that this week's place was the iconic Library of Birmingham building:
Tiya, Grace, Joseph, Sean and Hana (Year 3).
Shruthi, Riddhi, Charlotte, Shakira, Siyana, Chrissy, Natalia, Kylah, Anjika, David and Luka (Year 5).
Zail and Samir (Year 6).
Our London landmark this week was a little bit tricky for our pupils in Nursery - Year 2, but many congratulations to Millie and Riyan in Year 1 and Evie in Year 2, who correctly named the place as Regent's Park.
PA Forum Meeting
The next PA Forum meeting will take place at 7.00 p.m. on Wednesday 24th March. Parents are encouraged to send points for discussion onto class representatives. Class reps should send points for discussion to Mrs. Smith by Monday 22nd March at the very latest please: susmith@sthelenscollege.com.
Home Self-Testing Service Launches in Hillingdon for Households with School Children
Households and families with school-aged children can now access COVID-19 home testing kits. The 'community collect' service launched this month to households with primary and secondary school and college age children, as well as those providing childcare and in support bubbles. Testing kits are to be used twice weekly, meaning people can self-isolate faster if they test positive.
Home-testing kits can currently be ordered online for home delivery at www.gov.uk/coronavirus or can be collected from Topping Lane PCR test site near Brunel University. Kits will also be available for collection shortly from the borough's seven asymptomatic testing sites. Find out more at www.hillingdon.gov.uk/community-testing.
Textile Bank
Thank you to those of you who have already made donations into our new textile recycling bank, which is located alongside the path outside 227 Long Lane. Please do not forget that we can accept all clothing, paired shoes, belts, bags, curtains, bed linen and towels. Items that cannot be put into the bank are branded school uniform items, duvets/pillows/cushions and rugs/carpet off cuts.
The Lynne Chilver School of Dance
The Lynne Chilver School of Dance run sessions at the North Hillingdon Methodist Church, Long Lane (at the front of Lower School), as follows:

Ballet and Tap: Saturday mornings from 9.00 a.m.
Tap: Mondays from 4.00 p.m.
Modern and Freestyle: Wednesdays from 4.00 p.m.
Acro and National returning soon.
Children are prepared for recognised exams (IDTA RAD ISTD) and entered when they have reached the required level. Every two years they take part in a show held at the Beck Theatre during February half term. All lessons have been made Covid secure.
The dance school runs other events, such as an annual Summer School and Christmas workshops. They also hold adult classes in Zumba, Ballet and Tap.
Fees for children's classes start from £60 per term (12 weeks). All classes should be booked directly through the dancing school.
More information and contact details are available on their website: www.lynnechilver.co.uk

Hillingdon Libraries
Uxbridge Library are running weekly Once Upon a Bump sessions via Zoom. These sessions are for expectant and new parents to get together online for singing, stories and a chat. You can see details here.
Hillingdon Libraries also have several weekly online Tiny Tales story time sessions for families with pre-school children. These are run by different libraries within the Borough and information about the dates and times of these are uploaded weekly to the library Twitter feeds (@Hill_Libraries) and Facebook feeds (@HillingdonLibraries).