Weekly News - Friday 9th July 2021
Posted on: 09/07/2021
Prizegiving
We enjoyed a marvellous Prizegiving Ceremony with our Year 6 leavers and parents at school yesterday evening. While this was not our usual September Prizegiving format, the evening was a huge success and it was very special to be able to celebrate the many, varied and frankly astonishing achievements of this wonderful cohort of pupils. Miss Linda Beckett, St. Helen's College Governor and Chair of our Education Committee, attended as our Guest of Honour and gave an inspiring speech which will stay with us all for years to come. Our Head Boy and Girl gave a heartfelt vote of thanks to round off their time in their positions of responsibility and we would like to thank Jena and Zail, along with their deputies Maya and Samir, for being an excellent Pupil Leadership Team this year. We were also able to pay tribute to one of our parents, Ms Jamani, who leaves the school this week after very, very many years as a St. Helen's College parent and several years as Chair of the Parents' Association. Thank you to all those involved in organising and running this event, and to all the Year 6 parents who attended to celebrate the children's successes and personal qualities.
New Pupil Leadership Team
We are delighted to announce our new pupil leadership team for the academic year 2021-2022.
Our Head Girl will be Shruthi T
Our Head Boy will be Eshan N
Our Deputy Head Girl will be Layla O
Our Deputy Head Boy will be Sahib N

Other Year 6 positions of responsibility, including House Captains and Sports Captains, will be decided upon and announced at the start of the new academic year.
St. Helen's College Voice 2020-2021
This year's school magazine, St. Helen's College Voice, has been published digitally today and is available here. We hope that you will enjoy looking through this with your children, celebrating their work and perhaps looking forward to the sorts of things they will be doing when they join their new year group from September.
We also hope that the Year 6 parents are enjoying the beautiful Leavers' Yearbooks which the school has produced and gifted to the Year 6 children as an everlasting memory of their journey with us.
Farewell Miss Walker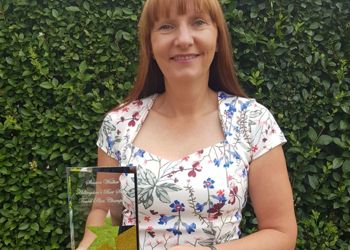 Today, Miss Walker leaves St. Helen's College after an amazing 27 years of dedicated service. On Monday, the London Borough of Hillingdon STARS Team made a surprise visit to our online assembly to thank Miss Walker for all that she has done over the years to promote sustainable travel and road safety for our pupils, staff and parents, and for the wider community. They spoke with passion about her dedication to these causes, and noted the many changes that she has driven through during her time at St. Helen's College, including Walk on Wednesday, the parent parking pledge, the walking loyalty scheme, increased bike/scooter storage, The Big Pedal and many more. Miss Walker introduced Junior Road Safety Officers here at St. Helen's College and, as she said to the pupils on Monday, she is hopeful that the school's excellent work in this area will continue, with the pupils at the heart of it.
Goodbye, Miss Walker, and good luck in your new role. You have been a wonderful teacher and ambassador of St. Helen's College and you will be greatly missed. We know that you will remain in the family and look forward to seeing you at many future St. Helen's College events.
Please read Miss Walker's Farewell Blog here.
Year 6 Projects
Our Year 6 children have been working independently this term on their final projects and the rest of the Upper School children had a chance to view these on Wednesday. Parents are able to view them too - simply ask your child to log on to the school system and show you the projects!
Year 6 Heart and Lung Dissection
Year 6 children have been studying 'healthy bodies' in science. They have learned what it means to have a healthy and balanced diet, the deficiency of vitamins that may lead to diseases like scurvy, the effect of exercise on the heart and circulation, and the effect of legal drugs in the form of alcohol, medicines and tobacco.
A crucial part of their learning is the understanding of how nutrients and oxygen get transported around the body, enabling energy to be used for life processes. The heart is the central part of this system, so in order to gain a deeper understanding and have a 'hands-on' experience, they undertook a dissection activity using lamb heart and lungs. They had a close observation on the structure and texture of lungs, and they cut through the windpipe that led to bronchioles and air sacs where the exchange of gases takes place. They were most fascinated by the heart with its chambers and connecting blood vessels. They identified the right and left ventricles and atria, and could explain which part had oxygenated and deoxygenated blood. They enjoyed making connections as to how the section of the heart they were cutting formed part of the pathway of the whole circulatory system that they had previously studied.
The activity left most of them curious, satisfied, knowledgeable, happy and buzzing learners. Hands on science is the best type of all!
ABRSM Music Examinations
Congratulations to all of our musicians who have been busy preparing for and taking music examinations this term. The following pupils were entered and results are shown where they are known - some children are still awaiting news of their result.
| | | | |
| --- | --- | --- | --- |
| Y1 | | | |
| Aria M | Violin | Initial | Merit |
| | | | |
| 2B | | | |
| Simar | Violin | Grade 1 | Pass |
| | | | |
| 3B | | | |
| Viren | Piano | Grade 3 | Pass |
| Emily | Violin | Grade 2 | Pass |
| | | | |
| | | | |
| 4L | | | |
| Minaya | Piano | Grade 5 | Merit |
| Arshia | Piano | Grade 2 | Merit |
| | | | |
| 5A | | | |
| Rivan | Guitar | Grade 2 | Merit |
| Zach | Piano | Grade 8 | Distinction |
| Zach | Violin | Grade 5 | Merit |
Chamber Choir
Well done to everyone who submitted video auditions for Chamber Choir. The standard of auditions was very high again this year! There are limited spaces available and the following seven pupils have been chosen to join in September 2021:
Natalia C
Aanya B
Amber P
Samara P
Hana H
Ruby L
Grace O'H
The Chamber Choir will be performing at the St. John's Smith Square Children's Trust charity concert on Sunday 14th November - please add the date to your diary now as this is always a very special occasion!
Year 4-6 Talent Assembly
On Monday we were treated to a marvellous special assembly during which children from Year 4, Year 5 and Year 6 sang, delivered some improvisation comedy, danced, played a variety of instruments and more! The children really are so talented and it was amazing to be able to share their interests with them. Well done to all those involved.
Tennis Finals
Many congratulations to the winners of our annual tennis finals! As always, the competition was tough and every child had to play to their very best. We all really enjoyed watching them play. The year group winners were:
Year 3 boys - Sean R
Year 3 girls - Hana H
Year 4 boys - Xavier B
Year 4 girls - Arshia S
Year 5 boys - Luka K
Year 5 girls - Anjika G
Year 6 boys - Samir H
Year 6 girls - Amar C
Music Personality of the Term
Congratulations to Jessica L, who has been named the Music Personality of the Term. Jessica has always worked conscientiously and demonstrated enormous enthusiasm, over several years, in all aspects of music at St. Helen's College. She has excellent music skills and applies and shares creative ideas successfully in class work. She is a member of the Senior Choir and Chamber Choir, and is an excellent role model within the music department as a music prefect.
Jessica regularly performs at assemblies, recitals and outside of school. As well as playing the ukulele, she also plays the piano and the clarinet and sings! She has exceptional musical talent, and is working on Grade 3 exams on the piano, the clarinet, and singing. Her melodious singing voice also helped her to gain the part of Nala in the Year 6 production of The Lion King this year, and her performance was first class.
Very well done, Jessica!
Sports Personality of the Term
Amar C has been named the Sports Personality of the Term for the summer term. Speaking about her, the Sports Captains noted that Amar has been an amazing role model to everyone and always tries her best, showing sportsmanship, kindness and perseverance in every sport. Amar always strives for excellence and always achieve it.
Amar has taken part in all the tennis tournaments from Year 3. She was in the District Sports team and also in the netball team in Year 5. When times get tough for other people or they think they're doing poorly, Amar will support them and make them persevere to achieve their personal best.
Amar got 5 rosettes and won the Year 6 tennis tournament for girls. She also did really well during the staff v. pupils rounders game.
Congratulations, Amar!
Staff v. Pupil Rounders!
Wednesday afternoon saw our Year 6 children take on the staff in the annual Staff v. Pupils rounders matches. There were three teams of children and we are delighted to report that the staff team won all three matches. The Year 5 children might want to get practising over the summer so that they can take their revenge on the staff next summer!
Teacher for the Day
The Year 6 children had great fun on Thursday as they stepped into the teachers' shoes for the day and did our work for us! You can see photographs of them enjoying their time as staff on the Galleries page.
Reverend Sarah Smith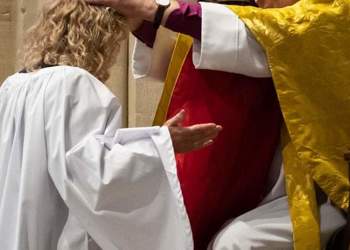 Many congratulations to Mrs. Smith (Year 3) who was ordained last weekend in Oxford. We are so proud of her and feel so lucky now to have a Reverend on our staff!
Mrs. Smith gave a short sermon at our Year 2-6 Final Assembly today and we know she will continue to inspire the children here with her faith as time goes on.
Cancer Research UK Fundraising
Many thanks to all those parents who have already generously made donations in support of Cancer Research UK. The link is still open so if you have not already donated and would like to do so, you can still donate by clicking here.

News from the PA
Second Hand Uniform Stall
The PA will be holding a second hand uniform stall in the school car park on Parkway towards the end of the summer break. If you are picking up from Holiday Club or just want to pop along to see what bargains you can pick up, the stall will be open from 12 p.m. to 5.30 p.m. on Tuesday 17 August 2021 and Friday 20 August 2021. This will still give you plenty of time to get along to Pullens if you aren't able to get all of the bits that you need from the stall.
Charity Cake Stall
On Tuesday 17 August 2021, alongside the uniform stall, Grace O (3M/4L) will be selling a range of delectable homemade treats, including cakes and biscuits. All items will be individually packaged and all money raised will go to Cancer Research UK. If you can, please do show your support and get yourself a little treat at the same time.
PA Class Representatives 2021-2022
We still need volunteers for class reps for: Robins Nursery, 1R, 5G and 6R. Please contact pa@sthelenscollege.com if you would like to find out more about being a class rep or to volunteer.
Year 6 Leavers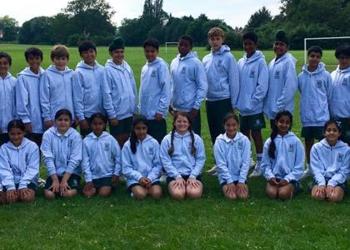 The PA were delighted to gift leavers' hoodies and individually wrapped St. Helen's College cupcakes to all of our Year 6 leavers. We wish them all well as they embark upon the next stage of their adventures!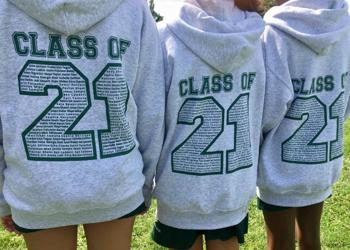 Summer Reading Challenge
Hillingdon Libraries will be launching the Summer Reading Challenge this Saturday 10th July through to the start of September 2021. The theme this year is Wild World Heroes, focussing on nature, conservation, and the environment.
Hillingdon library staff have helped to create an engaging and exciting video to help promote this year's challenge. Here is the link to Hillingdon Libraries Youtube channel for the video- https://youtu.be/_3ZXkfSKYKA
We hope that many children will take part - don't forget that reading is the foundation for success in primary education and beyond, so it is important to keep it up over the summer!
English Writing Skills - Holiday Workshops
For those parents wishing to enhance their children's English writing skills over the summer, please see the links below:
https://www.chelseayoungwriters.co.uk/creative-writing/holiday-programmes/courses-and-workshops/my-first-story-workshops
https://www.storyroom.co.uk/holiday-workshops/
There are very few workshops available this summer, but there are plenty of writing opportunities that can be undertaken at home. Keeping a diary is a great way to ensure regular writing and reflection, and the world around us can stimulate ideas for poetry and story writing. Creative writing is a wonderful method of self expression, so a pen, pad and imagination is a great place to start.
Summer Tennis Camps
Miss Walker and Mr. Stidder are, as usual, running tennis camps over the summer. You can find the details here and here. This is a great way to stay active and keep busy so we hope many of you will sign up!
Virtual Open Morning - September
Our next online Open Morning will take place on Friday 24th September at 10.00 a.m. If you, or any family and friends, have a son or daughter eligible for entry to Ducklings, Nursery or Reception in September 2022, September 2023 or September 2024, please do register/encourage them to register to attend. The registration link is here.
Next Academic Year
Calendar
The school calendar has been updated with dates for the autumn term. Please do check it and make a note of significant dates. STEAM Day will be taking place on Wednesday 29th September and parents may be invited to offer workshops as usual - look out for an email about this!
Uniform & Equipment
If you have not already done so, please check the Uniform & Equipment list on the School Documents page of the website so that you can ensure that your child has all that they will need for their next year group.
Funtasia/Breakfast Club Bookings
Bookings for wraparound care for the Autumn term will open on the first day of term, 2nd September, very early in the morning. Breakfast Club and After School Club will be available as usual and, as ever, we ask that you book as far in advance as you can, wherever possible, as this is so helpful for us when planning staffing, catering and other logistics.
Co-Curricular Arrangements and Bookings
We are currently finalising the co-curricular programme for the Autumn term. Bookings will open soon after the start of the term and we will send a reminder at that time to ask you to make your choices. Clubs are being planned to start from the week beginning Monday 13th September.
Autumn Term Menu
The menu for the autumn term has been published to the School Documents page. Please do take a look at it with your child ahead of the new academic year to help them to make sensible choices.
Snacks
When sending in snacks for break times, please follow the school rules and send fruit, vegetables or plain biscuits in a named snack box. In exceptional circumstances, if your child is getting very hungry or needs a second snack for after school before a club, you may send a plain sandwich (cheese, ham or similar). No high fat, high sugar or high salt foods are permitted and please do not send anything messy!
Individual Instrumental and Vocal Tuition
Please note that, from January 2022, fees for individual instrumental and vocal tuition will increase as follows:
30 minute lesson (Upper School): £22.50
20 minute lesson (Lower School): £14.50
Parents are reminded that a term's notice is required if you would like your child to stop receiving individual instrumental or vocal tuition. Notice should be emailed to Mrs. Fawbert at cfawbert@sthelenscollege.com.
FREE Pause Mother and Baby Mindfulness Classes
Starting from Wednesday 8th September, we will be running FREE Mother and Baby Mindfulness Classes at St. Helen's College for babies aged from 3 months to crawling (no crawlers allowed). If you, or any of your friends and family, have a baby who will be the right age, and you would like to attend, simply email susmith@sthelenscollege.com with your full name, baby's name and date of birth to book your place.
The classes, led by Mrs. McLaughlin, will run at 9 a.m. on Wednesday mornings, in the Evans Hall at Upper School, and there are six classes in each course. These classes will give an opportunity for mothers and babies to bond and enjoy mindful time together, and will include techniques such as mindful breathing, yoga and massage.