Weekly News - Friday 8th October 2021
Posted on: 08/10/2021
Lower School Harvest Festivals
Thank you to all of the parents who joined us this week for the Lower School class assemblies to celebrate Harvest Festival. Our Reception and Year 1 children gave wonderful performances to remind us of the importance of our farmers and all that they do to provide food for us all, as well as how important it is to think of others less fortunate than ourselves at this time of year. The children all spoke their lines and sang their songs with great confidence - it is just wonderful to see such young children developing the public speaking skills they will need in the future! Many thanks to all families for the generous contributions of Harvest food, which will be distributed via the Salvation Army to those in need in our local community.
The Nursery (Robins and Wrens) Harvest Festival assemblies will take place next week. Please check the calendar here for details.
Sports News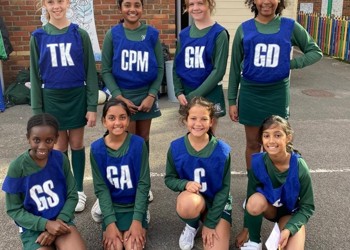 Well done to our netball team, who won 6-1 on Wednesday in their first game of the season against St. Bernadette's. The girls played with great skill and determination, as well as super attitudes. We are all very proud of them!
Also playing their first game of the season on Wednesday, our football team took on a physical St. Mary's team in a closely contested game which ended in a 1-1 draw. Very well done to all of the players involved.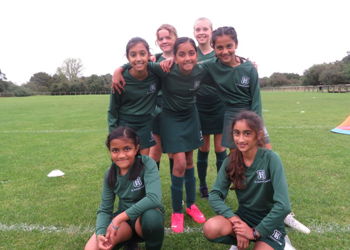 On Thursday, our girls' football team enjoyed their experience of their first football festival at Abbotts Hill Football Club. They took part in a carousel of activities to help develop their skills and enjoyed playing a match against Oak Farm, despite it ending in a 0-0 draw.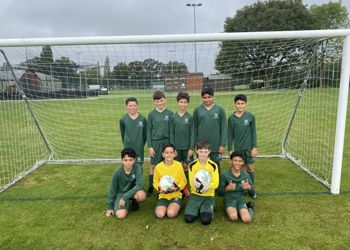 On Friday, the boys' football team took part in the U11 tournament at Aldenham School.
St. Helen's College Kitchen Achieves Five Star Hygiene Rating Again
Following an unannounced visit from the Food Standards Agency today, we are delighted to confirm that our kitchen has once again been awarded a five star hygiene rating. Well done to Soula and her team!
Lower School Parents' Evenings
Thank you to the Nursery, Reception and Year 1 parents who attended parent consultations on Tuesday this week. We hope that you found these useful. The next set of consultations will take place on Thursday 14th October.
Co-Curricular Activities - Lower School Gardening Club
We are thrilled that our Lower School Gardening Club was recently recognised by the Royal Horticultural Society (RHS) who were impressed with our harvest of runner beans, tomatoes and cucumbers! It is great that we are able to teach the children about where their food comes from and the effort that must go into successfully planting, nurturing and harvesting crops.
Year 6 Trip to Denham Country Park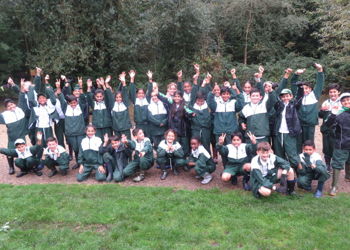 On Thursday, our Year 6 children enjoyed a day of outdoor learning at Denham Country Park, investigating the environment including the river.
Year 3 Trip to St. Albans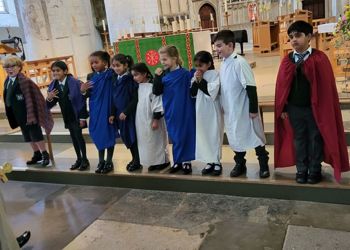 Earlier in the week, the Year 3 classes had a super trip to St Albans, where they enriched their learning in lots of ways. They looked around the cathedral and found out about St Alban. They did some really exciting drama and dressed up as characters from the story of St Alban. They also made some Roman mosaics and found out about different aspects of Roman life. Everyone was very well behaved and one of the volunteers from the cathedral commented that we should all be very proud of our children and our school because they were so engaged and enthusiastic throughout the day. The children have written some lovely recounts of the day and one of them said, "I would recommend this trip to people who like History, learning and finding out about the Romans."
Reception Trip to Odds Farm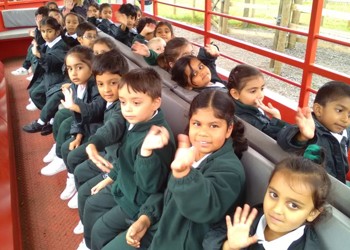 Kingfishers and Owls thoroughly enjoyed a fantastic visit to Odds Farm Park today as part of their shared topic of 'Down on the Farm!'
The children delighted in the chance to get close to a range of farm animals, they excitedly took part in a 'meet the bunnies' workshop and they even learned how to milk a cow! The day was finished off in style, with a bumpy-but-fun tractor ride around the farm.
The trip certainly proved a wonderful way for the children to learn about the importance of agriculture, how to care for living things and the significance of the autumn harvest.
Recycle to Read
Next week we will be holding the Eco initiative 'Recycle to Read'. You can find out information about this initiative here:
https://jointhepod.org/campaigns/recycle-to-read-2021
Upper School Eco Reps discussed this in assembly today and Lower School Eco Reps have been busy making posters to promote the scheme. Eshan N has written this piece to explain the scheme:
From Monday 11th October, St. Helen's College will be taking part in Recycle to Read! This is a new campaign where we throw away lots of plastic toys and technology in exchange for new books. This is the very first time this has been done and St. Helen's College is very proud to support this environmentally friendly campaign. We are doing this for the health and safety of our planet because over 318 million toys over the world are being sold each year! This is very damaging to the environment because when these toys are disposed of incorrectly some of the plastic could go into the sea or into the forests which could have a big impact on the environment. The school would like both teachers and students to help the environment. At school we will have two bins. One bin will be for plastic toys and one for technology. Happy recycling!
There will be collection bins at Upper School, Lower School and Ducklings for donations and we thank you in advance for your involvement in this excellent scheme.
Flu Vaccination Reception to Year 6
If you have not already returned your child's flu vaccination form, please note that we must have this back by the end of next week in order for your child to receive the vaccine. Your completed form should be sent into school and handed to your child's form teacher or to the school office.