Weekly News - Friday 3rd December 2021
Posted on: 03/12/2021
Reception and Year 1 Christmas Assemblies
Our Reception and Year 1 children presented beautiful, heartwarming and very confident Christmas assemblies to their parents this week.
The children of 1C and 1R told us the story of Christmas and the history of many of our modern day Christmas traditions, performed some beautiful (and fun) songs, told us a Christmas poem and led us in prayer.
The children of Owls and Kingfishers performed traditional Nativity plays for their assemblies yesterday and today, delighting their parents and school staff with their portrayal of the familiar characters from the Christmas story, and with their wonderful costumes. They each spoke and sang with great joy and confidence.
We are very proud of the Reception and Year 1 children. It was lovely to see so many parents in attendance at these events and we are sure that you enjoyed seeing your children perform too.
2B Assembly
Well done also to the children of 2B, who performed a moving assembly for us all today. They looked at the gifts they were each hoping to receive for Christmas and then considered what other gifts we could all give to others which might not cost a penny, but might make the world a better place: hugs, smiles, love, care for the environment and more. They recounted and acted out a story of a kind-hearted, animal-loving child who accidentally sent a shopping list to Santa by mistake, and ended up with everything she really wanted for Christmas when she was given the items she needed to feed and care for the cold, hungry animals about whom she was so worried.
2B's confident, tuneful and very beautiful rendition of 'We Are The World' will stay with us all for a long time, as will the important message they shared with us today. Bravo, 2B!
Year 3 Roman Day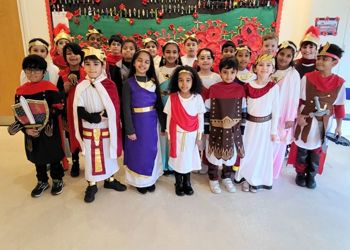 On Wednesday Year 3 had a Roman Day at school. It was great fun and everyone looked amazing!
They found out what it was like to be a gladiator in Ancient Rome, made clocks with Roman numerals and enjoyed Roman drumming.
They also had a Roman feast and made Roman shields.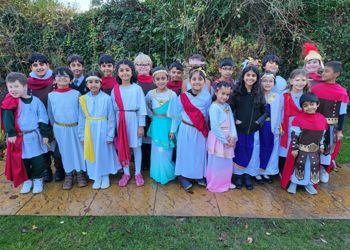 Thank you to all of the parents for providing such fabulous costumes and to all of the children who were so enthusiastic and really made the most of the chance to enrich their learning about the Romans.
You can see more images of the day on our Galleries page here.
Science Quiz
On Tuesday 30th November two teams of children from Years 5 and 6 took part in a national science quiz. Out of 89 teams we finished 48th (team 2) and 23rd (team 1) with team 1 qualifying for the semi finals in February. Congratulations to both teams for participating.
Team 1 Aryan B, Luka K, Jacob N, Advik S (made it through to the semi finals).
Team 2 Reiss D, Diyan C, Minaya W, Arshvir S
Salvation Army Christmas Appeal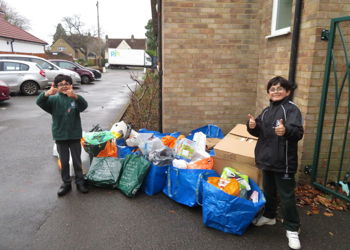 Here you can see Avar D and Arup D with the pile of presents that the school has amassed for the Salvation Army Christmas Appeal. These were collected by The Salvation Army today and will be distributed to children in the local community. We are sure that their faces will light up when they receive their surprise gifts. Thank you to the Dhillon family for suggesting this initiative and we would like to extend heartfelt gratitude to every family who has donated gifts for this appeal.



Christmas Card Deliveries
Children may bring Christmas cards into school and post them in our school postboxes for delivery to other children or staff on their school site.
Christmas Decoration Competition
Just a reminder that children's home made Christmas decorations must be brought into school by Wednesday 8th December. Prizes will be awarded on Friday 10th December.
Pantomime
The Theatre Royal in Windsor has offered St. Helen's College families the chance to buy tickets for 'Jack and the Beanstalk' at the discounted school price of £15 for the following performances.
Friday 3rd December - 4.30 p.m. (pupils will be given permission to leave school early if you attend this performance)
Wednesday 15th December - 7 p.m.
Thursday 16th December - 7 p.m.
Thursday 6th January - 7 p.m.
If you would like to attend as a family, please use the following link to book your tickets: https://sthelens.schoolcloud.co.uk/clubsevents/admin/events/111158 and a charge will be added to your SchoolsBuddy account.
This offer is open to the whole school. Tickets must be booked by Thursday 9th December.
RocketLearn Christmas Camp
We have arranged for all children in Years 3-6 to have FREE access to the RocketLearn Online Christmas Camp – usual cost £20/child. The camp runs over the holidays and includes a variety of online broadcast lessons and activities covering Maths, English, Skills, PE and Well-being all aimed at children aged 7-13. If you would like to sign up please visit https://bit.ly/RLchristmascamp and enter the code STHELENS on checkout to reserve a free place. You can find additional information also on the pdf which has been sent out by email to Year 3-6 parents today. We hope your children will enjoy the activities and it would be wonderful to see our pupils enter the Creative Writing Competition that is also taking place at the camp.
NextGen Enterprise Taster Session
On Monday NextGen Enterprise held an online taster session with over 20 attendees from Years 5 and 6. The children learnt a lot and had so much fun doing it. If you are interested in signing up please visit https://nextgenenterprise.co.uk/. Just a reminder that there is an exclusive offer of 25% off for St. Helen's College students which will be valid until the 10th December.
You can see the NextGen prospectus here.
You can see the NextGen presentation from Monday here.
Carols Around The Tree
It was super to welcome so many parents and children to Upper School today for our annual Carols Around The Tree event. Thank you to all those who came along to get into the festive spirit with us!
End of Term
Next Friday, 10th December, is the last day of term and is a half day. Children should be collected at the following times unless they are booked into Funtasia:
11.50 a.m. (Ducklings & Nursery)
12.00 p.m. (Reception)
12.10 p.m. (Years 1, 2)
12.20 p.m. (Years 3, 4)
12.30 p.m. (Years 5, 6)