Weekly News - Friday 25th March 2022
Posted on: 25/03/2022
Speech Recitals and Competitions
This week has seen another of the highlights of the St. Helen's College annual programme, with the school once again able to hold our poetry recitals and competitions in person.
On Monday, our Reception children recited their poems to an eager audience of parents and staff in the Lower School Hall. The Nursery children recited theirs on Tuesday in the same format. The children showed such confidence and bravery as they mounted the steps to the stage for their first solo recital performance (as the Reception children had been unable to do this in person due to the Covid lockdown last year). It was heartwarming to hear them and to see their obvious support for each other. Very well done, Nursery and Reception.
On Thursday we held the finals of the Junior Speech Competition for Years 1-3 and then the Senior Speech Competition for Years 4-6. Our guest judge, Nicola Isherwood, was hugely impressed by the very high standard of recitals. The children were extremely well-rehearsed and they spoke with wonderful clarity, projection and expression; these were the three criteria for judging. Their understanding of the meanings of their poems was clear for all to see and Nicola had an unenviably difficult job as judge. The winners were:
1C Class Winner - Eleanor G
1R Class Winner - Emerald S
2B Class Winner - Shayna C
2H Class Winner - Gurdaya J
3B Class Winner - Samuel H
3MB Class Winner - Rohaym U
Overall Junior Speech Competition Winner - Shayna C (2B)
4L Class Winner - Dylan C
4T Class Winner - Rian M
5A Class Winner - Lavanya B
5G Class Winner - Xavier B
6H Class Winner - Rivan K
6R Class Winner - Diyan C
Overall Senior Speech Competition Winner - Dylan C (4L)
We are so proud of every single pupil in the school for taking part in the recitals and competitions. Congratulations to our overall winners and a special thank you to Nicola Isherwood, who was a sensitive and educational judge for the children.
Y3 visit to Kew Gardens
On Monday, our Year 3 children enjoyed a day in the sunshine at Kew Gardens, where they had the chance to look at plants close up. They took part in a wonderful workshop where they had the opportunity to sketch plants, look at them under a microscope and do a seed sorting activity. Outdoors, they acted like plant scientists dissecting plants. The children thoroughly enjoyed looking at the plants in the Palm House and other areas in Kew Gardens.

Y5 visit to Bletchley Park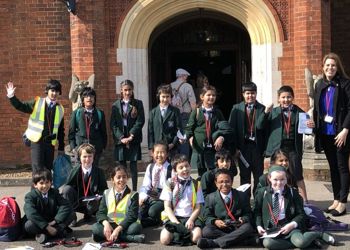 On Tuesday, Year 5 took a trip to Bletchley Park, where they learnt how code breaking helped to shorten WW2. They saw where code breakers such as Alan Turing worked and learnt about the Enigma code, the development of computers and computer science and the heroic efforts of men and women to bring the war to an end.
Planetarium visit to Reception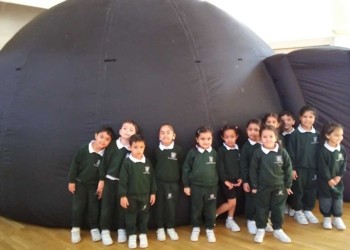 On Thursday, the children in Reception were treated to a visit from a planetarium as an exciting end to their topic 'We Are Space Explorers!'. Astronomer Zee presented a stargazing session, where he explained all about the Hillingdon sky at night as the children searched for the North Star, explored the stories behind the constellations and learned all about the craters of the moon. They were also treated to a wonderful interactive 'Sunshine' show with fun, games, colours and counting. It was out of this world!

Barnardo's Chamber Choir Competition
Our Chamber Choir has submitted their digital entry to the final of the Barnardo's National Choral Competition. You can view their entry here. We await with anticipation the results of this prestigious competition, which was sadly moved to a digital event due to the City of London's covid protocols.
Sports & Music Personalities of the Term
Well done to Natalia C, who was today named Sports Personality of the Term.
Congratulations also to Aanya B, who was named Music Personality of the Term.
PE Tracksuit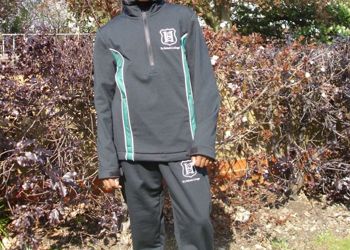 Years 3 to 6 will have a new PE/Games tracksuit from September. We will have a lead in period for the new tracksuit, so if your child's tracksuit still fits by September then you will not need to replace it. Pullens are planning to attend the PA Summer Fete on June 18th, so that parents may view the new tracksuit and place orders.
News from the PA
Second Hand Uniform Sale and Charity Bake Sale
Thank you to all of the parents who have donated uniform recently. The PA will be opening a uniform stall from 12 p.m. to 4.30 p.m. on Friday 1st April and Tuesday 12th April in the school car park on Parkway.
Grace O'H and Verity S from 4L will be running a bake sale in the car park outside the Parkway entrance to the school on Tuesday 12th April alongside the secondhand uniform stall. They will be selling all sorts of delicious treats including homemade cupcakes, macaroons, tiffin, rocky road, flapjacks and cookies. All money raised will be donated to support work that is being undertaken to protect elephants by battling the current surge in ivory poaching, thwarting traffickers and ending the demand for ivory.
If you're coming along to the uniform stall or picking up from Holiday Club, why not treat yourself on the run up to Easter whilst also supporting such a worthwhile charity.
Ukraine
We are fortunate in the UK to be looking forward to an Easter break and the onset of spring. But as the war continues, the situation in Ukraine remains desperate. More than 2.5 million people have already left Ukraine, while countless more are still trapped underground, taking cover from the shelling, and desperate for a safe escape. Hundreds of thousands of people still have no food, no water, no medical care, and no heat or electricity.
Red Cross teams are working around the clock to get critical care to those who need it most, both in Ukraine and its bordering countries. With recent freezing temperatures, and ongoing violence, an enormous number of people urgently need help right now. If you would like to make a donation to the Red Cross, you can do so by following this link.
Mrs. Smith is awaiting the arrival of a Ukrainian guest through the Homes for Ukraine scheme. She has written a blog this week about her experience of the process so far. If you are interested in reading this, you can do so here.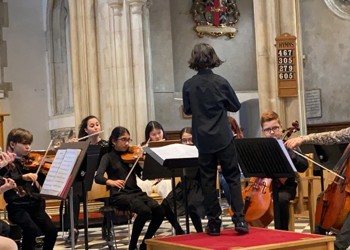 Minaya W (Year 5) has been putting her viola talents to good use. Last weekend she played in a charity concert at the Barbican to help raise funds for Ukraine. There is another concert this Saturday evening at St. Bartholomew's the Great in the city, which some parents/families may like to attend - information is here.
Well done, Minaya.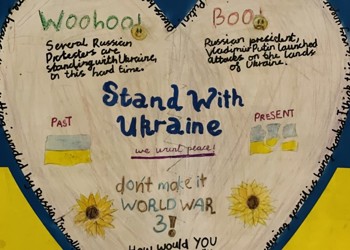 Tiya T (Year 4) has made a poster in support of Ukraine as part of a competition being run by The Week Jr.
This is excellent, Tiya, well done! We hope that others will be inspired to enter the competition too, or to find other ways to support Ukraine in these terrible times for the country.
Great Big School Clean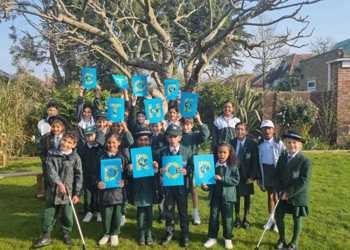 Back for its seventh year, our 2022 Great Big School Clean takes place 25 March – 10 April. From today, we have pledged as a whole school community to pick up one bag (or more) of litter over the Easter holidays as part of the Great Big School Clean. We would like everyone to pick up some litter in their homes and communities as it is hurting our environment and it is increasing climate change.
As you know we have had Cop26 and if we don't try to stop plastic pollution and climate change then the world will be at risk. If we stop littering and start throwing our rubbish into the recycling bin it would make a big difference. Please start doing this now! Schools nationwide are actively encouraging this too, and we want everyone in this school to play their part. Join our #BigBagChallenge because your participation in the Big Clean over the three week Easter holiday will be a massive help to our ecosystem and communities. Thank you!
By Eshan N on behalf of the Eco team
https://www.keepbritaintidy.org/get-involved/support-our-campaigns/great-british-spring-clean/pledge-to-pick/school
Annual SATIPS Art Exhibition
Several members of our school community from Years 1 - 6 have had pieces of artwork selected to be exhibited at this annual independent school art exhibition. Invitations have been sent home with the children and we hope that many of you will be able to attend the exhibition at the Royal Masonic School in April.
IAPS iArt Competition - Final Reminder
After the success of iArt 2021, in which Arya A at St. Helen's College was a winner, IAPS will be running the competition again in 2022 and hopes to receive more submissions than ever. Shortlisted entrants will receive prizes of vouchers for local independent bookshops.

This year, the competition will have a theme and all submissions must in some way relate to this theme. The theme is my role model.

This theme has been chosen because IAPS is interested to see who inspires pupils, who motivates them, who they admire and who they would like to be like when they grow up. The role models can be anyone:
someone personal e.g. a family member, friend, teacher, coach, librarian, a member of the local community;
someone "in general" e.g. nurses, doctors, train drivers, farmers;
someone public e.g. a famous person, such as a sportsperson, environmentalist, singer
While IAPS encourages pupils to attempt a portrait of their role model, pupils – and particularly, younger pupils – should feel free to just paint / draw / create something which reminds them of their role model instead. For example, if a pupil's role model is David Attenborough, they might choose to paint trees and animals, or if their role model is a parent, they might choose to draw a picture of their house.
Each pupil must write a maximum of 100 words in a sentence or two to accompany their piece of work, saying 'My role model is...because...'.
Entries will be judged on a) interpretation of the theme; b) creativity around the theme; c) overall design; d) and that 'certain something' that just draws you to the artwork! There is no set format for entries and artwork can be submitted in any medium. Submissions can be paintings, drawings, or models, any size, and use any art supplies.

There are five categories for the iArt competition: Years 1 & 2, Years 3 & 4, Years 5 & 6, Years 7 & 8 and Years 9 & 10. Each school may enter one piece of art for each category. For example, one piece of artwork representing the Years 5 & 6 category, not one artwork from Year 5 and one from Year 6.
Pupils who would like to enter this competition should submit their pieces of art and accompanying sentences directly to Mrs. Pruce or via their class teacher. The latest time to submit these will be in the first week of the summer term. Mrs. Drummond and Mrs. Pruce will judge which entries to put forward from St. Helen's College.
Good luck everyone and happy creating!
Cavaliers Basketball Easter Camp
Thames Valley Cavaliers are running a basketball Easter Camp at Uxbridge College for children aged 7-17. You can find details here.
Summer Term Menu
The summer term menu is now being finalised and will soon be published to the school website here.
Summer Term Co-Curricular Allocations
Co-curricular allocations were sent to parents yesterday.
Clubs will begin the week beginning 25th April.
If you have any queries over the co-curricular programme or would like to check whether there are still spaces available in any club, you may contact Mr. Harrington at lharrington@sthelenscollege.com.
Uniform & Equipment Reminders
Girls should return to school in full summer uniform from the start of the summer term. Please take the opportunity over the Easter break to check your child's equipment and uniform and ensure that everything fits and is clearly named.