Weekly News - Friday 17th June 2022
Posted on: 17/06/2022
PA Summer Fete
We hope to see you all at the PA Summer Fete tomorrow, Saturday 18th June, from 1.00 to 4.00 p.m. at our Upper School site. This is always a wonderful day for our St. Helen's College community as we come together to enjoy food, drink, fun and music.
Prep Sports Day
We braved the hot weather today for our Prep Sports Day at Hillingdon Sports & Leisure Complex with Years 3 to 6. It was wonderful to be joined by so many families to celebrate the children's efforts in their track and field events and the St. Helen's College values really shone through today: excellence, determination, kindness and courage, to name a few.
Singers' Concert
On Monday evening, we gathered at All Saints' Church for our annual Singers' Concert. There were fourteen performances including solos, small groups and, of course, our Junior, Senior and Chamber Choirs. It really was a celebration of the musicality of St. Helen's College, with the children singing beautifully and with confidence. Their enjoyment was clear to see.
Mrs. Crehan also performed, along with Kristina, Mr. & Mrs. Crehan's Ukrainian guest. Their rendition of 'For Good' from Wicked was very moving - there was hardly a dry eye in the church!
Live Chamber Choir Auditions
We warmly invite pupils from Year 3 to Year 5 to audition for Chamber Choir 2022-2023.
Auditions will take place next Wednesday 22nd June at 12.30 p.m. for Year 3 pupils and 1.00 p.m. for Year 4 and 5 pupils in the Upper School Hall.
The audition song will be "Let's Go Fly a Kite" from Mary Poppins, which can be found on the Music Google classroom and current Junior Choir Google classroom.
Selected pupils will begin Chamber Choir in September and members will be announced before the end of term. Best of luck to all!
Maths Quiz Club Semi-Finals
On Tuesday morning our Maths Quiz Club took part in the semi-finals of the Prep School Maths Quiz. Both St. Helen's College teams did well, with one team placing 5th overall. They have made it through to the national finals which will take place next week at the Light Auditorium in central London.
Team members were: Zakariya M (Y4), Zach F, Shruthi T, Aryan B (Year 6).
Wrens Class Assembly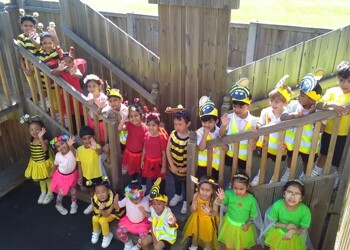 The children of Wrens Nursery performed their final class assembly of the year on Thursday. They told us the poignant story of Billy the Bee, who had no buzz and no friends because he was different to the other bees. In the end, however, the bees learnt that it is good to be different and that we all have unique qualities. The assembly carried a very important message about friendship and the children delivered their lines and songs with confidence and enthusiasm. There was even a singing solo and duet alongside the many group numbers. Very well done, Wrens.

Year 6 Pupil Publishes First Novel!
Shakira V has completed her first book, a crime novel, which is now available for other pupils to read at the Upper School library. The Scandal of the Ruby Necklace is catalogued on the Upper School library system, which means that Shakira is listed as a fiction writer on the system, fully searchable, and fully loanable. Shakira says that seeing her name listed on the system as a fiction writer was the proudest moment of her life.
Charity Week
The Charity Reps have been working hard on planning ideas for Charity Week, which will commence on Monday 4th July. All proceeds from the week will be going to Cancer Research U.K. There will be fun activities arranged for that week.
On Friday 8th July the Upper School will all be taking part in a sponsored cross country run around Court Park. The children will be bringing home sponsor forms and we would be very grateful if you could help them to collect some sponsorship for the event.
The Lower School will be doing different events including a nearly new book sale, obstacle course and soak the teacher. Confirmation of dates and events will be sent out soon.
If your child has made a money box could you please send this into school on Monday 20th June.
Many thanks, as always, for your support.
Class Allocations and 'Move Up Mornings'
Parents have today received notification of their child's new teacher for next year. 'Move Up Mornings' for pupils are on the following dates, when the children will have an opportunity to visit their new classrooms and meet the new teaching staff.
Year 1 - Year 5: Monday 4th July
Nursery/Reception - Tuesday 5th July
Staff News
Mrs. Belvoir (2B) will be leaving us at the end of this academic year after 22 years of committed service to St. Helen's College. She will be very much missed as she has been such an integral part of our community and has worn many hats, including being a form teacher at both Lower School and Upper School and a member of the Senior Leadership Team. She has also, of course, been very involved with music and performing arts across the school. We wish her well as she looks forward to new adventures in her life outside of teaching.
Mrs. Beale will be retiring from her position as Welfare Assistant at Lower School at the end of this academic year. Mrs. Beale has been a part of the school community for 21 years. We are delighted that Mrs. Beale will remain with us in the role of Breakfast Club Manager, so she will keep in touch with us, albeit in a different capacity.
Ms Oakshott will take up the role of Welfare Assistant at Lower School as well as working as part of the Teaching and Learning Support team.
Ms Califano has worked at Lower School for the past three years and has been covering Miss Joiner's maternity leave since last year. We would like to thank her for her commitment to the school and wish her well in her next post.
Mrs. Neri has been a member of the Lower School staff for the last few years and is leaving us to spend more time with her young family.
Mrs. Chesworth is leaving her post as a Reception TALA as she and her husband retire and relocate.
Mrs. Purewal is leaving her post as a Ducklings assistant to spend more time with her family.
Mrs. Eirwen Smith is closing the chapter of one of her books in the library and is sadly leaving us at the end of this academic year. Mrs. Smith has inspired all of the avid readers at Upper School over the last nine years and will be much missed.
Miss Joiner will be returning to us following her maternity leave on 4th July and will resume her role as Owls teacher from September.
Mrs. Reid has been with us for several years working as a member of our teaching and learning support staff and we are delighted that she has now completed her teacher training and will join us as a class teacher next year.
Miss Boden will be working as a member of the Ducklings team from September and Miss Hasmukh will move with the Ducklings children to Nursery.
We will be joined in September by the following new staff:
Miss Gallacher will become a TALA in Reception.
Mrs. Songira will be joining the Ducklings team.

We will also be welcoming Ms Cosgrove to the SMSA team at Lower School later this month.
Pick Up and Go
Please note that the 'pick up and go' facility is only available at the Parkway entrance at the end of the day for pupils in Years 2 - 6. Parents collecting from the Windsor entrance must collect children from the door of the school building, not at the road end of the path.
Holiday Club
Holiday Club will run during the summer holidays from Thursday 14th July - Wed 31st August (excluding the bank holiday on Monday 29th August).
Bookings will open on Friday 24th June at 4 p.m. Please login to your SchoolsBuddy account to book places.
Summer Science Fun
The Royal Society are running a summer science festival with free interactive activities from 6th - 10th July. If you are interested in finding out more, full details can be found here.