Weekly News - Friday 8th July 2022
Posted on: 08/07/2022
National Maths Quiz Finals
On Monday, three pupils from Year 6 and one pupil from Year 4 went up to the Light Auditorium in central London to take part in the National Maths Quiz Finals. With only 10 questions left, they were sitting at the top of the leader board, but after a difficult following round they ended up finishing 4th overall. This was a fantastic achievement as they were competing against schools from all over the country. Huge congratulations to our team members: Aryan B, Zach F, Shruthi T and Zakariya M.
Ducklings Sports Day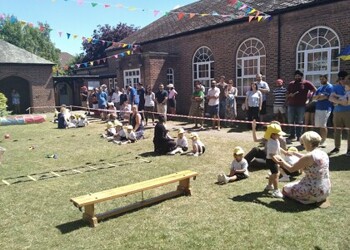 On Friday afternoon, our Ducklings enjoyed their first ever Sports Day in the garden of All Saints Church. Cheered on by enthusiastic parents and staff, they demonstrated their fine and gross motor skills in a carousel of activities including aiming, throwing, jumping and running. The children were all rewarded with a certificate and rosette and we were rewarded with beautiful handshakes, thank yous and smiles! Congratulations to everyone for great effort and special congratulations to the Daddies for winning the ball over and under relay race.


CRUK Fundraising Events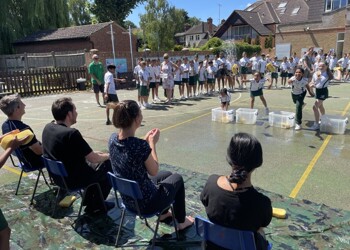 This morning, all of the pupils in Upper School took part in a cross country run in Court Park to raise money for CRUK. They also enjoyed 'soak the teacher' and 'beat the goalie' and were especially delighted to be given an ice pop each at the end of the lunch break!
At Lower School, there has been a successful book sale this week and there are other charity events planned for Ducklings and Lower School on Monday.

Pupil v Staff Rounders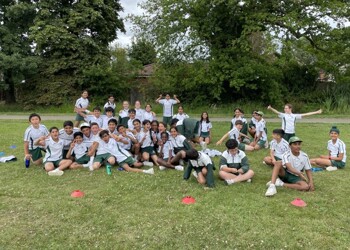 On Wednesday, our Year 6 pupils took on a staff team in a thrilling game of rounders at Court Park.
After two intensely competitive innings, pupils and staff were drawn with one win each. However, in the final game the staff managed to hold off the competition and the staff team once again left the field victorious. Congratulations to our Year 6 pupils who gave the staff three very enjoyable and fun games.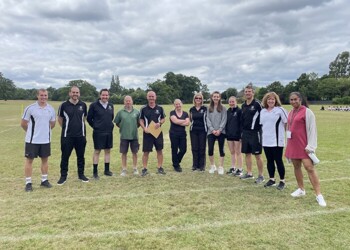 Thank you to all of the younger pupils who came along to support the teams!

Reception Trip to Whipsnade Zoo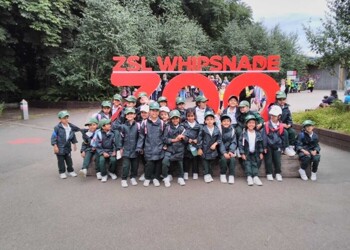 Our Reception classes enjoyed a fantastic trip to Whipsnade Zoo at the end of last week. It was exciting to see so many African and Asian animals and learn all about what happens at waterholes in the African savanna. The train ride around the park on the Jumbo Express was lots of fun, as was the coach ride!

Year 1 Trip to Mad Bess Woods
Year 1 celebrated the end of the year in style at Mad Bess Woods. They thoroughly enjoyed the open space, where numerous activities such as cricket, skipping, football and bubble play took place. They then had fun exploring in the woods and visiting Albert and Rolo at the farm- Mrs. Hunt very nearly accidentally fell into Albert's water bucket- which made everyone laugh and gave her a very wet foot! A picnic lunch was relished in the garden and then a visit from the ice cream van.
We all agreed that it was a very exciting day. You can see more photographs of this trip on our Galleries page.
End of Term Arrangements
As we enter our final few days of term, here are a few reminders of arrangements.
Monday 11th July - Tog Day in aid of Cancer Research UK. Children should wear blue or pink and bring a donation for CRUK on the day.
Tuesday 12th July - Year 6 'Teacher for a Day'.
Tuesday 12th July - Year 6 Prizegiving and Drinks Reception (evening).
Wednesday 13th July - End of term (half day).

Collection times are:
11.50 a.m. Ducklings/Nursery
12.00 p.m. Reception
12.10 p.m. Year 1 and Year 2
12.20 p.m. Year 3 and Year 4
12.30 p.m. Year 5 and Year 6
Transition
Pupils from Nursery to Year 5 enjoyed visiting next year's classroom this week and meeting their teacher for next year. We have also now completed our programme of evening transition meetings for parents of children in Ducklings to Year 2. As usual, 'Meet The Teacher' evenings for parents of children in Years 3-6 will take place early in the autumn term on the following dates:
Thursday 8th September - Year 3 and Year 4
Tuesday 13th September - Year 5 and Year 6
Music: School Orchestra and Hillingdon Music School
The St. Helen's College Orchestra rehearses on Friday lunchtimes and is open to students in Years 4, 5 and 6. Students must be of Grade 1 standard and above on a string, woodwind or brass instrument. If your child is interested in joining the school orchestra next academic year please email Mrs. Fawbert at
cfawbert@sthelenscollege.com
Hillingdon Music School offers a variety of ensembles and bands for children to join which take place on a Saturday morning. Please find more information by following this link:
https://www.hillingdon.gov.uk/article/7853/Music-School-and-Ensembles-programme
Uniform & Equipment
The uniform & equipment list for 2022-2023 is available on the School Documents page of the website.
The Parents' Association will be running a uniform stall in the staff car park outside Holiday Club on Tuesday 30th and Wednesday 31st August from 12 p.m. to 4.30 p.m. Grace O'H will also run a cake stall on these two days to raise money for charity.
Uniform donation bins will be left outside Holiday Club from Monday 18th to Friday 22nd July. If you have any unwanted uniform to pass on to the PA this would be very gratefully received.
Subscriptions
Just a reminder to all parents that the following publications for children are highly recommended if you do not already subscribe to them:
For ages 6 - 12:
National Geographic Kids
First News
The Week Junior
Brilliant Brainz
Britannica Magazine
Art Over The Summer
Mrs. Pruce, our Head of Art, recommends the following art-based activities or day trips for families over the summer.
https://vangoghexpo.com/london/
https://mexicangeniuses.com/london/
Emma Collins art workshops for 6-13 year olds. Details are here.
Summer Tennis Camps
Once again, Wayfarers Tennis Club in Ickenham will be running their popular summer tennis camps. Mr. Stidder, who runs tennis clubs at St. Helen's College, runs these camps. Full details including dates and costs are here.
Autumn Term Menu and Co-Curricular Activities
The menu for the autumn term has been published to the School Documents page of the website.
Co-curricular activities for the autumn term will begin after the children have settled into their new year groups. Details will be sent out at the start of the autumn term, when you will be able to select your children's club preferences.