End of Term News - Wednesday 13th July 2022
Posted on: 13/07/2022
New Pupil Leadership Team
We are delighted to announce our new Pupil Leadership Team for the 2022-2023 academic year.
Our Head Girl will be Arshia S.
Our Head Boy will be Xavier B.
Our Deputy Head Girl will be Avneet D.
Our Depuy Head Boy will be Arjan S.
Tennis Champions
Congratulations to the winners of our tennis championships! As usual, the competitions were fiercely contested and there was some super tennis and sportsmanship on display.
Year 6 winners: Luka K, Aanya B
Year 5 winners: Arshia S, Xavier B
Year 4 winners: Aiden T, Hana H
Year 3 winners: Simar C, Avar D
Sports Personality of the Term
Congratulations to Arshia S, who was today named Sports Personality of the Term. Arshia always upholds sporting values on and off the pitch or court, showing respect to team mates, opposition, coaches and referees. She shows determination whether winning or losing, always tries her best and is an inspiration to her fellow pupils. She is focused on improving in all areas and her attitude is impeccable. Very well done, Arshia.
Musician of the Term
Nya P was awarded Musician of the Term today for consistently showing a keen interest in all aspects of music lessons and the music department as a whole. Nya is an excellent role model within the music department and is always offering a helping hand to her peers as well as performing regularly in assemblies and music recitals. She is a member of the Senior Choir, Chamber Choir and the Orchestra. As well as playing the ukulele, she has also reached an impressive Grade 5 on the flute. Congratulations, Nya.
Music Examination Results
Many congratulations to all of the children who have recently taken music examinations. Those results we know about so far are listed below. If your child has recently taken an examination and is not included in this list, please do let us know their result!
| | | |
| --- | --- | --- |
| Singing - Musical Theatre | | |
| Inaaya S | Grade 1 | Pass |
| Hana H | Grade 1 | Distinction |
| Anaiya B | Grade 2 | Pass |
| Samara P | Grade 2 | Distinction |
| Natalia C | Grade 3 | Pass |
| Eshanvi A | Grade 3 | Distinction |
| Siyana M | Grade 4 | Merit |
| Minaya W | Grade 4 | Distinction |
| | | |
| Singing - Classical | | |
| Ria M | Grade 3 | Merit |
| Shruthi T | Grade 5 | Merit |
| | | |
| Flute | | |
| Hana H | Grade 1 | Merit |
| Ruby L | Grade 1 | Distinction |
| | | |
| Piano | | |
| | | |
| Leo J | Grade 2 | Pass |
| Malek C | Grade 3 | Pass |
| Amelia L | Grade 3 | Pass |
| Viren C | Grade 4 | Pass |
| | | |
| Guitar | | |
| Aiden T | Grade 1 | Pass |
| Aaryav K | Grade 1 | Pass |
| Arjun C | Grade 1 | Pass |
| Luca H | Grade 1 | Pass |
| Aman B | Grade 2 | Pass |
| Luka K | Grade 3 | Awaiting result |
| | | |
| Cello | | |
| Karter P | Initial | Merit |
| Sahib N | Grade 1 | Merit |
| Diyan C | Grade 2 | Merit |
| Devan S | Grade 3 | Merit |
| | | |

Music lessons
If you wish to request music lessons for your child or add them to the waiting list for music lessons, please complete this form to register.
Lesson spaces are currently available for September 2022 in singing, trumpet and flute for students who are not currently learning another instrument in school.
Farewells to Pupil And Staff Leavers
As another academic year draws to a close, we wish a fond farewell to our pupil and staff leavers. You have all played a big part in the life of St. Helen's College and you will be greatly missed. We wish you every success and happiness in the future and hope that you will keep in touch and come back to visit us often.
Nursery Visit
Our Nursery classes visited Campbell Dentist on Friday 8th July.
Dr. Taank explained the importance of cleaning our teeth twice a day. We each had the opportunity to sit in the special chair while Dr. Taank checked our teeth with a special mirror. Whilst she checked we wore 'special glasses' so the light was not in our eyes. We promised Dr. Taank we would continue to look after our teeth and not eat too many sweet things.
Summer Reading Challenge
The theme for the 2022 Summer Reading Challenge is 'Gadgeteers'. We hope that you will encourage your children to take part in the challenge via your local library.
CRUK Relay for Life - This Saturday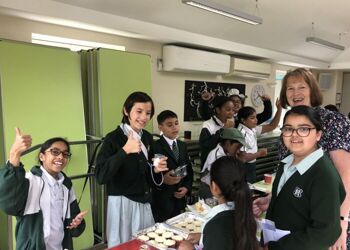 Thank you to all parents, pupils and staff for your support with the CRUK fundraising events which have been taking place at school, including everyone dressing in pink and blue on Monday in support of Cancer Research.
At Upper School, Charlee G and Sienna D (Y4) made and sold bracelets and raised £53.70. The Year 5 children also held a very successful cake sale last week!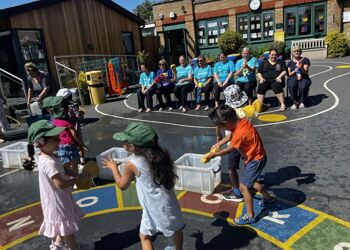 At Lower School, the children had the chance to 'soak the teacher' among other activities.
Our running total for CRUK fundraising is well over £2000, with more still to be collected and added from events within school.
We hope that many families will join us at the Relay for Life itself on Saturday 16th July at Harrow School. As well as raising vital funds for Cancer Research UK, the day is an opportunity to spend meaningful time with family and other members of the St. Helen's College community. You could sign up to join our team and/or just come along on 16th July. If you would like to sign up, simply follow THIS LINK, click on JOIN A TEAM and sign up using the details below. There is no fee to register.

Team Name : St Helen's College
Team password: SHC2022
It would be most helpful if those planning to attend could let Mrs. Stark know roughly what time of day you hope to arrive/leave the event. You can reach Mrs. Stark at tstark@sthelenscollege.com.

Snowdon Summit!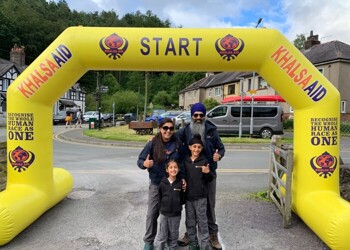 Congratulations to Yuvraj R (Year 2) and Sikhya R (Reception), who made it to the top of Snowdon on Saturday 9th July!
Over 600 fundraisers participated in the event, with Sikhya being one of the youngest.
They set off just before 8 a.m. to walk 17km up and down Mount Snowdon.
Yuvraj and Sikhya finished the hike by receiving medals which they proudly wore for the rest of the afternoon. Team Raikmo have raised around £2,550 for KhalsaAid so far - a tremendous achievement.