Weekly News - Friday 23rd September 2022
Posted on: 23/09/2022
STEAM Day
There has been such an atmosphere of purposeful and joyful learning across the school today as children have spent our annual STEAM Day discovering new things through hands-on workshops and interactive sessions.
At Ducklings, children had the opportunity to experience a range of STEAM activities and they particularly enjoyed investigating the sights and sounds of fizzing bath bombs and launching some spectacular footpump rockets.
At Lower School, the children were visited by 'The Sublime Science Team' and thoroughly enjoyed taking part in a range of exciting workshops, exploring slime making, 'climate chaos', forces, pressure, touch and smell. The Lower School children also experienced a carousel of technology, engineering, arts and maths activities throughout the day. They had great fun with 3D sculptures, nature art, giant marble runs, bubble blowing, coding, musical drawing and more.
At Upper School, two Old Helenians visited to inspire current pupils with talks and workshops focussing on invention, robotics, structure building and micro-bits. The pupils also enjoyed 'exploding art' sessions, tower building, workshops with Glencar Construction, virtual reality immersion and much more.
It was clear to see, across the school, that the children experienced many of those 'lightbulb moments' which really do inspire an ongoing love for learning and passion to take their experiments even further. We know that they will apply all that they have learnt today in their ongoing education and, no doubt, will remember the excitement and joy involved in discovering something new!
Thank you to everyone involved in organising and running this special day, including our parent helpers. It was a real community effort.
You can see photographs of the pupils enjoying their STEAM Day activities on our Galleries page.
New House Captains
Hustings have taken place this week for House Captains and Sports Captains for each of our four new houses, and the Year 6 children who applied for the positions made some excellent speeches to their houses before all of the children and staff in each house cast their votes. Well done to everyone involved. The elected Captains are:

House Captains
Caledonia - Arshvir S and Shriya K
Cambria - Lavanya B and Burhan P
Hibernia - Inaya S and Aman B
Windsor - Anaya S and Gabriel K
Sports Captains
Caledonia - Anaiya B and Malek C
Cambria - Poppy H and Oli K
Hibernia - Ayla A and Nayan P
Windsor - Minaya W and Albert H
We look forward to seeing how the House and Sports Captains will lead and inspire their houses over the coming year.
Author Visit - Mini Grey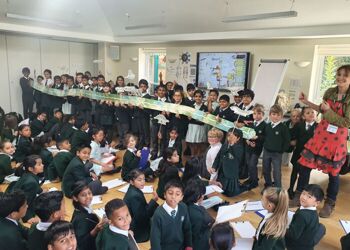 On Thursday we had a fantastic author visit from the renowned writer and illustrator, Mini Grey. She presented her latest book, The Greatest Show on Earth, to all the children in Years 2, 3 and 4.
Mini took us on a 4.6 billion year journey through time with interactive timelines, many wonderful creatures and even a draw-along masterclass at the end!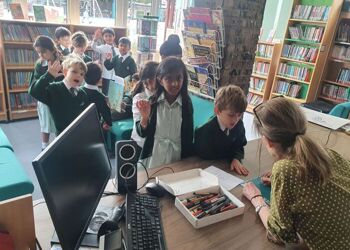 This was followed by a book signing in the library, where the children were able to meet and speak with Mini.
Books are still available (for all pupils) and will come with a signed bookplate. You can order your copies here.
The deadline for ordering is 5pm on Sunday 25th September and the books will be given to your child at school next week. We look forward to more exciting author events in the future.



Plastic Free Schools
We are pleased that St. Helen's College has now completed Objective 3 for 'Plastic Free Schools'. Armaan V wrote a letter to our local MP (who was then Prime Minister) highlighting the need for a change in plastic use and asking for his assistance. We are awaiting a response!
We now move on to Objective 4: Challenge the Industry. Pupils will contact the companies responsible for plastic packaging and use the power of their voice to call for change.
Harvest Festivals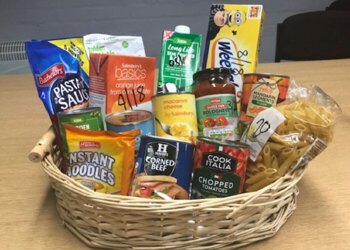 As ever, we will be celebrating Harvest with Harvest Festival events at school. Children are invited to bring in donations of non-perishable food items, which will be given to the local Salvation Army for distribution amongst those in need. We suggest that these are combined into a simple basket or suitably covered cardboard box.
We would be grateful if your child would bring their donations in one or two days before their Harvest event. The dates for the events are as follows and parents are warmly invited to attend the event for your year group:
Years 2 - 6:
Friday 30th September 9 a.m.
Harvest Festival Service at All Saints Church

Nursery:
Wednesday 5th October 8.45 a.m.
Harvest Assembly at Methodist Church

Reception:
Thursday 6th October 8.45 a.m.
Harvest Assembly at Methodist Church

Year 1:
Friday 7th October 8.45 a.m.
Harvest Assembly at Methodist Church
Nursery, Reception and Year 1 Parents' Evenings
Parents' evenings for Nursery, Reception and Year 1 will take place on Tuesday 4th October (in-person) and Thursday 13th October (remote).

Bookings for these are now open. Please login to your SchoolsBuddy account to book your meeting.
Thames Valley Cavaliers - Free Tickets for St. Helen's College Pupils This Weekend
Basketball team Thames Valley Cavaliers are playing two games this weekend and our pupils are invited to attend to watch them for free. Details are on the flyers attached - you just need to let the table know (at arrival) that you are St. Helen's College pupils to get free entry for the children.

Saturday TVC Match Flyer
TCS Mini London Marathon
We are delighted that so many families and staff have signed up for the TCS Mini London Marathon. We will receive confirmed timings for the event early next week and will send these out to parents as soon as we receive them. In the meantime, if you have not already done so, please read carefully through this information about the day, which was sent to parents by email this week.
Walk To School Fortnight: 3rd - 14th October
The last two weeks of this half term will be 'Walk To School Fortnight' for our Year 2 - 6 children. Each child will be given a loyalty card, which will be stamped by our Junior Travel Ambassadors for each day that the child walks to school. If your child is unable to walk to school, they can also achieve a stamp by walking five laps of the playground before school each day. Children will need to arrive at school in good time (by 8.15 a.m. at the absolute latest) in order to complete their laps and earn their stamp.
The class with the most stamps at the end of the fortnight will receive a certificate and some extra play time too. No doubt there will be fierce competition amongst the classes for this coveted prize!
We hope that you will join us in encouraging the children to walk to school during the final two weeks of the half term, or to earn their stamps by walking the playground laps.
October Half Term Holiday Club
Bookings will open on Friday, 30th September for our half term Holiday Club sessions. Please login to your SchoolsBuddy account and book early to secure your child's place.
Brilliant Parents: Emotional Resilience Lunch and Learn Webinar
Brilliant Parents are hosting a free 'Lunch and Learn' Webinar for parents in Hillingdon Borough on building emotional resilience with children.

Friday 30th September
12.30 – 1.30 p.m.
Samantha Abraham will deliver her expertise online and towards the end there will be an opportunity to ask questions if you wish to. Parents can register for this event using the link below.
Building Emotional Resilience Event Registration
Home-Start Hillingdon
Home-Start Hillingdon, a charity based at All Saints Church on Long Lane, are recruiting for their next volunteer preparation course which will begin on 7th October and run on a Friday for 9 weeks.
Home-Start work with local families who have at least one child under 5 and who are finding things tough. The charity trains and manages volunteers to support families who are struggling with issues including post-natal depression, isolation and managing difficult personal circumstances. Some members of St. Helen's College staff have been Home-Start volunteers and it can be a very meaningful and rewarding role to take on.
There is some information about the role of a Home-Start volunteer here.
The flyer about the next volunteer training course is here.

If any parent would like to apply to train as a Home-Start volunteer, you can contact the Hillingdon branch at: office@homestart-hillingdon.org.uk or by telephoning 01895 252804.
Hillingdon's Trees for Streets
Hillingdon Borough Council are working with Trees for Streets to encourage residents to sponsor a street tree. In doing so, you can help to:
- fight climate change and pollution
- improve the health of everyone in the neighbourhood
- leave a legacy that will last for generations
- create a haven for wildlife
- make your street a nicer place to live.

You can find out more here.