Weekly News - Friday 11th November 2022
Posted on: 11/11/2022
Remembrance Day
We marked Remembrance Day at school today with a two minute silence, during which we remembered and gave thanks for the men and women who have given their lives during wars to secure the freedoms which we enjoy in Britain today. At Upper School, Year 6 pupils read us a poem and Mrs. Fawbert played The Last Post for us. At both sites, the children showed great respect in thinking with gratitude of those who have made the ultimate sacrifice for our country.
We would like to thank parents, pupils and staff for donations made to The Poppy Appeal.
Year 1 Visit Roald Dahl Museum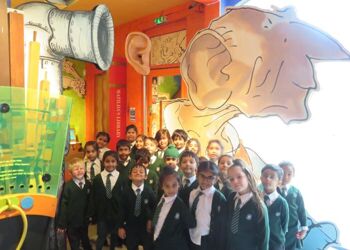 This week, our Year 1 classes visited the Roald Dahl Gallery in Amersham where they certainly fired up their imaginations! Ishani A said:
"I loved going to the Roald Dahl Gallery, especially making dream bottles! It was really fun when we did some green screen recording, it looked like we had shrunk onto the television screen like Mike Teavee in Charlie and the Chocolate Factory. I also liked crawling through the tunnel like Fantastic Mr Fox."


Sports News - Reddiford Challenge Cup
At the Reddiford Challenge Cup football tournament yesterday, our players acquitted themselves very well indeed. There was some excellent play and the team finished fourth overall. We are also delighted to report that Malek C was awarded player of the tournament! Well done to all those who took part.
After School Sports Clubs
We would like to remind parents that, from next week, there will be no after school sports clubs due to lack of light. The exceptions are Year 3/4 and Year 5/6 netball clubs which will continue until the penultimate week of term. All other clubs will continue until the penultimate week.
PA Forum
This term's PA Forum meeting will take place on Tuesday 15th November. The PA committee and class reps meet with Ms Drummond, Mr. McLaughlin, Mrs. Hunt and Mrs. Smith to discuss issues of school-wide relevance. Thank you to those parents who have already sent points for discussion. Some queries may be fed back directly to specific year groups but whole school matters will be minuted and circulated. If you have any whole school points to raise, please forward them to your class rep so that they can be sent on to Mrs. Smith by Monday 14th November at the latest. Minutes will be circulated to all parents after the meeting.
Flu Vaccinations - Reminder
If you have a child in Reception to Year 6, please check that you have completed and submitted your flu vaccination forms. We still have a few forms that are showing as pending, which means they may not have been completed fully. Please ensure that you put your child's class on the form - do not leave it blank or put just the year. If you are unsure, please ask your child or contact the school and we can advise you which class they are in.
Children In Need
Children In Need Day is next Friday, 18th November. On this day children should come to school wearing colourful, spotty clothes.This year we are asking the children to bring in a suggested £5 donation for Children in Need or this can be paid online on our Just Giving Page here.

The donation will cover the tog day, 1 raffle ticket per child and the choice of one of two pin badges. Class reps will be asking parents which pin badge (Pudsey or Blush) your child would like, and there will be extra pin badges for sale if your child would like one of each. The £5 is a suggested donation, so if a child has not brought in all of the £5 they can still have a raffle ticket and pin badge.
We will be raffling a large Pudsey bear and a large Blush bear and there
will be extra raffle tickets available for the children to buy leading up
to the day.
Many thanks, as ever, for your support.
Lost Property
We would like to remind parents that EVERY item of your child's property should be named. Not only uniform but also snack boxes, water bottles and stationery should be clearly labelled. Even with frequent reminders, children do often forget items or leave them in unexpected places and it is impossible for the school to reunite owners with their property if it is not clearly named, especially as several children will often own identical or similar-looking items. Unnamed and unclaimed items are disposed of regularly.
Term Dates
Following the announcement of the extra bank holiday on May 8th, 2023 in honour of the King's coronation, we have updated our term dates document for 2022-2023. We have also now published term dates for 2023-2024. You can find the term dates on the School Documents page of this website.
Salvation Army Christmas Appeal
St. Helen's College has run the Christmas Present Appeal for the Hillingdon Salvation Army for a number of years with great success. Originally inspired by current pupils at the school, this is a wonderful opportunity to demonstrate our school's core values by helping those local families less fortunate than ourselves.
Therefore we are inviting your child to choose a brand new toy/game for ages 3-11 with a value of approximately £12. The Salvation Army has also suggested Amazon vouchers. The item should not be gift wrapped and should fit inside a shopping plastic bag. This year the Salvation Army has also requested donations of wrapping paper.
Please allow your child to bring in their donation by Friday 2nd December.
We will launch the appeal in our assemblies and really hope it is something you feel able to support.
https://www.salvationarmy.org.uk/christmas-present-appeal
Thank you so much in advance for your kindness and generosity.
St. Helen's College Trust
The St. Helen's College Trust (Registered Charity Number: 1196657) is an independent charity which exists to promote educational opportunities and all-round development of children aged 0-11 in Hillingdon and the surrounding areas. The charity was established last year and we are delighted that St. Helen's College parents have been generous in their support of it so far.
We reported in October that the charity's Trustees approved applications for grants from local charitable bodies for the following:
Ickenham Youth FC: Funds to set up an U6/U7 girls' football team.
Home Start Hillingdon: Funds to train volunteers in their spring training programme.
Hillingdon Basketball Club: Funds to buy equipment and t-shirts for youth members.
The charity is inviting grant applications on a rolling basis. The criteria for grant applications is wide: the only restrictions are that funds applied for must be used for the direct benefit of children aged 0-11 (whether individuals or groups) in Hillingdon and the surrounding areas and that the charity cannot approve grants to be spent on educational equipment or services that should be provided by the Local Authority. If you do know of any group or individual who might like to apply for funds, please direct them to the simple online application form here.
There are also two easy ways in which you can support the St. Helen's College Trust at no cost to yourself.
There is a textile bank outside 227 Long Lane into which you can donate unwanted old clothing, shoes, bags, towels and bed linen. Please note that the textile bank cannot accept branded clothing or cushions/pillows/duvets. Items donated to the textile bank are given to those in need of clothing, towels or linen. If there is anything that cannot be donated, it is recycled into industrial cleaning cloths so that nothing ends up as landfill. All donations are gratefully received; the charity receives a small payment per kilo collected.
You can also sign up to support the Trust through EasyFundraising. The SHC Trust will receive a small donation from retailers whenever you shop online. Simply download the EasyFundraising app and search for St. Helen's College Trust, then remember to open the app whenever you shop online at most major retailers.
Thank you very much indeed for your support.
Catering News
On Monday 21st November, we will have a special lunchtime menu to celebrate the football world cup. You can see the menu here.
Please also find this month's recipe booklet for parents, Eat The Rainbow, here. We hope you will have fun trying these recipes with your children at home.
Thames Valley Cavaliers - Free Tickets for SHC Pupils
Once again, Thames Valley Cavaliers are offering free tickets to St. Helen's College pupils for their match this weekend. Tip-off is at 6.30 p.m. on Saturday; you can find details here.
Christmas
If you are beginning to think about Christmas presents for children, you might be interested in Elf UK's offerings which have been designed to enhance children's wellbeing. You can find details here.
You can also find details of our very own Mr. Roche's children's book, Niji's Dream, here.