Weekly News - Friday 18th November 2022
Posted on: 18/11/2022
Children In Need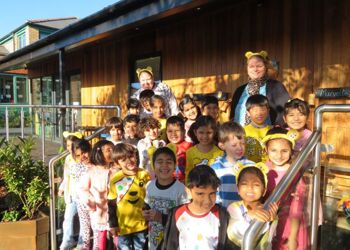 We have had a thoughtful and colourful day at school today as we have supported the charity Children In Need by wearing our own clothes to school and taking part in raffles and other activities. We have used the day to consider the important work being done by Children In Need to help children whose lives are challenging in so many ways. We have discussed with pupils how lucky we all are and how important it is always to think of those less fortunate than ourselves. The children have enhanced their understanding of the value of giving selflessly to help others through acts of kindness or by donating time, money or ideas.
As well as the whole school fundraising effort, individual pupils have taken the initiative to raise money for those in need. Raiden B (5G) ran a Rubik's Cube competition at break times today to raise additional funds for Children in Need, and Leo A (3M) has raised money for Children in Need by selling his own artwork to family and friends.
3M presented a thoughtful and energetic assembly at Upper School this morning. They told us the history of the Children In Need appeal and reminded us of the phenomenal amount of money Children In Need has raised over the years. Some of the children and some of the parents who were watching also took part in live 30-second challenges in return for the Year 3 staff donating funds for the charity. The children then sang a beautiful, thoughtful hymn and led us in prayers to remind us to be thankful for all that we have. Well done, 3M, this was a most enjoyable and valuable assembly.
You can see some photographs of Children In Need Day on our Galleries page here.
EDI
EDI stands for Equality, Diversity and Inclusion. Mrs. Briggs is our EDI lead and Leila A is our EDI prefect. These posts, new this year, reflect the commitment to inclusion here at St. Helen's College. Much is already happening at school, including social responsibility lessons, Debating Club, curriculum changes and the Think Equal initiative, and we are always looking for ways to improve and learn. We are currently trialling an online newspaper called The Day, which contains articles that have been edited so that the language is appropriate for differently aged pupils. Year 6 read an article about the upcoming World Cup this week and some of the children, without being prompted, referred back to recent PSHCE work on the Universal Declaration of human rights. They then discussed human rights in various countries around the world.
Switch Off Fortnight
Switch Off Fortnight is an opportunity for schools, homes and young people to make small changes in their lives that save energy and help to protect the planet.
We have had a very successful start to our Switch Off Fortnight. All of the children have been very active in ensuring the lights are being turned off in their classrooms and other empty rooms, powering down their chromebooks when not in use and making sure that the teachers are turning off the overhead projectors and computers at the end of lessons. We will continue our energy saving campaign next week, when we will also be announcing which class had the most amount of switch offs and will be awarded the title of Eco Class of the week.
There is some information about how energy gets to our homes here.
There is an activity poster to help families think about power and its uses here.
National Online Safety
We would like to remind parents that you can register, for free, with the St. Helen's College National Online Safety platform by clicking on this link and proceeding as a parent/carer. You will then be able to access many useful resources and comprehensive courses to help keep your children safe online. Subscribers will also receive a weekly email updating them on topical online safety risks.
Please do not hesitate to contact us if you require additional guidance or if you have any concerns about your child's online safety.
Upper School - Mr. McLaughlin amclaughlin@sthelenscollege.com
Lower School - Mrs. Hunt lhunt@sthelenscollege.com
Poppy Appeal
We are delighted to report that the St. Helen's College community raised a total of £561.89 for this year's Royal British Legion Poppy Appeal. Many, many thanks to all those who contributed.
Be Bright, Be Seen
With clocks going back and evenings getting darker through the winter months, many of the children may be travelling home in the dark. The 'Be Bright, Be Seen' campaign brings awareness to families about what they can do to help children be seen by road users when travelling to and from school.
We are holding our 'Brightest School' event during road safety week on Thursday 24th November to promote the Be Bright, Be Seen initiative. On that Thursday we are asking pupils throughout the school to wear their brightest clothes to school. Children may wear their own clothes or add something bright/fluorescent to their school uniform/bag.
Spring Term Co-Curricular Programme
We would like to remind parents that the co-curricular programme for the spring term (for children in Reception to Year 6) is now available on SchoolsBuddy. The deadline for making your selections is midnight on Sunday 20th November.
Please remember to discuss the programme with your child and only select clubs in which your child has a genuine interest.
Spring Term Calendar Dates
The school calendar has been updated with dates for spring term events. Please do check it and make a note of relevant dates for your child(ren).
PA Forum
Thank you to the PA committee and class representatives who attended the PA Forum meeting with Ms Drummond, Mr. McLaughlin, Mrs. Hunt and Mrs. Smith on Tuesday evening. Minutes are being prepared and will be sent by email to all parents.
Science Quiz Club
St. Helen's College entered two teams into the Quiz Club Science competition this week. The children did really well with some tricky questions and there is a chance that one of the teams may make it into the next round. We are currently waiting to hear final news on this. Well done to those children who represented the school.