Weekly News - Friday 25th November 2022
Posted on: 25/11/2022
Be Bright, Be Seen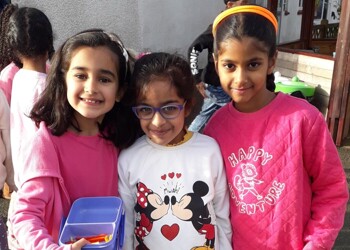 As part of our road safety initiative, children and staff throughout the school wore bright clothes and accessories on Thursday to remind us that, in the dark, it is important to wear something fluorescent so that we can be seen by drivers and other road users.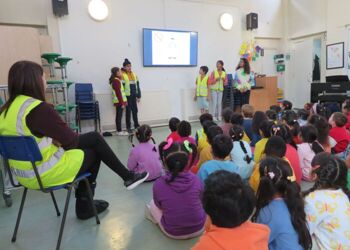 Our Junior Travel Ambassadors also visited Lower School to give an assembly to the younger children, speaking about the Green Cross Code and how to stay safe.


Switch Off Fortnight
Our Upper School Eco Reps have been monitoring electricity use in the classrooms at Upper School this week as part of our drive to reduce energy usage in general and during Switch Off Fortnight in particular. Joleen Z (Year 6) explains why Switch Off Fortnight is so important:
Switch off Fortnight is a period of 14 days when we all try to save electricity and power to help the environment.
We can help by: turning off lights when we don't need them, turning off the tap while brushing our teeth and closing doors in our classrooms to save heating. Helping the environment can also mean saving pocket money! If you spend just one minute less in the shower, then it can save you £10 per person. Sadly a lot of people disregard these rules and litter in local parks and adults often use plastic bags to pack items in shopping. These are some vital tips to help!
Use leather or reusable bags to put shopping items in.

Help our environment by picking up litter.

Spread the news! Making sure everyone understands is very important.

Remember the 3R method! Reduce, Reuse and Recycle.
By the end of the fortnight, we all hope for you to remember the skills to help our world!
Packham Cup Football Tournament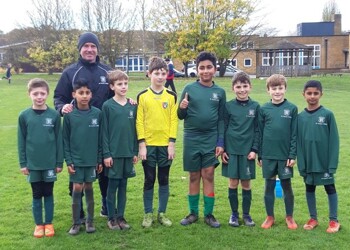 Last Saturday, for the first time in three years, our football team took part in the Packham Memorial Trophy at Ryefield Primary School.
We started quite slowly in our first match against Ryefield, with neither team really threatening a goal in a game which ended 0-0. Our second match was against St. Catherine's B and our morning started to get into gear. The boys played with more positivity and a super cross from Sean R was flicked home by Mikail O for an excellent 1-0 win. Our last group game was against a strong Oak Farm team and this is where we really raised our levels. After going 1-0 down to a soft goal, we started to show great determination and character and deservedly got an equaliser through a superb goal, again taken by Mikail O.
With three teams on five points, we unfortunately came third and were eliminated on goal difference (losing out by one goal). Overall, with two Year 4 boys, 4 Year 5 boys and 2 Year 6 boys making up the team, Mr. Dyson felt that this was an amazing achievement from the boys and the parents were similarly proud. If the boys keep producing this effort and spirit, the future looks bright for the St. Helen's College football team!
Team: Ollie K, Kamran-Cyrus A, Sean R, Joseph T, Mylo D'O, Rian M, Maicen M, Mikail O.
Staff Leaver
We will sadly be saying farewell to Mrs. Sarah Smith at the end of this term. Mrs. Smith has been with us for 10 years as a TALA in the Middle School and after graduating with her Post Graduate Certificate in Chaplaincy this year she has decided to step back and spend more time with her family in Wales. However, we are delighted that Rev. Smith will visit us regularly to lead more of her wonderful assemblies and join us for our special community events.
Christmas Events
Parents of the classes shown below are warmly invited to join us for their class assemblies next week.

In addition, all parents (Ducklings, Lower School and Upper School) are invited to come together on Friday 2nd December at 4.00 p.m. in the Upper School playground for our annual 'Carols Around The Tree' event.

Tuesday 29th November - 1C Christmas Assembly at 8.45 a.m. (with coffee served from 8.15 a.m.)
Wednesday 30th November - 1R Christmas Assembly at 8.45 a.m. (with coffee served from 8.15 a.m.)
Thursday 1st December - Owls Christmas Nativity at 8.45 a.m. (with coffee served from 8.15 a.m.)
Friday 2nd December - Kingfishers Christmas Nativity at 8.45 a.m. (with coffee served from 8.15 a.m.)
Friday 2nd December - 3B Class Assembly at 8.40 a.m. (with coffee served from 8.15 a.m.)
Friday 2nd December - Carols Round the Tree at 4.00 p.m. in the Upper School playground (all families welcome).
At our Carols Round The Tree event, Grace O (5A) will be running a stall to raise money for the RSPCA. The stall will be selling handmade knitted and felt Christmas tree decorations, knitted gloves, mittens and hats, festive red bows that can be slipped onto a dog's collar or onto a hairband and handmade cloth-covered trinket trays. Grace would truly welcome your support for this worthwhile charity.
Christmas Tree Decoration Competition
Our Christmas trees will soon be arriving in school and, as usual, we are asking children to design and create their own Christmas decoration for display on the trees. Please ensure that your child's decoration is clearly labelled with their name and class, as there will be prizes for the winning decoration in each class. Decorations may be brought into school from Monday 28th November to be hung on the trees.
Christmas Holiday Club
Holiday Club bookings will open at 4 p.m. today. Please log in to your SchoolsBuddy account to make your bookings.
Salvation Army Christmas Present Appeal
Thank you to everyone who has already donated to the Christmas Present Appeal for the Hillingdon Salvation Army. If you have yet to do so there is still time! Please choose a brand new toy/game for ages 3-11 with a value of approximately £12. The Salvation Army has also suggested Amazon vouchers. The item should not be gift wrapped and should fit inside a plastic shopping bag.
Each class teacher is collecting the gifts so please encourage your child to take donations to their classroom. All toys will be collected by the Salvation Army on the 2nd December.
Thank you once again for your generous support.
Cookery Club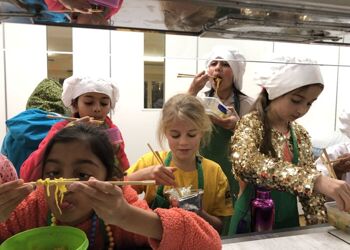 Our Cookery Club members had a super time (and learnt a lot!) this week, making Singapore noodles and Cavolo Nero crispy seaweed. They even practised using chopsticks!
Mother/Baby Mindfulness Classes
Our next set of Mother/Baby Mindfulness classes will begin in January after the Christmas break. These are FREE to parents and are open to any parent of a baby from birth to pre-crawling, whether the parent has any association with St. Helen's College or not. They take place on Wednesday mornings at 9.00 a.m. in the Evans Hall at our Upper School site on Long Lane, opposite Lower School. Each class lasts 45 minutes and is followed by optional tea/coffee/chat.
The classes are led by Poonam McLaughlin, a St. Helen's College teacher, who is a qualified PAUSE Baby Mindfulness practitioner. They provide a safe space for mums and babies to bond and relax, taking part in Mindfulness exercises and some very gentle yoga.
If you would like to join the set of six classes starting in January, please email Mrs. Smith at susmith@sthelenscollege.com with your baby's name and date of birth.
Please feel free to share the information about the classes with any other friends or family who might have a baby (birth to crawling - no crawlers allowed!). They don't have to have children at St. Helen's College (or intend to send children here) to come along - the classes are free to anyone.
Squash Stars
A St. Helen's College parent will be running Squash Stars sessions in the new year, which may be of interest to some families. Aimed at 5-11 year olds, Squash Stars is a new six week junior beginner programme at Hillingdon Squash Club starting on Saturday 4th February at the Brunel University Sports Centre.

The cost is £42, for which each child can enjoy six sessions of squash and a kit bag which includes a racket, ball, Squash Stars t-shirt and a pair of goggles.

Squash is suitable for children of all backgrounds, shapes and sizes and is an inclusive, indoor sport. By taking part in Squash Stars, your child will benefit in many ways:
They'll have lots of fun whilst being active and learning something new.
It's an opportunity to make friends outside of school.
They can put their new skills into practice and head to the court as a family, giving you an opportunity for extra quality time together.
The sessions boost confidence and encourage them to reach for the stars.
Parents can find out more and sign children up at squashstars.co.uk