Weekly News - Friday 17th March 2023
Posted on: 17/03/2023
Exhibition Day
We are very much looking forward to welcoming you all to our Exhibition Day tomorrow, from 10.00 a.m. to 12.00 p.m. Children should all attend in full, smart school uniform and will be proud to show you around the school and let you see their work. Please take the opportunity to visit (or re-visit) other parts of the school to see the excellent work going on throughout! Your children will love to look forward to what to expect as they move up through the school, and will also enjoy reminiscing by visiting their previous year groups.
Parking can be tricky for whole school events and so we encourage parents to walk from home or to park away from the school and walk the last part of your journey if possible. Please be sure to follow the school parking regulations and, in particular, do not park in the church car parks outside Ducklings or Lower School and do not park across neighbours' driveways.
When walking between the school sites on Exhibition Day with your children, please set the right example by using the designated pedestrian crossings on Long Lane.
At Upper School, there will be an 'eco trail', as part of which our Junior Travel Ambassadors will be promoting the Parent Parking Pledge. Please be sure to visit them and sign up. The Maxwell Garden will also be open for you to visit. There is a pond in the Maxwell Garden and children must not enter this area without an adult supervising them closely.
We look forward to gathering the whole community together for this special day.
Online Safety Workshops (Pupils and Parents)
On Monday we welcomed ECP (Education Child Protection) into St. Helen's College to run workshops with all children from Reception to Year 6. They covered a wide range of important topics around the 4 Cs of online risk: content, contact, conduct and commerce. The children learnt about how to stay safe online at an age-appropriate level and where to go if they have any problems. This followed on from a staff training session in January and was followed by an online evening session for our parents to run through the parental responsibilities to be aware of in our connected world.
House Talent Show
Congratulations to all of the children who performed in our House Talent Show this week in Thursday morning's house assemblies. The final of the show will take place next term so the chosen finalists should keep practising those talents!
Chess Club Tournament
This week we reached the conclusion of our school Chess Club tournament. As usual, it was a fun and exciting process and it has resulted in a new champion: Zakariya Mi (Year 5). Zakariya won all his games but one and is now the proud holder of our Chess Trophy!
Congratulations to Zakariya and to all of the Year 5/6 Chess Club pupils who participated.
Year 6 Junior Citizenship Visit
Monday saw our Year 6 pupils visit Brunel University for the annual Hillingdon Junior Citizens event. They participated in short, informative workshops from the RNLI, Bikeabilility, TfL, the NHS, the London Fire Brigade, the Metropolitan Police and more. All of the sessions were aimed at helping to make the transition to senior schools as smooth as possible and equipping the children with extra knowledge to be confident in how to keep safe as they embrace greater independence.
General Knowledge
On Tuesday, four teams of children took part in the Quiz Club Online General Knowledge Quiz.
The teams enjoyed themselves and did very well, competing against 75 other teams from all across the UK. The St. Helen's College teams finished at places 14, 18, 31 and 39 and this means that two of our teams will be competing in the semi-finals.
Well done to the children who took part:
Aadhya M, Aakash B, Armaan V, Shayna C, Mona C, Parisa S (Year 3)
Aaryav K, Ayush A, Rohan F (Year 4)
Anika C, Eva J, Roha K, Tiya T (Year 5)
Yousra M, Annabelle S, Arshvir S (Year 6)
Congratulations are also due to Jacob N (Year 6) who ranked 34th in the SATIPS national general knowledge competition.
Comic Relief Day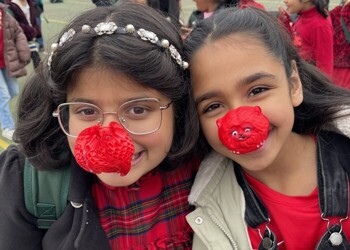 Today we all wore red to school and spent the morning supporting Comic Relief. Children in classes from Reception to Year 6 took part in a quiz designed by our charity representatives and many jokes were also shared throughout the school! Thank you so much to parents, pupils and staff for embracing the day and for the many generous donations to Comic Relief. It is not too late to donate via our JustGiving page:
St. Helen's College Comic Relief JustGiving Page.



Sports News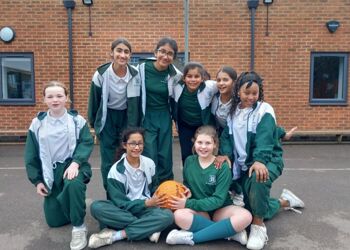 Our Year 5/6 netball team took part in a tournament at Reddiford School on Thursday afternoon. The girls had a super time and finished second overall after winning two of their matches and losing two. Well done to those who played.
The football team drew 0-0 on Wednesday in a tricky game against Laurel Lane.




Charity Work
Well done to Amara B (3M), who took the brave step of having her long hair cut off this week in order to donate it to the Little Princess Trust, a charity that provides wigs made from real hair to children who have lost their hair due to cancer treatment or other illnesses. Amara has also raised a significant amount of money for the cause by asking friends and family to donate to support the charity's work. Every penny raised will go towards providing wigs for children and young people helping to boost their self-confidence and make a positive difference in their lives.
It is always super to see members of the St. Helen's College community putting school values into action in the wider world. We are very proud of you Amara!
Big Spring Clean
Today is the launch of the Big Spring Clean 2023. India and Shriya have written this piece to explain:
Keep Britain Tidy's Great British Spring Clean
Pledge to pick up a bag of litter - or more - from Friday 17th March till Friday 2nd April.
It's been eight years since the first Great British Spring Clean! And this year it is taking place from the 17th of March to the 2nd of April.This is the nation's biggest mass-action environmental campaign. They took a survey of people who took part last year, and the results are: 85% felt more pride in their local area and 74% said it improved their mood too.
If you want to protect our environment our school is letting all of the students of St. Helen's College help to keep our school clean.
Equipment:
Litter Picker

Gloves

Bin Bag

Hand Sanitiser (optional)
REPORTING YOUR RESULTS:
When you join the Great British Spring Clean, you become one of hundreds of thousands of #LitterHeroes on a collective mission to improve the environment. We need everyone who takes part to tell us how much they collected, what kind of litter is out there, and how it felt to take part. This will help us tell the story of the scale of the challenge and advocate for change.
Become a #LitterHero today!
Poetry Recital - Nursery and Reception
The Nursery and Reception children will be reciting their poems for parents on Monday morning (20th March). You are warmly invited to hear your child(ren) perform. Coffee will be served in the Lower School Hall from 8.15 a.m. and parents will then be escorted to classrooms to hear the recitals.
Speech Competition - Years 1 to 6
Parents of finalists have been invited to attend our Speech Competition on Thursday 23rd March. The Year 1 - 3 final will take place at 9.00 a.m. and the Year 4 - 6 final at 2.00 p.m.
End of Term and Easter Service
All parents of children in Year 2 to Year 6 are invited to join us for our Easter Service on Friday 24th March at All Saints Church at 11.00 a.m.
Please note the dismissal times on the last day of term:
Ducklings and Nursery 11.50 a.m.
Reception 12.00 p.m.
Year 1 and Year 2 12.10 p.m.
Year 3 and Year 4 12.20 p.m.
Year 5 and Year 6 12.30 p.m.
Funtasia will be running on the last day of term and can be booked through SchoolsBuddy as usual if required.
Co-Curriculum: Summer Term
Allocations of co-curriculum clubs will be sent to parents during the final week of term. Please make any payments due promptly to confirm your child's place.
Easter Holiday Club
Our Easter Holiday Club will run from Monday 27th March until Friday 14th April, excluding Good Friday (7th April) and Easter Monday (10th April). Bookings are now open. Please login to your SchoolsBuddy account to make your bookings.
PA Quiz Night
The PA hosted a quiz night at The White Bear in Ruislip on Tuesday evening which was well attended and great fun! Congratulations to the winning team.
Second Hand Uniform Sale
The PA will be selling second hand school uniform on Friday 31st March outside the school entrance on Parkway. Please donate any items you no longer need which are still in good condition - donation bins will be placed outside the Upper and Lower School entrances for the last two weeks of term. Thank you for your support.