End of Term News - Friday 24th March 2023
Posted on: 24/03/2023
Our Easter service at All Saints Church this morning was a fitting and meaningful way to end what has been a busy and mindful spring term. Thank you to all of the parents who came, to the choirs who performed so beautifully and to our Year 6 readers who read the lessons to us all with mature understanding and great clarity.
Happy Easter to you all.
Speech Recitations and Competitions
On Monday our Nursery and Reception children recited the poems they had learnt to a willing audience of their parents. It is always quite astonishing to see children so young prepared to stand up individually (or in some cases with a friend) to speak in public. The pupils did well and we are very proud of them all.
Thursday saw the grand finals of our annual Speech Competition at Upper School. In the morning, the finalists for Years 1 to 3 performed for parents and their peers and in the afternoon it was the turn of the finalists in Years 4 to 6. Our visiting judge, actress Genevieve Allenbury, was extremely impressed at the standard of the competition and chose the following children as winners:
1C: Phoebe A-C, 1R: Sikhya R
Year 1 Winner: Sikhya R
2H: Eleanor G, 2R: Ivaan M
Year 2 Winner: Eleanor G
3B: Armaan V, 3M: Gurdaya J
Year 3 Winner: Gurdaya J

Overall Junior Speech Competition Champion: Eleanor G
4L: Avar D, 4T: Aarav C
Year 4 Winner: Aarav C

5A: Verity S, 5G Sienna D
Year 5 Winner: Sienna D

6B: Lavanya B, 6R: Ayla A
Year 6 Winner: Lavanya B

Overall Senior Speech Competition Champion: Aarav C
Many, many congratulations to our finalists and our winners. This is the culmination of a competition in which every child from Year 1 to Year 6 has taken part and, as ever, it has been a most valuable experience for all. Thank you to the parents who came to watch the finals and a big thank you to Genevieve Allenbury for visiting us to take on the extremely tricky job of judging the competition.
Singing Competition
The final of our annual Singing Competition will take place on 19th May. You can find full details and a form to register your child's entry here.
Reception Planetarium Visit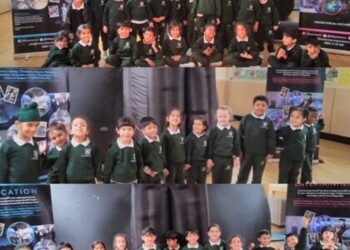 The children in Reception were treated to a visit from a travelling Planetarium on Thursday to enhance their learning for their Space topic. They were able to enter a world of planets and fully immerse themselves in what it would be like to travel through space!
Year 5 Bletchley Park Trip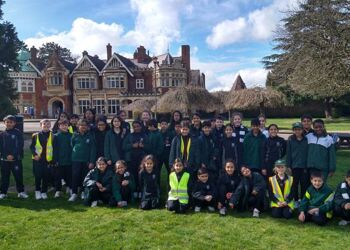 Year 5 visited Bletchley Park this week, where they learnt about the development of electronic computers and the importance of code breaking in bringing World War 2 to an end. They learnt that the work carried out was kept secret for many years after the war and saw where now famous people such as Alan Turing worked, helped by still unknown code breakers. The children saw Enigma machines from the war and were able to engage with simulations of them and the Bombe code breaking machine. This was a valuable, enriching educational experience for the pupils and much enjoyed by all.

Sports News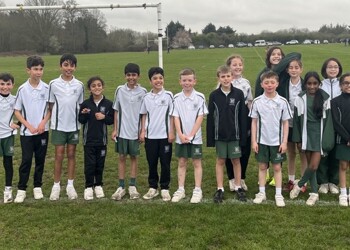 Our cross country team took part in the UDPSSA inter schools cross country event on Monday. The children performed excellently in the wet and windy conditions. Thank you to all of the parents who came to support the teams and a particular well done to Anna K who came 4th out of the girls, just missing out on the bronze medal.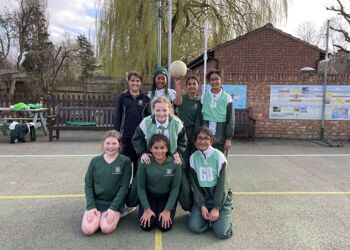 On Tuesday the Year 5/6 netball team played Laurel Lane School in their last league netball match of the season. The team had a bit of a slow start scoring goals but finished up with a 10-1 win. The girls demonstrated all of the skills they have been working on during training: marking their players, changing direction, accurate passing and some fantastic shooting!
A significant number of children from St. Helen's College attended the UK Shito Ryu karate tournament with KML Karate Club over the weekend and did exceptionally well. These competitions provide an excellent platform for the children to get selected for the national team and ultimately represent GB at the future Olympics.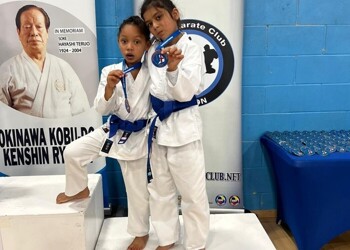 The following children competed and placed.
Myla K - Gold kickmaster
Inaya S- Bronze
Poppy H - Bronze Kata
Myla K, Inaya S, Nya O-A - Gold team fighting
Aleya S, Freya K - Gold team fighting
Freya K - Gold Kickmaster
Aleya S - Silver fighting
Naiya L - Bronze fighting
Nya O-A - Gold fighting
Several others attended and did exceptionally well. Overall the club won 20 titles and came 4th out of 25 teams overall. Myla, Inaya, Freya and Aleya are also attending the British national karate championships next week in Glasgow. We wish them well!
PA Easter Egg Raffles
Thank you to the Parents' Association for the donation of eggs and 'Duckling' which were excitedly raffled in assemblies today. We hope the winners enjoy their prizes!
Comic Relief Fundraising
We would like to thank all of the parents, pupils and staff who pulled together to support Comic Relief both inside and outside of school. St. Helen's College raised £676.00 in total for Comic Relief this year.
Residential Trip Meetings
As we look ahead to a busy summer term, we have held information evenings this week for our Year 3 and Year 5 parents ahead of the residential trips to PACCAR Scout Camp (Year 3) and The Isle of Wight (Year 5). Information evenings for the Year 4 and Year 6 residential trips will take place early in the summer term.
Summer Term Reminders
Please check the school calendar to make note of dates relevant to your child for next term. There are plays, assemblies, Sports Days and more!
The menu for the summer term is now available on the website here.
Children should return to school for the summer term in their summer uniform: girls should wear their summer dress with white socks (never with tights). Please take the opportunity over the holidays to check that your child has all the correct uniform and equipment and that it is all in good condition and named. The PA will be holding a second hand uniform sale outside the school entrance on Parkway on 31st March.
Co-curricular allocations for the summer term were sent to parents this week. If you have not already done so, please make any payments due promptly.
Free Basketball Tickets
The Thames Valley Cavaliers basketball team will play host to Loughborough Riders this Saturday at 6:00 p.m. at Uxbridge College and then Reading Rockets next Saturday at 6:30 p.m. Once again, St. Helen's College pupils are invited to attend these games for free. You can find information about both games here.