Weekly News - Friday 30th November 2018
Posted on: 30/11/2018
What a super end to the month we had today, as we heard lots of our pupils give individual performances at November's Month End Music Recital. There were pieces performed on brass, string, woodwind, piano and voice and the children were, without exception, confident and accomplished in their music. They have clearly been putting in the practice required to improve! It is always so wonderful to hear the children perform at these small, informal concerts, which give them the opportunity to develop their confidence and performance skills as they build towards the more formal performances they will give in our larger concerts. Congratulations to the children who took part.
We would like to remind all parents that half a term's notice, or payment in lieu, is required when terminating individual music tuition.
4T Assembly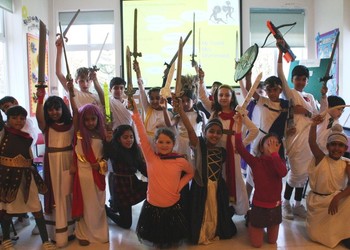 4T shared their recent learning with us today as they presented their assembly all about how they follow the 'yellow brick road' learning pathway to achieve success with their adventure writing. They explained how they have been using their metalearning skills, including collaboration, critical thinking and reflection, to produce outstanding Greek myth writing and then to improve their writing even further. There were some super performances, with excellent singing, dancing, speaking and acting. Well done indeed, 4T.
Selfless Service In The Nursery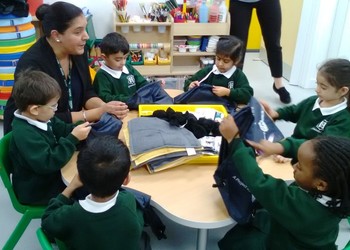 To follow on from our SEWA introduction last week, a parent and two volunteers from the Charity 'Langar Aid' visited Nursery today and the children helped them to pack 'bags of warmth' for the homeless. You can see more about Langar Aid on their Twitter page: https://twitter.com/LangarAid?s=08. We feel very proud that selfless service has been demonstrated by some of our very young pupils today!
Sports News
Indoor Athletics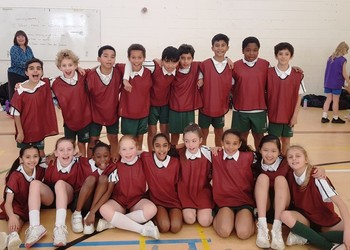 Our Athletics squad took part in the indoor Sports Hall athletics competition today and finished 4th. Well done to all those who took part.
School Games Platinum Award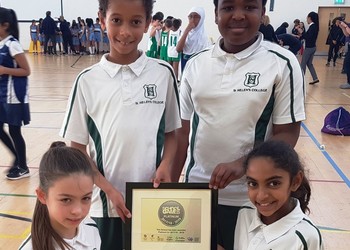 At the indoor athletics event, our Sports Captains were presented with the School Games Platinum Award which St. Helen's College has achieved for the second year running. This recognises the excellence and breadth of the sporting opportunities offered to pupils at St. Helen's College.
Netball Win
Well done to the netball team, who were 4-0 victors in their friendly fixture against Ryefield this week.
Switch Off Fortnight
Switch Off Fortnight is now at an end, but we hope that the message promoted by our Eco Representatives over the last two weeks will live long in the hearts and minds of your children and that they will themselves become 'Eco Ambassadors' and spread the word that we should all be doing everything we can to conserve the resources of our planet. Please do continue to Switch Off whenever you can to save energy.
School Bus
We would like to thank those families who have been able to use the new school bus service this academic year and we trust that you have found this service useful.
Unfortunately, due to lack of demand, we will be discontinuing the service at the end of this term. We are very sorry that we will not be able to continue with this service.
Moving forward, we would like to encourage more parents to work together and organise car shares to alleviate traffic congestion and to help families with the daily school run.