Weekly News - Friday 7th December 2018
Posted on: 07/12/2018
Many thanks to Mrs. Patricia Adams, the Head of St. Mary's School in Gerrards Cross, who visited us this afternoon to run an interview workshop with our Year 6 children, many of whom will have senior school entrance interviews early next term. Mrs. Adams gave our pupils some great advice and we hope that they will have taken her two most important messages to heart: that 'over-preparation is the foe of inspiration' and that 'magic happens when you believe in yourself'.
Masterclasses like this are the cherry on the cake of preparation for interviews and public speaking in general, which begins at St. Helen's College from the very earliest years. Our pupils perform publicly regularly and the many and varied opportunities they get at school to challenge themselves intellectually and to get involved in all sorts of activities, sports and music give them plenty to speak confidently about!
We wish our Year 6 pupils all the very best in the various interviews they will be attending next term.
Assemblies This Week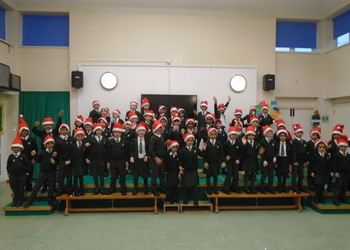 Wow! Well done to Year 1 for a fabulous Christmas assembly today. The children sang with confidence and real rhythm, and without exception they spoke their lines with excellent clarity and projection. It was super to hear some of the history of Christmas, including how Christmas trees and Christmas cards originated, as well as to consider the true meaning of the Christmas story. Very well done to everyone involved.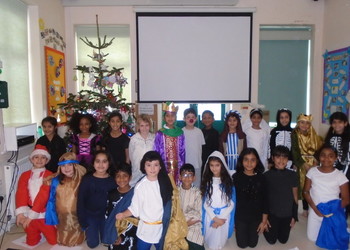 3M performed their Christmas-themed assembly today too, which incorporated both an alternative and a traditional Christmas story and ended with an interactive carol involving staff and pupils, with a lyrical twist! The pupils' delivery of their (many) lines was flawless and the acting was first class. The children managed to combine humour with poignancy, showing great maturity in their performances. Well done indeed, 3M.

Christmas Is Coming!
Thank you to all of the many parents who visited school today to hear the Infant Choir perform Christmas songs this morning, with a special guest visit from the Mayor of Hillingdon, and to join us for our annual Carols Around the Tree this afternoon. It was super, as always, to bring our community together in this way to look forward to the joy of Christmas. Please read on below for details of Christmas events next week and the end of term arrangements.
Monday 10th December
8.45 a.m. Nursery Christmas Assembly at Lower School
All Nursery parents are warmly invited to join us to watch the children perform their Christmas assembly. Coffee will be served in the Lower School Hall from 8.15 a.m.
Tuesday 11th December
8.45 a.m. Reception Christmas Assembly at Lower School
All Reception parents are warmly invited to join us to watch the children perform their Christmas Nativity. Coffee will be served in the Lower School Hall from 8.15 a.m.
Children from Nursery, Year 1 and Year 2 will have had the opportunity to watch the Reception dress rehearsal on Monday 10th December.
Wednesday 12th December
Upper School (Years 2-6) Pantomime trip to see Dick Whittington at Theatre Royal, Windsor. Please note that details will be sent to parents separately.
Thursday 13th December
Christmas lunch for Nursery to Year 6, followed by a pantomime performance for Nursery to Year 1 at Lower School by West End In Schools.
Friday 14th December
11.00 a.m. Carol Service at All Saints Church (Years 2-6).
All parents are warmly invited to join us for our annual Carol Service at All Saints Church.
End of Term - Half Day (12.00 N/R, 12.10 Y1/2, 12.20 Y3/4, 12.30 Y5/6). Holiday Club running p.m. only.
Holiday Club will then be running from Monday 17th to Friday 21st December. Please remember that all bookings must be made through SchoolsBuddy.
Chess Fixture
Monday afternoon's chess match against St. Bernadette's was good fun and closely fought. The atmosphere was competitive but friendly and it was great to finish the term's chess on a high in what has become a regular and most enjoyable fixture. St. Bernadette's team won by a margin of the result on just one board. Well done to those who played.
Co-Curricular Clubs
There are a few clubs which will run an extra session next week to make up for a session missed earlier in the term; parents whose children attend these clubs have been emailed directly. All other co-curricular clubs for the Autumn term have now finished.
The co-curricular programme for the Spring term will be published on Monday via SchoolsBuddy. Please note a change to our booking procedures. In order to protect some time for the children to play with their peers and, particularly in Upper School, for staff to be able to catch up with children regarding their school work, we are restricting the number of clubs children may attend at lunchtimes to three per week. I trust that you understand that the well-being of the children is paramount. There will be no restriction on after school clubs.