Weekly News - Friday 25th January 2019
Posted on: 25/01/2019
Class Assemblies This Week
1HC Assembly - Roald Dahl
Pupils in 1HC brought the world of Roald Dahl to life with their wonderful assembly this week, recounting their recent visit to the Roald Dahl Children's Gallery. Their passion for reading and for Roald Dahl's books in particular shone through in their confident and enthusiastic performances. They also communicated clearly that Roald Dahl's books teach us all about character and the virtues we all aspire to lead our lives by.
One of my favourite Roald Dahl quotes is this one:
'So, please, oh please, we beg, we pray, go throw your TV set away, and in its place you can install a lovely bookcase on the wall.''
5G Assembly - Food Glorious Food!
5G's assembly this week certainly was a varied recipe of stupendous performing and sharing of information to raise our awareness of the importance of a balanced diet. How fortunate we are at St. Helen's College to have Soula and our wonderful catering team keeping our children healthy to enable them to benefit from all that they do at school. The behind the scenes documentary enlightened us all as to the thought and the processes involved in food preparation each and every day for our children. Thank you to all of the staff and pupils involved.
You can see the assembly powerpoint presentation here.
You can see 5G's documentary here: https://youtu.be/8lB3rAZ5J6o
Haggis, Neeps and Tatties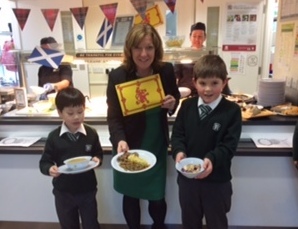 Well done to all of the children who stepped out of their comfort zone to taste something different today to celebrate Robert Burns Day. Thank you to the Accent team for preparing Scottish specialities including the cranachan dessert.
Sit Together for Children's Mental Health Week
The Mindfulness in Schools Project community is coming together to mark Children's Mental Health Week 2019 and to raise awareness of the need for young people to develop skills to support their own wellbeing, both inside and out.
On Monday 11th February, pupils and staff in Lower and Upper School will be invited by Mrs. Drummond to join with other teachers and students from primary and secondary schools all over the world who have introduced mindfulness into their schools in a shared mindful 'sit together'.
Parents may also wish to take the opportunity during this week to have some mindful moments at home with your children. All our pupils know how to take part in the finger breathing practice and I am sure they will share this with you.
Staff News
It is with a heavy heart that we announce that, following 20 years of distinguished service at the school, Mrs. Stark has decided to embark upon her well-deserved retirement and will be leaving us later on this year, once we have appointed a new Deputy Head.
Mrs. Stark has been an integral member of the staff at St. Helen's College for many, many years and her contribution to the school has been immense. Mrs. Stark joined St. Helen's College as a part time French teacher and introduced the school to other languages. She should be very proud to leave the Languages department enriched with Spanish, French and Latin. Mrs. Stark went on from being a part time teacher to a full time Year 5 class teacher for many years before becoming Deputy Head ten years ago. She will be very greatly missed by colleagues, pupils and parents and I am sure that you will join us in wishing her all the very best for a long, happy and healthy retirement. Mrs. Stark is looking forward to spending time with her family and her four delightful granddaughters but we know she will always remain part of the St. Helen's College community.
Sign2Sing Fundraising
This half term we will be supporting the charity Sign2Sing. Your child has been busy learning to sign the song 'Greatest Day': https://www.youtube.com/watch?v=MNuVOO_-uHk
Sign2Sing is an annual event, organised by the Deaf Health Charity SignHealth, which provides health and wellbeing services in sign language for deaf people. They are committed to breaking down the barriers that deaf people continue to face, with poorer communication support and poorer access to health services than hearing people.
Sign2Sing is designed to promote sign language as a communication tool and make music more accessible to those who can't hear it. It provides us with the opportunity to become deaf aware, while also raising essential funds for their projects which support the deaf community.
The children will be performing the song together on Monday 4th (for Lower School children) and Thursday 7th (Middle and Upper School children). We would ask that your child pays a £2 suggested donation to take part in this event, but all donations are greatly appreciated by this small charity.
The Upper School Library book sale on Wednesday raised an impressive £65 for Sign2Sing. This total will be added to the school's fundraising efforts this half term. Thank you to all those parents and children who bought books - enjoy your reading!
Coding Club
We still have a few places available in our Coding Club and we will now be opening this club up to Year 4 children too. If you have a child in Year 4, 5 or 6 who would like to attend Coding Club after school on a Friday, please email Miss Lang at mlang@sthelenscollege.com as soon as possible. The remaining places will be allocated on a first come, first served basis.
Month End Music Recital
Well done to the children who performed in today's informal Month End Music Recital. As usual, there were some very impressive performances and it was lovely for the children to be able to begin their performing 'journey' in front of such an enthusiastic and supportive audience.
Sports News
England Roses Inspire St. Helen's College Pupils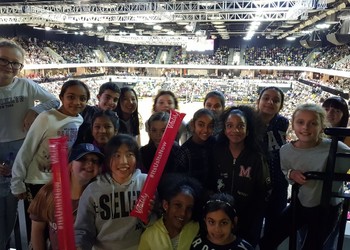 Last Sunday, over 50 St. Helen's College parents, pupils and staff travelled up to the Copperbox Arena to watch some international netball. The event was part of the Quad Series of matches being played between England Roses, Australia Diamonds, New Zealand Silver Ferns and the South African Proteas this winter in preparation for the Netball World Cup taking place in Liverpool in July. The first match, between South Africa and New Zealand, could not have been closer! With the score tied at the end of full time and still tied at the end of extra time, the teams had to play on until one of them won by two goals. Finally it was New Zealand who won 62 - 60.
Next up was England versus Australia, their first match against each other since England beat them in the epic Commonwealth Games final in 2018. There was a fantastic atmosphere in the Copperbox as it seemed the whole crowd got behind the Roses. Our pupils and parents were on the edge of their seats watching the game as it swung in England's and then Australia's favour but it was England who found the resilience to come through in the final quarter to win the match 52-49. Our pupils were truly buzzing after the match and one was even overheard saying, 'I want to play for England when I'm older'. Let's hope the visit to watch the England Roses has inspired them to strive for excellence and realise their dreams one day.
Netball League Results
St. Helen's College played Cowley St Laurence this week and won 9 - 3.
Gymnastics
Many congratulations to our Y3/4 and Y5/6 gymnastics teams who took part in the Borough competition this week at Botwell Leisure Centre. Teams of four, two boys and two girls, from eleven schools across the Borough competed at the event. Each team member had to perform a floor routine, a body management routine and two vaults in front of judges at the event. Our team members had been practising their routines and vaults for the past few weeks and all their hard work really showed in the confident and polished performances they gave. Anaya K (Y4) achieved the highest score of all the Y3/4 competitors on the floor and second highest score on the vault, Mark R (Y4) achieved the highest score of all the Y3/4 competitors on the vault and second highest score on the floor and Ionie M (Y6) achieved the highest score of all the Y5/6 competitors on the vault and second highest on the floor. Overall in the team competitions our Y3/4 team came 6th and our Y5/6 team came 5th. The children thoroughly enjoyed the competition and are already planning how they will practise and improve for next year!
Travel To/Around School
Car Sharing
If you currently drive your child to school, we would like to encourage you to consider sharing the journey with other parents who live near to you. Car sharing has many benefits, including:
Relieving parents of the need to drive to school every day.
Encouraging friendships among children, either within the same class/year group or across the years.
Reducing traffic congestion on local roads.
Easing the difficulties of finding parking spaces around school.
Reducing pollution in the local area.
Helping to educate children to be responsible citizens by reducing pollution and congestion.
Encouraging relationships between parents across the same/different year groups to enhance the SHC community.
Freeing up parents' time at the start/end of the day on some days of the week to enable more working hours/free time!
If you are interested in car sharing, please let your PA Class Rep know, as we will be discussing this further with Class Reps at the next Parents' Forum meeting.
We would be delighted to see more parents car sharing at morning drop-off and evening pick-up, and we will be actively promoting car sharing to the children in assemblies and via our Junior Road Safety Officers too. Thank you, in advance, for your efforts in arranging car sharing in order to improve the school run for everyone.
St. Helen's College Parent Parking Pledge
We are asking you to consider making the Parent Parking Pledge in an effort to manage congestion and improve safety near our school at busy times. The idea is simple: in return for agreeing to follow some basic principles, your car can carry a sticker that tells the world you are doing your bit to make a difference.
Parents at schools across Hillingdon are agreeing to:
• Help my child/children travel actively at least once a week
• Drive with consideration for others
• Park away from the school gates
• Never block a driveway
• Turn off my engine when parked
In addition we have three pledges that apply here and trust that you will agree to:
• Follow the St Helen's College parking regulations
• Use the 'Drop & Go' and 'Pick Up & Go' zones safely and efficiently
• Respect and adhere to the parking restrictions in operation around all our school sites
If you are happy to make the Pledge, it would be great if you could follow the link and complete the form. Once submitted, you will get your car sticker that will show others your commitment to pupil health and safety.
Thank you!
https://docs.google.com/forms/d/e/1FAIpQLScEIokFqGjH68LP5qCH9miaJIxA4i6cTB4J67WMDB009-j5PA/viewform?usp=sf_link
Chess Challenge
Uxbridge Chess Club will soon be hosting a UK Chess challenge tournament. Several St. Helen's College chess players already attend the club, but the tournament is open to any entrant, whether they are a member of the chess club or not. Any players scoring 3.5 from 7 games will qualify for the UK Chess Mega, then Giga finals.
The tournament will take place in a hall near to Uxbridge town centre. If you have a child who would like to enter, we would encourage you to do so.​ Full details are available here.

Uxbridge Chess Club is run by a St. Helen's College parent, Mr. Knight, and we would encourage any keen chess players, or those who would like to give chess a try, to go along and try the club!