Weekly News - Friday 15th March 2019
Posted on: 15/03/2019
Year 3's Amazing Drama Production - The Pirates of the Curry Bean
It is hard to describe the atmosphere of the Winston Churchill Hall on Tuesday evening as our Year 3 children performed their Spring show, The Pirates of the Curry Bean, to family, friends, staff and peers. We were all taken on a highly entertaining and poignant journey on the high seas to 'Lumbago' and there was really superb acting, dancing and singing. Congratulations to all of the crew involved - you thoroughly deserved the rapturous applause that greeted you at the end of such an outstanding production!
Uxbridge Chess Club open new branch at St. Helen's College!
The very popular and successful Uxbridge Chess Club are soon to launch a new Friday session at St. Helen's College. If you have a son or daughter who is interested in playing chess, or who already plays chess at school and would like to pursue this interest further, do encourage them to join.
The club is launching on Friday 22nd March and sessions will run from 6.00 - 7.30 p.m. on Fridays in The Evans Hall. There is the opportunity for participants to take part in all sorts of competitions and the club is open to all children aged from 6-15, not just St. Helen's College children, so there is the opportunity to bring along friends and family from other schools too.
Uxbridge Chess Club is run by two St. Helen's College parents who, like Mr. Foale and Mr. Crehan himself, are passionate about chess and about inspiring a new generation of chess players. As a game, chess helps to nurture memory skills, strategic thinking, gameplay, time management and more so it is not only extremely enjoyable for children, but extremely educational too!
We do hope that many of you will encourage your children to attend this club. Full details, costs and arrangements are available here.
Primary Maths Challenge Success
Many congratulations to Wenru and Arushi, who were awarded silver medals in the Primary Mathematics Challenge. This national event tests the children's logical thinking and application of mathematics skills to some very challenging problems. Nearly 1600 schools and around 67,000 pupils took part in the challenge and only 760 children were awarded a silver or gold medal. The girls' scores put them in the top 1% of those who entered.
uTalk Language Competition
Pupils in Years 1 - 6 are invited to participate in a pilot competition in preparation for the new national uTalk competition which is being relaunched in September 2019.
The uTalk Challenge Pilot is a competition giving primary school age children the chance to learn a new language or reinforce a known language using the uTalk app. The competition will run between March and June 3 and our pupils will compete against each other. There will only be one round of the competition this year and the language will be Spanish. Some small prizes will be awarded in each school.
The new software this year will permit us to have a school dashboard where we can monitor progress. This will be available on the Learning Portal, so that the children may enjoy the excitement of checking the leader board to see how they are getting on in a live competition with their peers.
If you would like your child/children to participate in this modified competition this year, please email Mrs. Stark at tstark@sthelenscollege.com. The cost is £5 per child, which will be payable on SchoolsBuddy after you have registered your interest.
Comic Relief Fundraising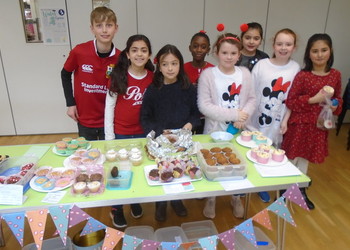 St. Helen's College turned red today as the children and staff entered into the spirit of Comic Relief, raising money with cake sales and Red Nose Day activities. Well done to 4T and 4KT for organising the charity day, and thank you to all parents for supporting the cause with your kind donations.
Year 6 Spanish Trip to BFI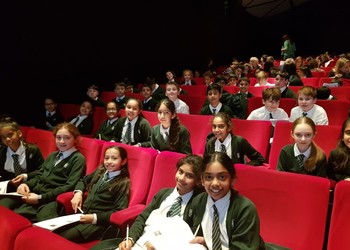 Year 6 enjoyed an outing to the British Film Institute on Tuesday to enrich their Spanish learning. They watched a Spanish film with language appropriate to their stage of learning, and were able to understand most of it! They also took part in Spanish workshops.
6M Assembly - William Shakespeare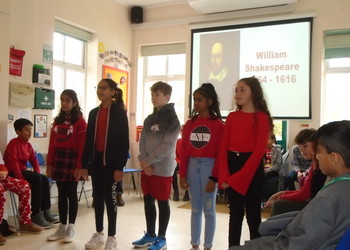 Well done to the children of 6M who presented a most informative, interesting and entertaining assembly this morning all about William Shakespeare. Through speech and song, the pupils told us about Shakespeare's life and work. We learnt the history of The Globe Theatre and about how it was re-built in recent times to recreate the theatre experience of Elizabethan times. We also learnt that Year 6 will be performing 'Romeo and Juliet' next term as their end of school production, and that they are all currently hard at work discovering the meaning of the play and preparing for their auditions. Thank you, 6M, for sharing your knowledge and enthusiasm with us.
Year 6 Citizenship Day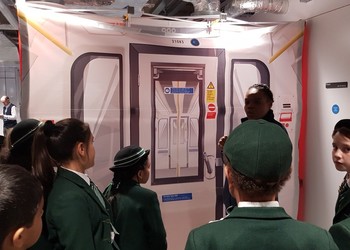 This week our Year 6 pupils visited Brunel University for the annual Junior Citizenship Day. This was a valuable opportunity to learn about many different aspects of keeping safe throughout life after primary school, including use of public transport, fire safety, animal cruelty, substance abuse and more. There were ten informative and fast paced sessions full of important knowledge, designed to help our children tackle some of the challenges of adolescence.
Swimming Gala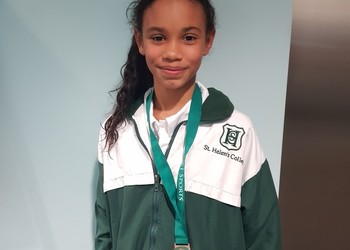 Well done to the children who attended last night's swimming gala. Competition was fierce and the St. Helen's College pupils performed well in their individual heats, with several reaching the finals. Particular congratulations go to Rhea A-V, who was awarded a bronze medal in the Freestyle final.

Staff News
We welcomed Mrs. Brooks to the staff this week, who has joined our team of Upper School lunchtime supervisors. Mrs. Brooks has enjoyed getting to know the children throughout the week and embraced the St. Helen's College community.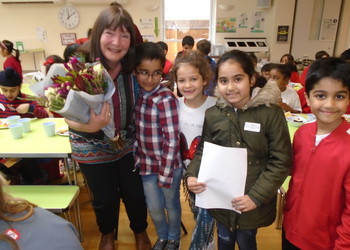 Mrs. Speechley, who is stepping back from her lunchtime supervision role to spend more time with her family, joined the Middle School children for lunch today as our VIP guest and was presented with flowers and a gift by Year 3 School Council members. We would like to thank Mrs. Speechley for all the care she has given to the children over the past four years.
After 13 years of loyal service to the school, we will be bidding farewell to Miss Lang, our Welfare Officer, at the end of the Spring term. Miss Lang has looked after not only the pupils but staff welfare over the years and shown so much care and compassion in her role. She will be very much missed at St. Helen's College but we wish her well as she takes on a new and exciting role at another school. I am sure that many of you will see Miss Lang again as she hopes to be part of our Holiday Club team. Once a Helenian, always a Helenian!
ABRSM examinations
We are delighted that we will be hosting our first set of ABRSM music examinations here at St. Helen's College on Saturday 30th March. Thank you to our peripatetic teachers for making this possible and I am sure that all our students who are preparing for their examinations will feel very at home on the day.
Exhibition Day
We would like to remind parents that our annual Exhibition Day will take place on Saturday 23rd March. This year, to celebrate our new look Lower School, we would like to invite all parents and staff for a Bucks Fizz reception at Lower School from 9.30 a.m. The official timings of Exhibition Day at Ducklings and Upper School will be 10.00 a.m. until 12.00 p.m. Refreshments will be served from 10.00 a.m. in the Evans Hall. We do hope that you will all take this opportunity to celebrate your children's hard work and achievements on this special day. All children should wear full school uniform to attend school on Exhibition Day please.
Parents are always very generous with donating flowers and vases for display on Exhibition Day. Please would you send your donations of flowers (and named vases, which will be returned to you) into school with your child on Friday morning. Many thanks, in advance, for your generosity.

The Upper School Library will be fully open for the first time. Please come and see where Upper School children spend many hours relaxing and curling up with a good book! We would love parents to rediscover and share favourite books from their own childhood and explore the full range of wonderful modern authors available to read today. Parents will be able to see the comprehensive information resources in the library to spark curious minds and learn about the various reading challenges on offer.

Parents are reminded that Friday 22nd March is a half day to allow the school to prepare for Exhibition Day and that there is no Funtasia After School Club on Friday 22nd March.
Speech Competition Finals
Mrs. Smith and I have had the most wonderful week listening to the semi-finalists for our forthcoming Speech Competition. Congratulations to all the pupils who have worked so hard learning the wonderful (and, in some cases, rather challenging) poems. You should all be very proud of your achievements.
The finals of both the Junior (Years 1-3) and Senior (Years 4-6) Speech Competitions will take place on Monday 25th March. Parents of finalists are invited to join us and will receive a letter with details early next week. We are very much looking forward to what promises to be an excellent day of poetry and performance!
Easter Holiday Club Bookings Now Open
Bookings for our popular Easter Holiday Club are now open. Please log in to your SchoolsBuddy account to book places for your children as soon as possible. Holiday Club will run from 29th March (half day) until Thursday 18th April. Places are allocated on a first come, first served basis.
Midas Competition
We invite pupils to enter a national competition run by the writers of Minimus, the textbook we use in Year 5 Latin lessons. Pupils are invited to create an interpretation of the story of Midas - a copy of which will be provided by Mrs. Stark.
Pupils are invited to submit entries in the following categories:

A. Art e.g. painting, drawing, collage, poster, craftwork etc.
B. Creative Writing e.g. poem, play-script, 1st person account, diary or journal etc.
C. Drama – a version of the story, written and performed by pupils, and submitted as a private video link or DVD.
D. Animation – a version of the story, written and animated by an individual, and submitted as a private video link.
Mrs. Stark has talked to some of the classes about this and will talk to others next week. Entries need to be submitted by 22nd April at the latest, but can be submitted any time before then.
We really hope your children will be inspired to produce some creative and original work and we look forward to seeing the entries coming in. Just hand them to your form teacher, who will pass them on to Mrs. Stark, or give them to Mrs. Stark directly.