Weekly News - Friday 26th April 2019
Posted on: 26/04/2019
Welcome back! It was wonderful to greet the children back to school this week for this very exciting summer term. I trust that you all have enjoyed the holidays and made the most of the incredible weather.
Please ensure that all school uniform is labelled clearly and the girls are now all in summer uniform. Tights must not be worn with summer dresses and all long hair should be tied back neatly. In sunny weather, sun hats must be worn when the children are in the playground so please do ensure that your child has one in school.

We are delighted to welcome Miss Ruth Fahy to St. Helen's College as our new Welfare Officer. Miss Fahy has worked for many years in other schools in the same role and has spent time with Miss Lang over the Easter Holidays to have a thorough handover. The children from Y2 - Y6 met Miss Fahy this week in assembly and I am sure that you will all have the opportunity to meet her over the next few weeks.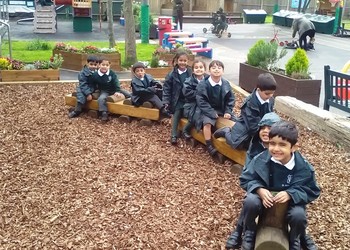 The Lower School were delighted to see their new locomotive and carriages. It has already proved to be a very popular addition to the playground, taking the children to all kinds of destinations! We would like to thank the PA for funding our new train and look forward to many more opportunities to play on it.
French Visitors
The Upper School welcomed 80 visitors to school on Thursday as Year 5 and 6 from Catherine Dior school in Normandy met their Year 6 pen pals and spent the morning experiencing life in an English Prep School. The children were immersed in the English Language as they enjoyed breakfast and then took part in a carousel of activities run by St. Helen's College staff including cricket, charades, chess, garden games, tennis, table tennis and more! The Accent team provided a superb traditional roast which wowed the visitors before our Year 6 pupils led a wonderful assembly. We look forward to visiting their school in May. You can see photographs of the children enjoying their morning here.
JRSOs Present To London Assembly at Guildhall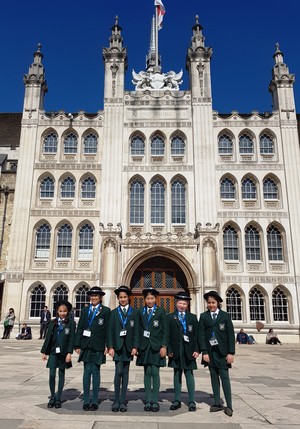 A group of Year 5 girls did a terrific job over the Easter holiday and truly impressed the London Road Safety Council (councillors and officers from the 32 London Boroughs) when they visited London's Guildhall to give a presentation on their latest road safety initiative and the work they do to promote road safety here at St. Helen's College. They were a real credit to the school!
ABRSM Results
We are delighted that we have now become an ABRSM examination centre for the children's music examinations and the pupils who sat their exams at the beginning of the Easter holiday reflected in assembly and felt that being in a familiar environment allowed them to relax more and focus on their musicality. Many congratulations to the children who achieved the following qualifications:
Piano
6M Anisa W G1 Pass
3M Sahib N Prep Pass
Flute
5G Dhiya K G3 Merit
5A Ridhima M G2 Merit
5A Lily A G1 Pass
3M Raya M Prep Pass
Clarinet
6W Georgia M G2 Pass
5G Marcus S G1 Distinction
Saxophone
4T Vidhit N G1 Merit
Singing
5A Catherine L G4 Distinction
5G Jasmine B G3 Distinction
5A Esha T G2 Merit
5A Tanishka M G1 Pass
4KT Kimaya P G1 Pass
Violin
6M Pritee T G3 Pass
5G Krisha S G1 Merit
4T Zara B G1 Pass
3B Eshan N G2 Pass
Trumpet
5A Ciaran R G1 Pass
'Cello
4KT Vandan V G2 Pass
4KT Krishav P Prep Pass
3M Devan S Prep Pass
BBC 500 Words Competition
Many congratulations to Catherine and Laura in Year 5, whose creative stories have been selected to go through the next round of judging in this national completion. Tens of thousands of entries are received each year and we are delighted that the girls' creativity and writing skills have been recognised. We wish them well for the next round and wait to hear further news.
Gymnastics Success
We were delighted to hear of yet further international success for Chiara L in Year 6, from her latest international gymnastics competition in Portugal in March. Chiara and her partner received a sliver medal, beating gymnasts from all over the world in the 11-16 age group. What a superb achievement at such a young age - well done, Chiara!
Co-Curricular Activities
Co-Curricular allocations for the summer term are now complete and these have been sent to parents by email.

The following Upper School clubs still have a few places available; please contact admin@sthelenscollege.com as soon as possible if you would like your child to take part in one of these clubs.

Tri-Golf - now available to Year 3 and Year 4 children as well as Year 5/6. Taking part is this club could lead to playing in the Year 3/Year 4 tri-golf team. Tuesdays 3.50 - 4.50 p.m.
Jewellery Club (Y5/6) Wednesday 1.00 - 1.40 p.m.
Printing Club (Y5/6) Friday 1.00 - 1.40 p.m.
Yoga Club (Y4/5/6) Thursday 4.00 - 4.45 p.m.

The following Lower School clubs still have a few places available; please contact lrooney@sthelenscollege.com as soon as possible if you would like your child to take part in one of these clubs.
Spanish (Reception) - Monday lunchtime
Spanish (Y1) - Thursday lunchtime
All clubs begin this week with the exception of Upper School Gardening Club, Coding Club and Rounders. These begin the following week.
We hope that your children will enjoy the amazing range of co-curricular activities being provided this term.
Residential Trips
'Tis the season for our Year 3 to Year 6 pupils to embark upon their annual residential trips. We wish our Year 5 pupils a safe and successful trip as they head off to the Isle of Wight on Monday.