Weekly News - Friday 17th May 2019
Posted on: 17/05/2019
Outstanding Musicians' Concert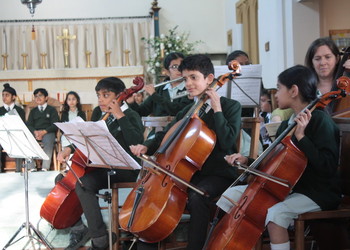 Last night the audience at All Saints Church was treated to a fantastic array of performances given by our extremely talented children, ranging from the impressionistic piano music of Debussy to the more traditional tunes of Amazing Grace. The concert opened with the orchestra playing and this was followed by our many soloists and instrumental groups, all ranging from Grade 1 to Grade 8. There was also an opportunity to hear staff perform as Mrs. Stubbs (flute), Mrs. Nash (violin) and Mrs. Maclean (cello), accompanied by Mr. Stubbs (piano), performed 'Allegro from Trio Sonata in G Minor by JC Pepusch. This really was a spectacular event and all the instrumentalists played with admirable confidence and panache! Well done to all involved.
National Numeracy Day
National Numeracy Day on Tuesday provided an exciting impetus for teachers to enrich and extend the pupils' learning and it was wonderful to see so many children engaged in activities in and outside of the classroom.
Robins Class Assembly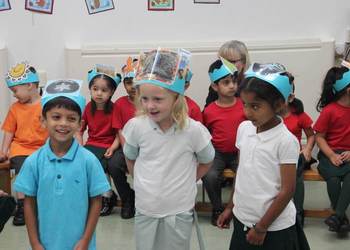 Wow! Our Robins Nursery children showed how far they have come during their Nursery year as they performed a fantastic assembly all about the seasons of the year on Thursday. It is clear that their programme of rehearsals and performances during the Nursery year (including Harvest Festival, their Nativity Play and class assemblies, as well as the Speech Competition last term) has helped them to find their feet when standing up and speaking in front of an audience. Their confidence, their memories, their relaxed and engaging style and their superb voice projection really were astonishing. We all learnt much about the seasons too. Well done, Robins!
Noah's Ark Hospice Charity Walk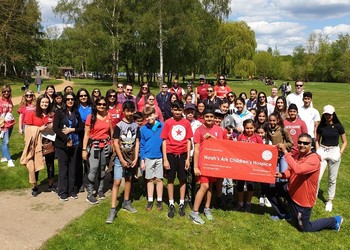 Well done to all of the pupils, parents and staff who came together last Sunday to take part in a charity walk to raise funds for the Noah's Ark Children's Hospice. The walk alone raised £725 for the hospice, which is a wonderful achievement. The sense of community on the day was inspiring and we would like to pass on sincere thanks to all who gave up their time and energy to raise funds for this very worthwhile cause.
Borough Sports Success
Our Year 3 and Year 4 teams were in the spotlight this week and showed their competitive spirit, taking part in Borough Tri Golf and Mini Tennis competitions.
Tri Golf Success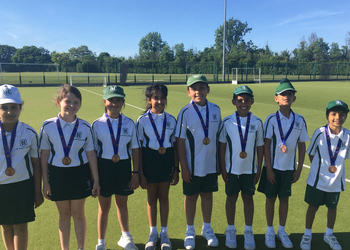 Well done to our Year 3/4 Tri Golf team, who on Tuesday afternoon took part in the annual Hillingdon Tri Golf Festival at Hewens Academy. The team had a wonderful time competing against a time limit, improving their chipping and putting to score points. With ten teams in the festival, St. Helen's College Year 3/4 team came an impressive 3rd place. Congratulations to all of the team on such a great perfomance!
Team members were: Anjika G, Maisie H, Maya T, Jena J, Krishav P, Joban K, Sahib N, Reece G.
Mini Tennis Excitement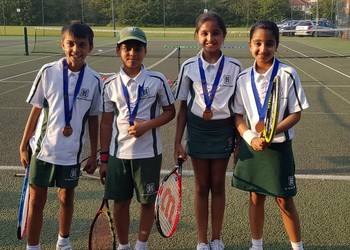 On Wednesday, three St. Helen's College teams took part in the annual schools tournament held at Tripletts Community Tennis Centre. The competition attracted 20 teams from across the Borough and each team consisted of two boys and two girls, who played singles matches against players from other schools. The event was played in a very supportive atmosphere, with parents spectating applauding the great play. Our pupils in particular showed a high degree of technical skill and tactical awareness when playing their matches - so much so that all three of our teams made it through to the quarter finals, where our C team faced Glebe and our B team faced our A team! The matches could not have been closer and semi finalists had to be decided on points countback as matches were drawn, but in the end it was only our A team that progressed. Incredibly, the semi final against Whiteheath had to be decided on countback too and unfortunately the St. Helen's College A team missed out by just a few points to Whiteheath, who went on to be the tournament's eventual winners. Well done to all of our team members who were a credit to their school with their sportsmanship and resilience.
A Team: Amar C, Anaiya L, Samir H, Hamdan U
B Team: Fredericka T, Jena J, Zail T, Luka K
C Team: Anaya K, Amber P, Reece G, Eshan N
Co-Curricular Club Reminders
We would like to remind parents that the following clubs will not be taking place next week, since Miss Walker will be in France with the Year 6 residential trip:
Tuesday Y2/3 Athletics - lunchtime
Thursday Y5/6 Rounders - after school
May Half Term Tennis Camp
Miss Walker will be running a May half term tennis camp at Tripletts Community Centre in Hayes. If your child would like to attend, you can find full details including booking details here.
Residential Trips
We wish our Year 4 and Year 6 children enjoyable and enriching times as they embark on their exciting residential trips to Flatford Mill (Year 4) and France (Year 6) in the coming week.