Weekly News - Friday 5th July 2019
Posted on: 05/07/2019
Amazing Summer Fete!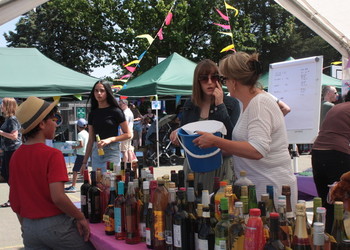 Huge thanks to the PA Committee, parent helpers, family, friends, pupils and staff who were involved in making Saturday's Summer Fete such a special occasion.
With the glorious sunshine and super community feel, it is an event which will live long in the memory! You can see photographs of the Fete on our Galleries page.
The PA have asked us to add these words:
The PA would like to say a huge thank you to the St. Helen's College community for the amazing support that you gave to this year's Summer Fete - we hope that you had a great afternoon. The donations, the support with preparation and the help given on the day have been absolutely incredible this year. Your support makes these events the successes that they are and we cannot thank you enough! What a superb way to start the summer!
The PA would also like to thank all of those parents who donated items for the Sports Day refreshments stall - the donations were truly amazing and we are very grateful! Thank you also to those parents who came and bought items from the stall - we hope that you all enjoyed the events as much as the children did!
Prep Sports Day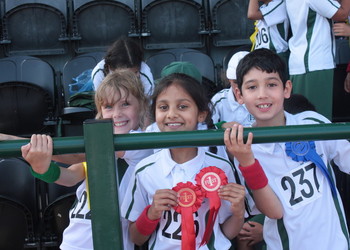 Once again, we enjoyed an absolutely fantastic Prep Sports Day last Friday at the Hillingdon Sports and Leisure Complex. We are so lucky to use this amazing facility for our Sports Day, with the children able to compete in the widest range of events on a real cinder running track and using specialist equipment for the throwing and jumping events. There are photographs of the Prep Sports Day and of the recent Pre-Prep Sports Day and Ducklings Sports Day on the Galleries page.
District Sports Results
On Monday evening a group of children from Years 3 to 6 attended the District Sports event. The team did very well indeed and the full set of results follows which, as you can see, meant many silver and bronze medals for the St. Helen's College team! Congratulations to all who took part. You can see photographs of the event on our Galleries page.
Individual Track events:
Y3 50m Adam K 2nd
Y4 60m Fredericka T 3rd
Y5 70m Daniel G-J 3rd
Y6 80m Hebe E 3rd
Y5/6 400m Zoe K 2nd
Individual Jumping events:
Y3 Speed bounce Oliver T 2nd
Y5 Standing Triple Jump Alex S 3rd
Individual Throwing events:
Y5 Vortex Howler (boys) Eli V-B 3rd
Y5 Vortex Howler (girls) Chloe W 2nd
Relays
Y3 Adam K, Oliver T, Charlotte M, Kylah O-A 3rd
Y5 Daniel G-J, Jack H, Harry J, Rhea A-V, Chloe W, Grace B 3rd
Rounders District Tournament
On Wednesday the rounders team had a re-arranged rounders tournament at Oak Farm School. Teams were divided into two groups of four, all playing each other, with the top two going through to the semi finals. St. Helen's College won all three group games, playing extremely well with the bat and in the field. In the semi final we were drawn against Oak Farm B and were comfortable winners, 6 rounders to 3. In the final, we faced our old rivals Oak Farm A in an extremely tight match. Unfortunately we lost 6.5 - 5.5 rounders. The team played very well, scoring many rounders, taking some great catches and running a lot of people out. This was a fantastic achievement by all the team, who should feel very proud of themselves.
Team members were: Rishi S-P, William P, Thomas W, Daniel G-J, Alex C, Vir R, Aaria K, Ionie M, Mia N, Georgia M.
Wrens Assembly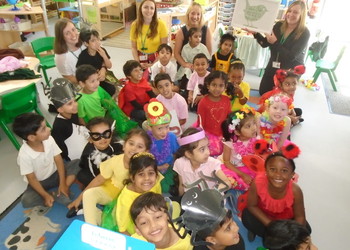 The Wrens Nursery children performed with outstanding confidence in their minibeast assembly as they entertained us all and taught us many interesting facts about the array of minibeasts in our gardens. Superb singing, dancing and voice projection from all!
4T Memories Assembly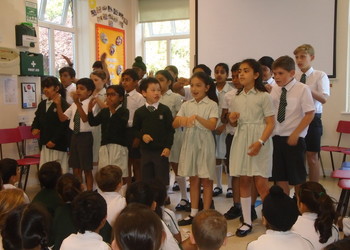 We all enjoyed a very poignant walk down memory lane this morning, as 4T reflected on their outstanding year of learning. Wonderful presentations from every member of the class highlighting many stand out moments of their time in Year 4 - well done everybody!
Last Week Of Term
We have a very busy last week of term still to come. Our Year 6 pupils will have the opportunity to raise funds for our CRUK charity by being 'Teacher for the Day' on Tuesday. Year 6 parents are also invited to attend the Project Day on Thursday and all the children from Y2 - 6 will have the opportunity to cheer on the teachers as the Year 6 pupils challenge us all to a game of rounders in Court Park!
Co-Curricular Clubs
All co-curricular clubs have now finished for the term, with the exception of the following, which will run sessions this week on these dates to make up for missed sessions earlier in the term:​

Reception Multisports - Thursday 11th July
Y1 Spanish - Thursday 11th July
Y1 Multisports - Thursday 11th July
Y2/3 Athletics - Tuesday 9th July
Y2/3 Art Club - Tuesday 9th July
Y2/3 Craft Club - Tuesday 9th and Wednesday 10th July
Y2/3 British Sign Language Club - Wednesday 10th July
Y2 Tennis Club - Thursday 11th July
Y5/6 Tri Golf - Tuesday 9th July
Y5/6 Tennis Club - Thursday 11th July
Going for Gold
Our Junior Road Safety Officers have been working really hard this year to promote active walking and safer travel to school. They are are aiming to achieve the TfL STARS Gold accreditation for St. Helen's College this year. In order for them to achieve this, we will be conducting a one day travel survey this coming Monday and the school must demonstrate a modal shift since the last survey in 2017 towards safer and more active travel to school. So we would ask everyone to make a really big effort this coming Monday to walk, scoot, bike or 'park and stride' on their journey to school to support the JRSOs going for gold. Many thanks, in advance, for your support.
Summer Holiday Club
Bookings are still open for Holiday Club here at St. Helen's College over the summer holiday. You can book places using your SchoolsBuddy account. Further details are available here.
Breakfast Club and After School Club Bookings - Autumn Term 2019
SchoolsBuddy has proved to be a very useful, efficient and user-friendly system for the booking of Breakfast Club and Holiday Club this year and so, from September, After School Club bookings will also be made via your SchoolsBuddy account.
Please note that the pricing structure has been rationalised slightly for After School Club. For both Lower and Upper School, a half session (until 4.45 p.m.) will be charged at £7.50 and a full session (until 6 p.m.) will be charged at £11.00. There is also the option, at Upper School, to book your child in for a half session after they have attended a co-curricular club.
Please note that all sessions must be paid for at the point of booking and no refunds will be issued - so please think carefully before making bookings! You will be able to book your sessions via SchoolsBuddy right up until the time that the session begins. Please do NOT telephone the school office to ask office staff to book your children in as we will not have the facility to do this at school. We hope that parents will continue to find SchoolsBuddy easy to use but if you do experience any problems with using the system, please let us know.
Summer Reading Challenge
Staff from Oak Farm Library will be attending assembly next week to encourage your children to sign up for the annual 'Summer Reading Challenge'. Please do take your children along to the local library to sign up for this exciting reading opportunity for the children. We look forward to the children bringing in their certificates at the beginning of next term and hearing about all the wonderful books they read over the holidays.
https://summerreadingchallenge.org.uk/