Weekly News - Friday 7th February 2020
Posted on: 07/02/2020
1C Assembly - Brazil And The Rainforest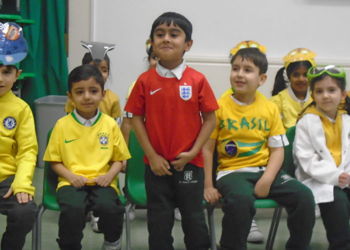 The children of 1C took us on a journey to Brazil on Thursday and shared the delights of their culture, landmarks, traditions, football and of course the wonderful Amazon rainforest. Superb performances from all children - thank you!
5G Assembly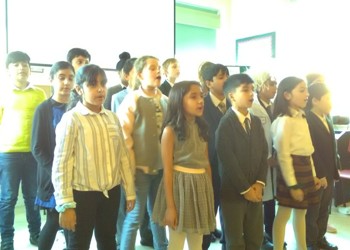 Albert Einstein and Benjamin Bloom graced us with their presence this morning as 5G explained relativity, why the sky is blue and how to ask outstanding questions using Bloom's Taxonomy. The children engaged their audience with their knowledge and understanding of critical thinking skills and performed the popular song from Matilda 'When I grow up'. I am sure that everyone present is confident that when our children grow up our world will be a very interesting place indeed! Well done 5G.
Chamber Choir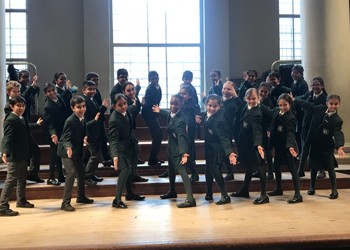 Tremendous congratulations to our Chamber Choir pupils who performed at the Children's Trust London Schools Concert in St. John's Smith Square on Sunday to a most appreciative audience of approximately 800 people. All the staff who attended and Mr. and Mrs. Crehan were so proud of the children. Thank you to all the families who supported the event
We wish the Chamber Choir well for this weekend, too, as they will be representing the school at a concert at St. John's Church, Royal Lane, Uxbridge on Saturday evening. The concert will begin at 6 p.m. and tickets will be available on the door at a cost of £5 each. Please do come along and support the Chamber Choir if you can!
Mindful Sit
Pupils from Year 2 - Year 6 and staff participated in the national Mindful Sit on Wednesday during assembly time in recognition of National Mental Health week. Pupils were guided through a practice of noticing with their attention finally settling on their breathing. A wonderful start to the day as the children returned to their classes ready for the day ahead with a clear and calm mind.
Pedestrian Skills/Road Safety Training
Our annual pedestrian skills/road safety training programme has commenced for this year. Our Year 2 children received their training this week and other year groups will be taking part in training and/or workshops over the coming weeks. The children have really enjoyed wearing their new hi-vis jackets which we have been able to purchase for every child in the school, thanks to a grant from the London Borough of Hillingdon Road Safety Team.
Sports News
Our netball and our football teams remain at the top of their respective local leagues, having both won their matches this week.
The handball tournament last Saturday was well-attended and most enjoyable. The St. Helen's College children played well in their matches and enjoyed putting the skills they have been learning at school into practice.
Co-Curricular Clubs Led By Pupils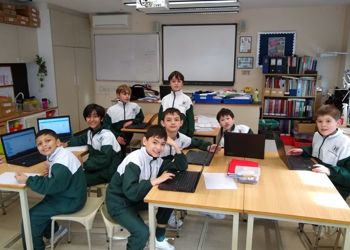 It is always wonderful to observe our children using their leadership skills around the school. Several clubs are running this term led by pupils. One such is the Coding Club, which began this week and is led by Michael K in Year 6.
World Book Day
The school will be celebrating World Book Day on Thursday 5th March. The theme for Ducklings and Lower School is 'Enchanted' and the theme for Upper School is 'Harry Potter'. The children are asked to dress as a book character of their choice (which may of course link to the themes if you wish). It is sure to be a fun-filled day, celebrating the fantastic world of books and all the reading done throughout the year. The children are also asked to bring the book their character is from on the day so that we can share them together.
World Cancer Day
St. Helen's College staff have supported World Cancer Day this week by buying wristbands and donating money in return for staff room treats! Thank you to all of the staff who have contributed.
Uxbridge Library Exhibition - Hillingdon Geological Society
Harrow and Hillingdon Geological Society will be holding a 'hands on' exhibition in Uxbridge Library from 12th to 28th February. Pupils might like to go along to explore the geology of our local area and discover, amongst other things, that Ruislip was once warm waters of a shallow subtropical sea!
PA Forum
The next PA Forum meeting will take place on Tuesday 25th February. If you have any points of school-wide relevance that you would like discussed at this meeting, please send these to your class representative as soon as possible. Class rep's should send any issues for discussion to Mrs. Smith by Friday 14th February please, just before we break up for half term.
Robins Nursery class do not currently have a class representative - if you have a child in Robins and would like to volunteer, please contact Mrs. Smith as soon as possible. Mrs. Smith can be reached on susmith@sthelenscollege.com or by telephoning the Upper School office.

As usual, we will circulate minutes from the PA Forum meeting to all parents after the meeting has taken place.
School Arrival and Collection
The safety of your children whilst they are at school is crucial to us all. Please note that pupils are not permitted to enter the Upper School via the Long Lane entrance after 8.30 a.m. when the door is closed. After this time, parents must accompany pupils to the Parkway entrance and sign them in as a late arrival.
Parents are also reminded that they must not hold the gates/doors open for other parents or visitors to enter the school sites at any time.
Parents using the 'drop and go' system on Parkway are reminded that your child must be ready to leave the car independently (with their belongings) as you pull up alongside the kerb, and that they must exist the car on the kerb side. Please then pull away promptly to allow other cars to move up and drop children off. Children should exit the car when their car is the first in the line (just before the barriers) and not further down Parkway. Parents using 'drop and go' should not exit the car or linger at the kerb after a child has exited; it is crucial that we keep traffic flowing at this busy time of day.
Many thanks, as always, for your support.