Weekly News - Friday 14th February 2020
Posted on: 14/02/2020
Well-Being Week
Our focus on well-being this week was kick-started on Monday with wonderful performances in assemblies from children who wished to share their talents with their peers. We enjoyed singing, dancing, poetry recitals, trumpet playing and ballet to name but a few talents. It was such a joyful start to the week!
Well-Being Day
Yesterday was a wonderful day throughout the school as the children from Ducklings to Year 6 participated in a wide array of well-being activities from making gratitude jars and well-being snow globes to listening ear crowns, yoga, mindful nature walking, a tree of life activity, reflective diary writing.... the list goes on! Do speak with your children and discuss what they did on the day. I am sure that many of the activities they did they would love to do again with their families.
For those of you who were unable to attend last night's parent presentation and workshop evening, please see our booklet for information, some activities to do with your child and top tips to support your child's well-being.
Some children had the opportunity to take part in a session with 'Youth Fit' whilst others took part in other physical activity sessions during the day yesterday. The children thoroughly enjoyed themselves. If you would like to sign your child up for Youth Fit sessions outside of school, you can find out more information here.
Owls Assembly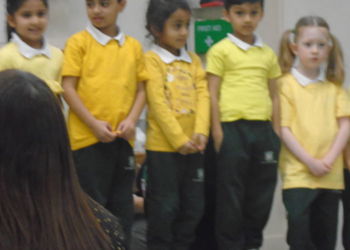 Happiness exuded from the Lower School Hall yesterday as the Owls class launched the Lower School well-being day by sharing their smiles and happiness with us all in songs and poems. Mr. Happy even managed to put a smile on Little Miss Miserable's face!! They were all little rays of sunshine! Well done Owls.
5A Assembly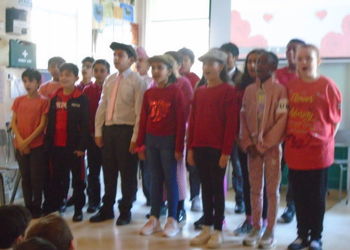 5A shared the love of Valentine's Day with everyone today, re-enacting the story of St. Valentine and reminding us that it is not all just about roses, chocolates and cards but in the ways that we can demonstrate our love towards each other, towards ourselves and to our community. Well done, 5A!
Soula and her team delighted everyone at lunchtime, continuing the Valentine's theme, with love-heart shaped strawberry cheesecakes. LOVEly!
Asthma and Allergy Training
All of our pupils from Year 4 to Year 6 participated in a superb training session this week from Rebecca, the asthma and allergy nurse from Hillingdon.
The children now have a much better understanding of what asthma is, how it can affect people and how important it is that children and adults who are diagnosed with asthma follow the medical advice they are given and use their inhalers as appropriate. Rebecca also spoke to the children about the types of allergies people can have and the treatment that is given if someone has a reaction. Our pupils at St. Helen's College really are equipped with amazing life skills.
Football News
We travelled to John Locke on Wednesday afternoon after our win last week, when we beat St. Andrew's 6-0. Looking at the very uneven pitch, we thought we were in for a tricky game at John Locke and this proved to be the case. We managed a 1-0 win thanks to Adam K and the team showed great determination and desire to come out on top. This puts us in a very strong position in the league with two games to play against Heathrow and St. Matthew's. Winning both should see us crowned as champions! We entertain Oak Farm the week after half term in the Borough Cup, with kick off at 3.45 p.m. on Wednesday 26th February in Court Park. All support welcome!
North Hillingdon Methodist Church - Worship KidStyle!
The North Hillingdon Methodist Church are holding new church services especially for children on the third Sunday of every month, with the first one taking place this Sunday, 16th February. Why not take your child along to join in. You can see their Kidstyle poster here.
Coronavirus and Half Term Travel
Many families might be travelling abroad over the half term break, so we would like to remind you that, as a school, we are following the advice issued by the government concerning the Coronavirus. This advice is being updated online daily at 2 p.m. and can be accessed at this link:
https://www.gov.uk/guidance/wuhan-novel-coronavirus-information-for-the-public
All parents should check this advice and, if you are travelling abroad, please continue to check the latest government advice before, during and after travelling. During and after travel, please be vigilant for signs of illness in children or other family members, and comply with the latest advice issued if you have any concerns.