Weekly News - Friday 1st May 2020
Posted on: 01/05/2020
Ready Steady Read Initiative Helps Raise Over £5000 for St. Helen's College Readers!
Last half term the school took part in a sponsored reading challenge called Ready Steady Read to boost our World Book Day celebrations. The response from the St. Helen's College community was quite astonishing and proved, yet again, just how much our pupils love to read! Altogether, we raised a phenomenal £2,393, a truly excellent effort. One of our parents, Ms Iqbal, supported the event through her role at Usborne publishers and we are very grateful that she has also offered us a generous boost of 60% extra on our order for the next academic year. Together with a large school contribution, this gives us over £5,000 to make for a truly exciting book order, ready for the 2020-21 school year. Every penny will go towards improving our class readers and boosting our school libraries to ensure that we have the very best reading materials available to each child. We are sure that the children will all be very excited about the new books coming their way!
We would like to give a special mention to Rhys M, Maicen M, Arya A and Liberty Y for their splendid fundraising efforts. Our heartfelt thanks go to every single pupil who took part, and to the families and friends who were so generous with their sponsorship. You have all helped to strengthen even further the reading programme at our school, an area that is so vital to all learning across the curriculum.
Helping In The Community
Manisher L (5G) decided to work on a project over the Easter holidays to help those in her road who might be vulnerable, elderly or isolated. You can see what she did by watching her video below.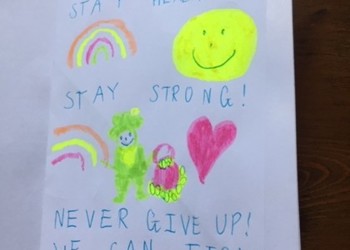 Shakira (4T) is busy making pop up cards for homeless and elderly people, just to let them know they aren't alone. Here is one of her cards - they look sure to brighten someone's day.
Anjika (4T) turned 9 this week and decided to do something different for her birthday, so she created a video to raise money for Hillingdon Foodbank and has raised almost £300 so far!
Many of our staff and parents are NHS responder volunteers and have been responding to calls in their local communities, delivering supplies, helping with the transport of medical equipment, or simply making supportive telephone calls to those who are alone and vulnerable.
Red Cross Kindness and Resilience Activities
If you are looking for inspiration for ways in which your child can develop their kindness and resilience during the lockdown, you might be interested in the activities posted by the Red Cross on their website. Parents/pupils can sign up for email updates too.
All of the free, online activities will be linked to the Red Cross Kindness Calendar and will:
encourage simple acts of kindness
build resilience
connect family and community
provide creative and quick ideas for learners
cover topics including first aid, preparedness, wellbeing and empathy.
Action for Happiness
You might also like the Action for Happiness calendar for Meaningful May, which you could print and display at home, or check online each day. This gives a simple prompt for each day to help us all to lead happier lives. We display these calendars in the staff rooms at school to help our staff to choose happiness and we thought that parents and children might enjoy them too!
https://www.actionforhappiness.org/media/875756/may_2020.pdf
Remote Learning
It has been wonderful to see the array of work which is going on around our 'remote' school this week. The children have been very creative in their approach to tasks and sport and fitness is definitely highly featured! We have seen some super Sports Day preparation going on in gardens, with excellent standing long jumps being achieved! You can see the Ogretici family practising their standing long jump here:


Well done to Jasmine B and Alex S (Y6) for their incredible 'shake table' constructions. We enjoyed sharing their experiments through the videos they submitted. You can see these here:
Feel Good Fridays
Our first 'Feel Good Friday' today saw pupils dress in their House colours and submit entries for our competition, getting creative in designing or creating something to show what their house means to them. You can see some entries on our Galleries page.
Next week, Friday is a bank holiday and there will be no online teaching/learning that day and no key worker supervision in school. On this day, Britain will be commemorating the 75th anniversary of VE Day, when the guns fell silent at the end of the war in Europe. As a school community, we will mark this momentous day on Tuesday 5th May. This will be introduced on Monday in assembly and pupils will take part in VE activities on Tuesday morning. On Tuesday, pupils may wish to wear something in a VE Day style (clothes from the era) or to dress in red, white and blue. It is not quite the day we had planned to have if we were in school, but please do encourage your children to share some of their learning with you. You may also wish to create your own VE Day bunting to hang in your windows - please see:
https://www.bbc.co.uk/programmes/articles/4TrqYDyf4PMdLypxzyTwGDg/great-british-bunting
Please do share any photos with us if you have a special 'garden party lunch' or other celebration at home to mark this momentous day.
Sadly the commemorative concert at The Barbican, in which our Chamber Choir were due to take part, has been cancelled. We hope that when we return to school we can record some of the songs which the children were learning for the event and share them with you all.
Hello Video - Lower School
The staff of Lower School have shared a video of themselves saying 'hello' to the children from lockdown in our own way. This is available on the Learning Portal. The Upper School staff will be publishing a video soon too, so do look out for that. We miss the children so much and can't wait until we are all back together!
Staff News
We are delighted that Mrs. Jane Smith will be joining our team of Peripatetic music teachers as our new flute teacher from September. Mrs. Smith has taught pupils from various schools over her teaching career, including at Wycombe Abbey and Dr. Challoners. Please contact Mrs. Allery if you are interested in your child starting flute lessons in September as there are some spaces available due to our Year 6 pupils leaving. Mrs. Allery can be reached at: rallery@sthelenscollege.com.
The Parent Practice
For those of you who have found Elaine Hannigan's practical advice useful, please see the latest podcast, episode 23, on 'screen time sanity in lockdown', where she interviews Victoria Markhou, mother of two and a parenting coach.
https://www.theparentpractice.com/podcast/
The Global Classroom
On Tuesday 5th May at 4.30 p.m., The Global Classroom are holding a real-time interactive event that aims to help children understand what COVID-19 is and gain a better understanding of what they can do to keep themselves safe and healthy. The live online broadcast will promote safe hand hygiene to all children taking part. It is in partnership with WHO, UNICEF, Scarisbrick Hall and is supported by the Independent Schools Association via Microsoft Teams. All schools are invited to take part - find out more. We hope that you will encourage your children to join in.
John Lewis/Waitrose Competition: Design A Super Hero Bear
John Lewis/Waitrose are running a competition for children to design a superhero-themed bear to grace their shelves this Christmas. All proceeds will go to the NHS in support of all their incredible work.
To enter children should simply draw, sketch and design their SuperBear using the template which is available to download here: https://jland.partners/FeelGoodFriday. Children may be as creative as they like! When designs are complete, pupils or parents should share them by email to designyoursuperbear@johnlewis.co.uk by 5pm on Friday 8th May 2020.
Full details are available here: https://jland.partners/FeelGoodFriday
Thank a Teacher Day - 20th May
Our teachers are working incredibly hard at home and it would be wonderful if any of the children would like to thank their teachers personally. National 'Thank a Teacher Day' is approaching and the children can arrange for a card to be sent to school for their teachers with a personal greeting. Please share this with your children if they would like to get involved in thanking their teachers!
https://thankateacher.co.uk/thank-a-teacher-day