Weekly News - Friday 22nd May 2020
Posted on: 22/05/2020
Speech Competition
Today we held our first ever online speech competition finals. Congratulations to all of our finalists; they left us all thoroughly entertained in the junior and senior competitions, performing their poems and speeches with confidence and conviction. Here is a list of all the winners and highly commended entries.
Junior Competition
Highly Commended: Samuel 1HC, Evie 1C, Sienna 2H
1HC: Aaryav​
1C: Arjun​
Year 1 Winner: Aaryav
2B: Hana​
2H: Neevah​
Year 2 Winner: Hana
3B: Aaryan​
3M: Oliver
Year 3 WInner: Oliver
Junior Champion: Oliver (3M)
Senior Competition
Highly Commended: Vidhit 5G, Harrison 6RD
4KT: Eshan​
4T: Diyan​
Year 4 Winner: Diyan
5A: Adam
5G: Samir​
Year 5 Winner: Samir
6M: Anaiya​
6RD: Catherine
Year 6 Winner: Catherine
Senior Champion: Catherine 6RD
A huge thank you also to our judge and school governor, Miss Beckett, who gave her time throughout the week to watch the entries and provide excellent feedback to the children. To all those who did not make the final this year: well done for taking part in the competition. Keep practising and next year it could be you!
Big Dreamers Writing Competition
Throughout the week, children across the school have been writing short stories for a national competition run by National Book Tokens and Puffin. There is a 300-word limit and the theme is 'dreams.' There are many fantastic prizes to be won, including £200 in book vouchers. If your child has not yet participated, you may wish to help them complete a story and submit their entry over the half-term holidays as a fun creative writing activity. Full details can be found here.
Singing Competition Finals - Middle School and Upper School
Thank you for the many video entries we received for our online singing competition. Although it was a very difficult decision as usual, the following students have been selected for the finals.
Middle School:
Anaiya B
Annabelle S
Arshia S
Advik S
Xavier B
Minaya W
Upper School:
Year 4
Anjika G
Charlotte M
Shruthi T
Year 5
Riya C
Jessica L
Maya T
Year 6
Aarna A
Anish A
Jasmine B
Laura B
Uma D
Krisha S
Esha T
The finals will take place during the afternoon of Friday 5th June. Further information will follow shortly. Students do not need to resubmit videos, unless they are asked to, and they will not need to sing live. Please note that the submitted video entries will be shown to all spectators during the afternoon of 5th June. Our judge for the final round of the competition, Mrs. Crehan, will choose her winners.
We wish all of the finalists the very best of luck!
Babies....
Today was Mrs. McLaughlin's last day with us for the time being and we all wish her well as she begins her maternity leave and she and Mr. McLaughlin await the arrival of their first child! It was so lovely to hear the children of 3M give her a send off this morning just before the Junior Speech Competition. The children had created a beautiful video montage, Yousra read a lovely poem about 'Why God Created Teachers' and Eshanvi read an acrostic poem that she had written herself. After school today, staff joined together in a virtual baby shower to celebrate, and we enjoyed taking part in games and quizzes. We thought you might enjoy this quiz - see if you can guess the staff member from their baby photos! We will share the answers after half term.
Community Spirit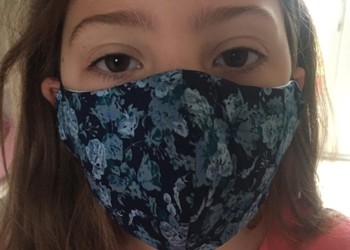 Well done to Grace O'H (Y2), who has been baking for the team of managers and call handlers who staff the COVID-19 hub at the Civic Centre, to lift their spirits. Grace has baked gluten free cakes and birthday cakes and even used a genuine WWII recipe to bake a cake for VE Day!

Grace and her family have also been making cloth face masks and homemade filters to slip in the back. As an act of kindness, they have sent these off to vulnerable people around the country and have provided masks to people working in the private sector front line who may have to use public transport to get to work.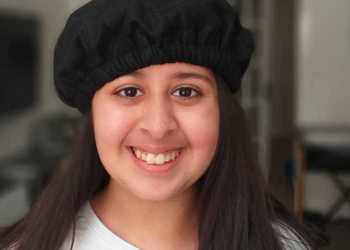 Esha T (Y6) celebrated her birthday this week and her family had the super idea of giving the day a French theme, to make up for Esha not being able to go on the Year 6 trip to France this year because of the pandemic. We hope that Esha enjoyed her day - Bon Anniversaire, Esha!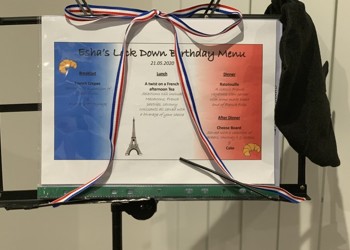 Phased Re-opening and Packed Lunches
Parents of children returning to school in Phase 1 of our reopening are reminded that absolutely NO NUT PRODUCTS may be sent into school in snacks or packed lunches. Please do be vigilant. There are currently children at school with severe/multiple allergies and some products, such as cereal bars, may contain nuts less obviously.
In the hot weather, it will be a good idea to send an ice pack in the packed lunch bag.
Class teachers will be sending out year group specific information ahead of the return to outline daily procedures, which we hope will answer any questions you may have.
Keeping Well At Home
Until 1st June, most of the country are still being asked to stay at home. We are aware that some of you will have to continue staying at home past this date, too, especially if you live with a clinically vulnerable person. This advice about keeping well at home might be useful....let's all keep looking after ourselves!
National Thank A Teacher Day
The staff have been very touched this week at the numerous messages received for Thank A Teacher Day. Some children even made videos. It is really very nice to be appreciated, so huge thanks to everyone who took the time to send messages, photos and videos.