Weekly News - Friday 5th June 2020
Posted on: 05/06/2020
Singing Competition
What a wonderful afternoon we had today, hearing the children's entries for the final of our Singing Competition. The standard was, as always, astonishingly high and the children showed a high level of confidence, technical ability and performance skills. Mrs. Crehan had the very difficult job of judging this year and our gratitude goes to her for her adaptability in taking part in an online competition this time! The results were as follows.
Year 3 Winner - Advik
Runners up - Minaya and Xavier
Overall Middle School Winner - Advik
Year 4 Winner - Shruthi
Runners up - Anjika and Charlotte
Year 5 Joint Winners - Jessica and Maya
Runner up - Riya
Year 6 Winner - Jasmine
Runners up - Aarna and Laura
Overall Upper School Winner - Jasmine
Very many congratulations to all those involved and to our winners!
Hillingdon Road Safety Dream Bike Competition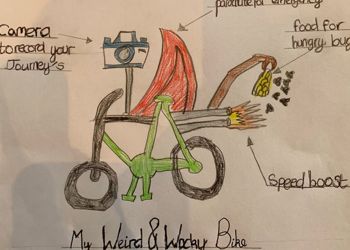 Out of 470 entries, Arjun C (2B) has just been awarded second place for the Hillingdon Road Safety Dream Bike competition which we shared on this news blog recently. Arjun really took a keen interest and took his time to think about his dream bike and was very proud of his design. Using alliteration, he named his design the 'Weird and Wacky Bike'. Very, very well done, Arjun!
School This Week
We thought that you would all like to see some photographs of life around school this week, to give you a flavour of what it has been like getting ready for re-opening and being here with part of the community back with us. You can see these on the Galleries page. See if you can spot anyone you know!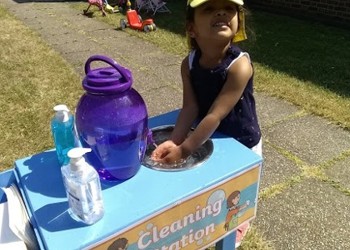 Many thanks to Mr. McGee who has created outdoor cleaning stations for our Ducklings children so that they can continue to wash their hands thoroughly and regularly when playing outdoors!
Well done to Anjika G (4T) who wrote a fantastic Scratch program this week with a bilingual, colour-changing hexagon! You can try out her program here.
New Additions to the SHC Family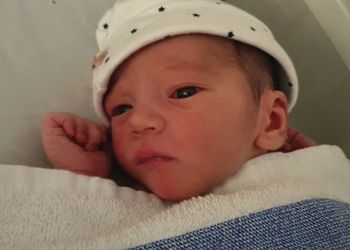 Many congratulations to Mr. and Mrs. McLaughlin, who welcomed their first baby, son Remi, this week! Remi weighed 6 lbs and 13 oz and the family are all back at home and enjoying their time together. We are sure that you would all like to join with us in wishing them well.
We are also delighted to announce the birth of Maeve, daughter to Miss Hill and granddaughter to Mrs. Hill!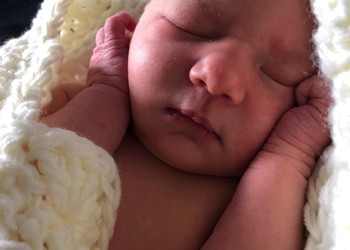 Maeve was born on 24th May, weighing 6lb and 2oz. Miss Hill and Maeve's dad George have been having a wonderful time together as a new family and send all their love to the St. Helen's College community and especially to the Ducklings children - Miss Hill is enjoying her maternity leave but is missing you all very much.
House Art Competition
This year we will be holding our inaugural House Art Competition. Pupils may be as creative as they like in producing their pieces of artwork: drawing, painting, sculpting, modelling, sticking/collaging: all these are welcome, and more! Art must be on the theme of a school value, and each piece of work must be accompanied by a note (NOT WRITTEN ON THE PIECE OF WORK ITSELF) which should give your child's name, class and clearly state the value depicted.

The list of values to choose from are:
Caring
Helpfulness
Co-operation
Courage
Kindness
Perseverance
Fairness
Friendliness
Patience
Respect
Courtesy
Forgiveness
Determination
Self-Discipline
Gratitude
Honesty
The deadline for submitting entries (to your class teacher or pod supervisor) is Friday 19th June.
World Environment Day
Whilst many pupils and teachers continue to work remotely, Freshwater Theatre Company wanted to find a way to celebrate World Environment Day with you online. We bring you a timely message from our Earth Explorer about the actions we can take to protect our environment for future generations: https://youtu.be/jLow_8SdNPg
Please do share this link with your colleagues, pupils and their parents, as well as your family and friends. The World Environment Day website [https://www.worldenvironmentday.global] has lots of information including a practical guide with more resources.
Lockdown Survival Guide
Although this guide is branded as a 'teen guide' for surviving lockdown, there is a lot in it which we feel would be useful to our current pupils - as well as to some of the Old Helenians out there who might be approaching, or in, their teenage years and might need some extra support through this difficult time. We hope that you will find it useful - you can access it here.
Rainbow Room Thanks
Our Year 6 pupils were delighted this week to receive letters of thanks from the team at Imperial College Healthcare Trust, acknowledging the colourful and creative pictures they produced and sent in to decorate the Rainbow Room at Hammersmith Hospital.