Motherhood by Mrs. McLaughlin
Posted on: 04/12/2020
I have been privileged to have frequent updates and photos from Mr. McLaughlin on the joys of fatherhood and I commend him on how he has coped with stepping up to Deputy Headship, moving home, working through a pandemic and being able to enjoy those wonderful first few months that a new baby brings to a family.
I invited Mrs. McLaughlin to reflect on motherhood and am delighted that she has shared her journey with Remi so far with us. I am sure that her blog will resonate with us and serve as a reminder of what a privilege it is to be parents.
Thank you Mrs. McLaughlin for sharing this with the community.

Mrs. Drummond
When I was asked by Mrs. Drummond to write a blog about being a new mum, I was in two minds. I have never written a blog before and I had no idea where to start. As I love new challenges and trying new things (something I have always tried to instil in the children in my class) - I'm going to give it a go.
Remi was born in June, in the midst of a pandemic. I think that the hypnobirthing course I took some months prior and a slice of good fortune combined to make the labour quite straightforward (thank goodness!).
No one ever knows what to expect when you have your first child, or subsequent children for that matter, as they are all so different and unique. So Mr. McLaughlin and I were delighted to come home six hours after delivery with a healthy and happy baby boy.
We knew that having a baby would change our lives forever, but we didn't quite know what effect having a baby during the pandemic would have. It wasn't easy!
Not being able to see family and friends is difficult at the best of times. After paternity leave, Mr. McLaughlin returned to work. Being a new mum with a newborn baby to look after, whilst looking after your own health and not being able to freely see family and friends, is tough.
Luckily, my sister, brother in law and 3-year-old nephew are our next door neighbours and our parents live close by, so help was at hand if needed.
There are so many stories you hear about babies: some good, some not so much, and so Mr. McLaughlin and I just had to wait and see what joys Remi would bring.
After a few tough weeks of finding my feet as a new mum, understanding Remi and his little ways of communicating, I wholeheartedly embraced motherhood and I haven't looked back since.
I was talking to my mum a few weeks ago, and she asked me what my one stand out moment as a mother was so far. I don't have one moment in particular as Remi has passed so many little milestones, but the smile on his face when he wakes up and sees me in the morning, along with morning hugs and snuggles, is just priceless.
My ethos as a teacher of 15 years has always been: 'Treat the children you teach with the same love and care as if they are your own.' Having now had Remi, I can see more than ever, the importance of this ethos.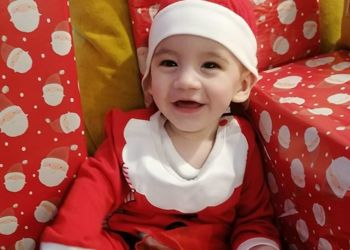 Being a mother has helped me to learn more about myself. Remi has taught me so much about unconditional love. He has taught me about strengths I didn't know I had and fears I didn't know existed.
Being a teacher gives me the bonus of being very organised. I always have my Christmas gifts bought and wrapped months in advance. I always love to see the look of surprise on my husband's face on Christmas day when he sees what we got everyone! Being ahead of the game gave me a bit of time during my maternity leave to think about the prospect of Remi going to nursery, and eventually to school.
The first day I stepped foot into St. Helen's College, there was no doubt in my mind that if we had children they would attend the school and be part of the St. Helen's College family. All parents look for different things in a school, but for Mr. McLaughlin and I, it was always for our child to be part of a school that showed love in abundance, let them feel like they were part of the family and nurtured their talents (whatever they may be). I feel that St. Helen's College has all of these traits.
Keeping my organised hat on, we have already enrolled Remi into Ducklings and cannot wait for him to come along with us in his little green uniform.
As I think about Remi's future and the aspirations I have for him, I try to remind myself of a quote a friend of mine once told me: "We often worry about what a child will become tomorrow, yet we forget that they are someone today."
The small day to day things that Remi does that make him the baby he is are etched in my mind and where possible, I try to capture them on camera to look back on in the future.
Have I been able to write my heart in words and tell you how much I love being a mum? Perhaps not, but if there is one thought I can leave you with, it is this: I used to think being a teacher was the best job in the world, but I was wrong. It's the second best. The best job in the world is being a mum.
Mrs. McLaughlin